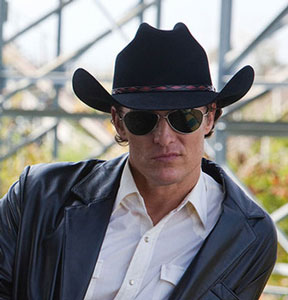 If any of the approximately seventy-nine hundred film societies gave out an annual award for "Most Risky Actor," Matthew McConaughey would easily take this year's top prize. 
After all, for the last dozen or so years McConaughey has been best known for appearing as the leading man in romantic comedies.  The handsome McConaughey could have spent the next dozen years doing the same thing, but in the last eighteen month he has appeared in some of the most challenging roles in his career, including in films like Bernie, Killer Joe, and Magic Mike.  In an interview with The Wall Street Journal, McConaughey reveals the reasons behind his sudden career shift. Read more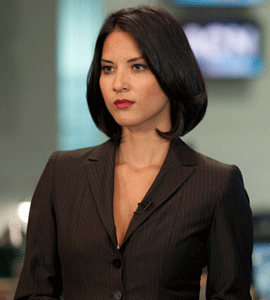 Hollywood is not an easy place. Despite dreams and general perceptions of what some consider "overnight success," there is rarely, if ever, anything comparable to that particular occurrence. Olivia Munn, star of Aaron Sorkin's new HBO drama, "The Newsroom," is an actor who has worked long and hard for her recent success, even if her career appears to have blown up "overnight." Zorianna Kit of Reuters reported on Munn, and her growing career.
In addition to "The Newsroom," Munn is starring in the indie comedy, "The Babymakers," which arrives in theaters this weekend. Munn also played a supporting role in Steven Soderbergh's "Magic Mike." Read more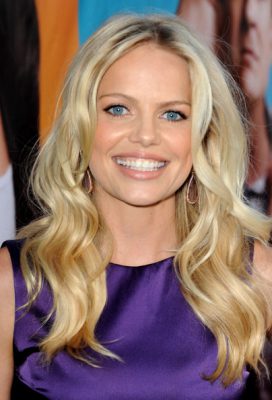 I recently had the chance to talk to actress Mircea Monroe about her experience in Hollywood.  As actors, and artists, we are always learning and growing.  It is sometimes helpful to look to others, currently working in Hollywood, for advice on carving your own path in the entertainment industry.  
Monroe is an example of a young actress who works hard to create her own opportunities in Hollywood.  She is young, determined, talented, and knows what she wants.  
Miss Monroe recently completed an independent feature film, "Three Days of Normal," in which she plays a reckless Hollywood starlet who meets a small town cop during a long weekend in rural New Hampshire.  Nikki Gold (Monroe) has escaped the bright lights and paparazzi of New York City, in an effort to avoid the chaos of another publicity scandal.  She embraces the anonymity of small town life with a few blissful days of normalcy.  
In addition to her work in independent fare, the actress also spoke of larger budget projects she was fortunate to be a part of, including "Magic Mike," in which she plays the girlfriend of Matthew Bomer's character.   Read more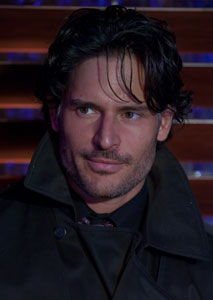 Joe Manganiello is becoming really well-known for taking his shirt off.  The 35-year-old, who recent characters feature the actor sans shirt, is now starring as a male stripper in Steven Soderbergh's Magic Mike and werewolf Alcide in HBO's True Blood.
But, he doesn't really care. "The only hesitation was just that voice in my head that said, 'Okay, everybody makes such a big deal out of you being shirtless on True Blood.  Now you're going to be a male stripper,'" he told NBC New York.  "So there was just a thought about that—but who cares?  I'm known for being shirtless in projects helmed by Oscar winners. So what?  Fine.  I think that if it was a male stripper movie with most anyone else you probably would look at it cross-eyed, but it's Steven.  Then you go, 'Okay, it's Steven.  It's Channing [Tatum.]  It's [Matthew] McConaughey." Read more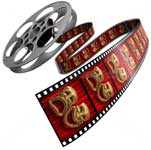 We're back in full swing here on Daily Actor!
After being back on the east coast for almost 3 weeks – I was visiting my parents in Maryland and took a quick trip to NYC – we're back in full-on posting mode. I tried to post as much as I could but you know the drill when you're away, I'm sure.
Here's a handful of things we missed while we were gone:
Kristin Chenoweth and Nathan Lane join CBS' The Good Wife
Chenoweth and Lane have both signed up for recurring role. Lane will appear in the season premiere as "a bottom line-obsessed manager imposed on Lockhart & Gardner by the bank to cut costs and get the firm back to fiscal health. He finds himself at odds with Will, Diane and everyone else at the firm." Chenoweth will play a political reporter who is looking for a scoop on the Pete (Chris Noth's character) and the Florrick campaign. Read more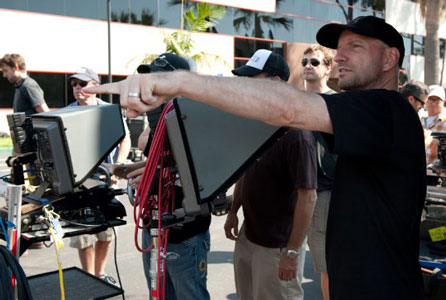 Director Steven Soderbergh's upcoming release Magic Mike is gearing up to open across movie screens nationwide at the end of this month.  Discussing the predictable block buster, Soderbergh attributes the success of the movie's production to both a terrific cast and a great story.  "All the guys were great and each one brought something specific.  We wanted actors who could improv and be funny, not necessarily guys who could dance," the Haywire helmer shared.
The men of Magic Mike, that includes a star line-up of Channing Tatum, Joe Manganiello, Alex Pettyfer, Matt Bomer, and Matthew McConaughey, seemed to have clicked with one another right away.  "There's nothing like shared potential humiliation to bond people, and they bonded quickly.  They all came in to watch one another do their solo routines and lend support and they were so generous with each other—no competitiveness, no egos.  Watching them go through those routines in front of 150 female extras and the entire film crew was awesome.  They all jumped off that cliff." Read more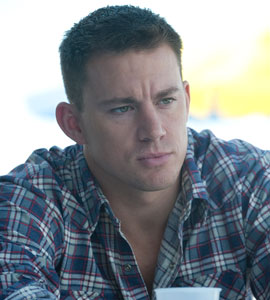 "I thought, 'Why not?'  I could dance.  It sounded like something I could do for fun for awhile."
No, that wasn't Channing Tatum's thought process before he decided to take a role in Step Up.  Actually, that was Tatum's thought process that an 18 year old Channing Tatum went through before he became a male stripper, an experience he is reliving in Magic Mike, which is directed by Steven Soderbergh.
The idea for the movie came out of a conversation that Tatum was having with Soderbergh.  He recalls, "I mentioned that I'd worked as a stripper for eight months when I was 18 and 19 years old.  I've always thought about doing a story about that life because whenever the subject comes up, guys always want to know about it.  How'd you get into it?  What was it like?  How much money did you make?  Steven said, 'You should do it.   Absolutely.  You should write it and I'll direct it.'" Read more
Actor Joe Manganiello has learned to take a light-hearted approach to his career.  How could he not?  He plays a werewolf on HBO's True Blood and a stripper in Steven Soderbergh's new movie Magic Mike. 
The 35-year-old spoke to GQ.com about filming Magic Mike and told the magazine that he and co-star Matt Bomer "were drama school classmates at Carnegie Mellon and there was a point on set where we just looked at each other and were like, Ancient Greek to Chekhov to Tennessee Williams to male stripping.  I just don't take myself very seriously."
Manganiello admits that some might not think he has the chops to be considered a serious actor.  He noted, "I come from a classical theater background, but I don't feel like I have anything to prove.  I've talked to actors and been like Oh, wow, man, Congrats.  Your show got huge ratings last night!  And they'll be, I'm not in this for the ratings.  I'm in it for the craft.  Yeah, dude, I know you are.  I got it.  But come on!  Big ratings, that's fun.  I'm in it for the fun." Read more