Podcast: Play in new window | Download (Duration: 21:37 — 14.9MB)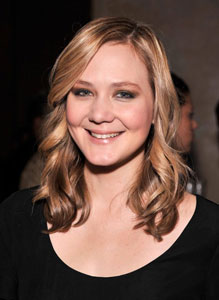 If you haven't heard of Louisa Krause, wait a couple minutes because her name will soon be on your radar.
Louisa recently starred in the SXSW hit, King Kelly and had a short film, Double or Nothing (written by Neil LaBute) premiere at the Tribeca Film Festival. And as I was talking to her, she was getting ready to fly out to Seattle to film You Can't Win, a project co-written, produced and starring Michael Pitt (Boardwalk Empire).
She's previously appeared on Law & Order and Law & Order: Criminal Intent, Blue Bloods and last year's great indie hit, Martha Marcy May Marlene.
King Kelly, which I saw at SXSW, got a great reception and the audience loved it and Louisa. The film is about an up-and-coming internet star (Krause) who strips on a webcam. When her car, that's loaded with drugs, is stolen by her ex-boyfriend, Kelly and her friend head out on an epic streak of sex, drugs and violence as they try to get the car back. You should definitely check it out if you get the chance.
I talked to Louisa about how she got her start, King Kelly, You Can't Win and how she got Neil LaBute's phone number.
For the full interview, click the audio link above or download it from iTunes