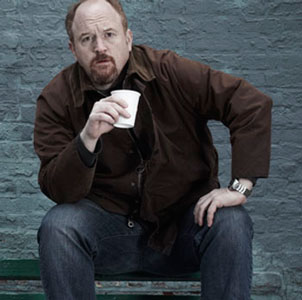 For most actors, getting cast in a Woody Allen movie is something to be crossed off one's bucket list.  However, when the cast list for Allen's next film — which would eventually be titled Blue Jasmine — was revealed, two unlikely names were on the list: comedians Andrew Dice Clay and Louis C.K.  Louis C.K. spoke to The New York Times about being cast in the film and initially losing the role he read for to Clay.
Louis C.K. actually initially approached Woody Allen for the role of Jack Dall on his own show, Louie.  Though Allen turned it down (which led to the offbeat casting of David Lynch), Louis C.K. later heard from Allen when Allen began casting Blue Jasmine.
However, the initial read did not go the way Louis C.K. hoped it would have.  He explains, "It just came out of nowhere. I got this e-mail: Woody Allen wants you to come in for something. I've been waiting for that e-mail my whole life. I'm not going to pretend I'm above that. I went into his office and read for a part that Andrew Dice Clay ended up getting. Woody said: 'I know you can act. I just don't know if this is the kind of guy that you are. This is a very mean guy, and you're not a mean guy.'  And I read it, and I was like, yeah, I'm not getting the part. I can be working class. I can't hit my wife. So I'll talk the way I would say these things and I won't get the part, but I'll leave with my head up high. And that's precisely what happened. But I was very emotional, because I had just met Woody and he was very kind to me." Read more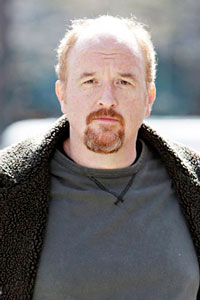 So there's good news and bad news for fans of the Emmy-winning comedy Louie, which comedian Louis C.K. not only writes but stars in.  The good news?  There will be a season 4.  The bad news?  It won't begin airing until spring 2014 at the earliest.  Louis C.K. revealed this news to reporters several days after the third season finale aired and while he is on a lengthy national standup tour.
Louis C.K. explained that he is taking the break primarily to recharge his creative batteries.  He says, "The last three seasons have been this surge of fun and work and stories, and it's been great to share all this stuff, and I want to keep going.  I want the show to keep getting better. That's my goal, and I don't want it to be making the doughnuts. I want it to keep being something that comes from somewhere fun and important, and I want it to stay funny. It's a luxury that I asked for, which is more time to create Season 4."  FX, the channel that airs Louie, had no issue with granting Louis C.K. a break from producing the series. Read more
Earlier this week, Louis C.K. was nominated for 2 Emmy Awards – Outstanding Lead Actor In A Comedy Series and Outstanding Writing In A Comedy Series – for his hilarious work on the FX show, Louie. If there is any justice, he'll go home that night with two awards.
Not only does he star in the fictionalized take on his life and career, but he also created, writes, edits and directs every episode. If he doesn't win, the Emmy's should give him some sort of award for the sheer amount of work he does.
C.K. is one of the best comedians alive right now and his show is always on my 'must- watch' list.
I got a chance to talk to Louis on a recent conference call where he talked about comedy, writing the show and why he only signs actors to a per-show contract.
Check it out!
What do you think is the formula for good comedic TV?
Louis C.K.: Oh geez, I think it really depends on the comedian and the television show. I think it's gotta be funny and compelling, both.
You're doing the editing, writing, the directing, starring, producing… you're doing everything with the show. Which aspect is most difficult for you during the season?
Louis C.K.: I'd say the writing is the most difficult, because that's where it all starts and if I don't get it done there's no way I can do the other ones. There are bad versions of the other ones that can actually yield a TV show but if I don't write, if I don't get the writing done, there's nothing to shoot so… the writing is the most pressure, it's the hardest but it is also the most rewarding when it works out.