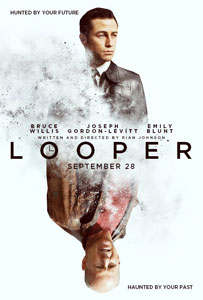 Looper: In the futuristic action thriller Looper, time travel will be invented – but it will be illegal and only available on the black market. When the mob wants to get rid of someone, they will send their target 30 years into the past, where a "looper" – a hired gun, like Joe (Joseph Gordon-Levitt) – is waiting to mop up. Joe is getting rich and life is good… until the day the mob decides to "close the loop," sending back Joe's future self (Bruce Willis) for assassination. The film is written and directed by Rian Johnson and also stars Emily Blunt, Paul Dano, and Jeff Daniels. Ram Bergman and James D. Stern produce.
Writer/Director: Rian Johnson
Cast: Bruce Willis, Joseph Gordon-Levitt, Emily Blunt, Paul Dano, Noah Segan, Piper Perabo, Jeff Daniels
Click here for the script to Looper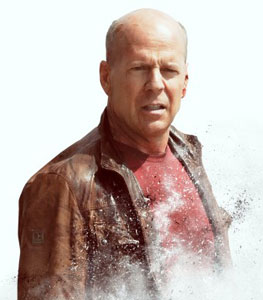 In Looper, Joseph Gordon-Levitt is only pretending to play the younger version of Bruce Willis, with Willis traveling back in time to confront his "younger self."  But if Willis could really go back in time, would he do anything differently?
Surprisingly, he tells Cheyboygan News that he thinks he actually make more mistakes.  He explains, "I would go back and make more mistakes, earlier than I made them.  I made a lot of mistakes early in my life, but if I had made more of them, I would have gotten to the answer to those mistakes earlier.  I have a lot of anxiety about making mistakes and hurting people's feelings. There were things I did as a brash kid that I wasn't paying any attention to – people whose feelings I hurt."  He then adds, "You know what I'm saying. I'd rather not hurt people anymore." Read more
Premium Rush aside, Joseph Gordon-Levitt appears in two of the best-rated action films of 2012, The Dark Knight Rises and Looper, and also stars in the likely Oscar-contending drama Lincoln due out in November. In an interview with New York magazine, Gordon-Levitt talks about the makeup he had to wear to portray a younger version of Bruce Willis in Looper and what inspired him to direct his first film, which is due out next year.
Gordon-Levitt reveals that it was a bit odd between takes when he was still in the makeup that made him look more like Willis, and when asked if he stayed in character or reverted to his usual self he says, "Probably some of both. One of my good friends visited the set and was really disturbed, didn't want to talk to me. My mom, too. She said, 'When I stand next to you, you feel like my son, but when I look at you, you're this different guy.' She found it a little odd." Read more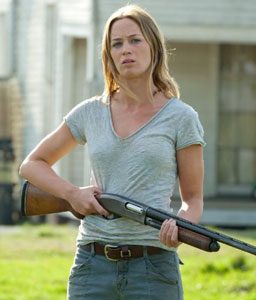 Emily Blunt is one of the many actresses working today that aren't satisfied by repeatedly starring as giggly girls in lighthearted comedies.  Following in the footsteps of her Devil Wears Prada co-star Meryl Streep, Blunt has taken on a variety of roles in many different genres, including a major role in Looper, a sci-fi movie starring Joseph Gordon-Levitt and Bruce Willis. 
Blunt spoke to NBC New York about her role in the sci-fi film and what convinced her to star in a film in this genre.
Blunt reveals that she was immediately drawn to the project after reading only a few pages of the script by writer/director Rian Johnson.  She says, "It's like a singular voice that he has. My agent sent me the script and luckily we got in quite early with it. I read the first 20 pages and then called my agent and said you've got to get me in the room with this guy. Then my agent asked what I thought of my character and I hadn't even got to her yet." Read more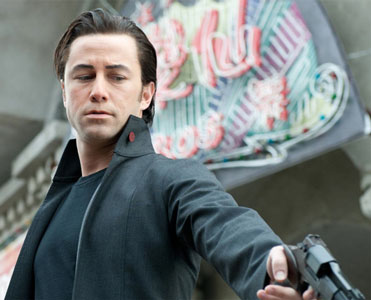 In order to play a younger version of Bruce Willis' character in Looper, Joseph Gordon-Levitt underwent three hours of makeup each day before filming.  While I personally don't think the changes are that drastic (I mean, it isn't like he has to look like the Elephant Man to play Bruce Willis), Gordon-Levitt talked to Moviefone about transforming into Willis and what audiences might discover when watching Looper.
In fact, since actors like to "disappear" into their roles, Gordon-Levitt admits that putting on all that makeup helped him separate himself from the character.  He says, "I love it. One of the main ways that I measure my work is if I can't tell that it's me. If it's convincingly somebody else, that means that the transformation of that character is thorough enough that I did a good job. In this movie I got to transform unlike I ever had before." Read more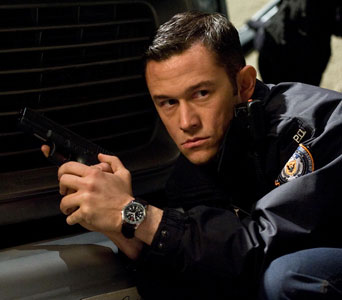 You just can't predict show business.  I would have never thought that the goofy long-haired kid from 3rd Rock from the Sun would grow into one of the more impressive actors of the last several years, but Joseph Gordon-Levitt constantly brings it to every film role he has.  He obviously caught the eye of director Christopher Nolan, who cast Gordon-Levitt in a key role in The Dark Knight Rises after first working with the actor in his prior film, Inception. 
In an interview with Reuters, Gordon-Levitt elaborates on what draws him to the projects he stars in and how he has tried to give back to less fortunate artists.
Gordon-Levitt points out that one of the more impressive aspects of the Dark Knight trilogy is that it actually is a trilogy.  He explains, "Sometimes they call something a trilogy, and it's not really a trilogy, it's another sequel to make money. But this really is a great ending, there's a beginning, a middle and an end." Read more
Comic-Con 2012: Here is the full panel for Rian Johnson's upcoming film, Looper.  I've been looking forward to this for a while and all the footage they showed in Hall H looked pretty damn great.
Appearing on the panel were the films stars, Joseph Gordon-Levitt and Emily Blunt alongside director Johnson.
Check it out below! Read more