L
ook, I'm sorry… no matter what Jerry O'Connell does, I'll always think of him as the chubby kid in Stand By Me.  Although I'm not sure if he'd be so bothered by that, it's good to know that television star O'Connell is returning to his native Manhattan to star in his first Broadway show, Seminar.
But returning "home" has made things a bit difficult for O'Connell… because like struggling actors a lot younger than him, O'Connell actually moved back into his parents' place!
O'Connell tells Broadway.com, "I was born and raised in Manhattan, and I'm staying in my parents' apartment right now.  It's a little awkward being well into my 30s and living with my parents again, but that's how it goes."
Of course, when you're married to a beautiful woman like Rebecca Romijn it's obvious that O'Connell won't be sleeping at mom and dad's for long.  Romijn is scheduled to join O'Connell in New York and was very supportive of his move.  He says, "When the opportunity to be part of Seminar came up, my wife and I knew it was something I would have to pursue.  It's tough that we have to move, but I'm no stranger to New York; I take the number 1 [subway] train up here every day. There was no way I was going to turn Seminar down."   Read more
In Shakespeare's classic comedy, Al Pacino stars as the Shylock in the Public Theater production of The Merchant of Venice. Antonio, a young man who pledges a pound of his own flesh to a moneylender, Shylock, so a friend can woo his lady-love in style. Antonio learns a hard lesson in loyalty, humanity, friendship and prejudice when the revenge-seeking Shylock comes to collect and he is unable to pay.
The show also stars Lily Rabe, Jesse L. Martin, Byron Jennings, Richard Topol and Christopher Fitzgerald.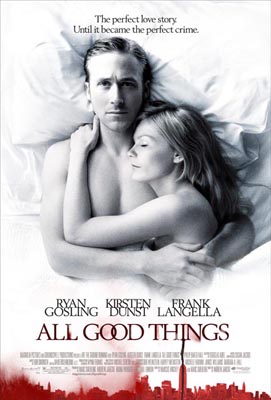 All Good Things: Inspired by the most notorious missing person's case in New York history, ALL GOOD THINGS is a love story and murder mystery set against the backdrop of a New York real estate dynasty in the 1980s. Produced and directed by Andrew Jarecki (director of the Academy Award-nominated doc Capturing the Friedmans and producer of Catfish), the film was inspired by the story of Robert Durst, scion of the wealthy Durst family. Mr. Durst was suspected but never tried for killing his wife Kathie who disappeared in 1982 and was never found. From trailers.apple.com
Director: Andrew Jarecki
Cast: Ryan Gosling, Kirsten Dunst, Frank Langella, Lily Rabe, Philip Baker Hall, Nick Offerman, Kristin Wiig