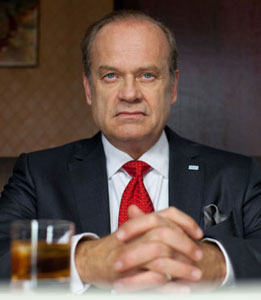 Sure, we all saw Kelsey Grammer play Dr. Frasier Crane for about a hundred years, but deep down inside we all knew that with that scowl and deep timbre of voice that he would make a fantastic villain.  I mean, the minds behind The Simpsons were obviously on to something with Sideshow Bob, right?  So Grammer was the perfect fit to play the corrupt Chicago Mayor Tom Kane in Boss, which will soon begin its second season. 
In an interview with Reuters, Grammer talks about transitioning from comedy to drama and his feelings on critics of his performances, including not being nominated for an Emmy.
Grammer admits that despite the character's evil nature, he loves the role.  He points out, "He is a great character to play because he is so energetic. The guy's vitality is fantastic. He is dying and yet he has more vitality than most people who have another 50 years to live. It is more energizing to play in a weird way.  We have explored and lifted from Shakespeare quite a bit. Apparitions in Shakespeare are common place and in the culture of that time they were meant as real things. It is up to the audience whether they want to accept it as a real thing or a figment of his imagination." Read more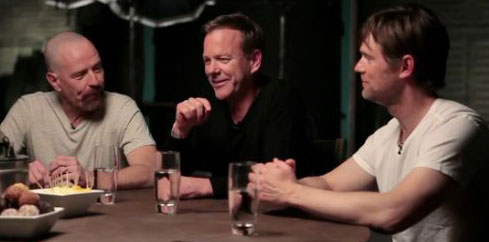 Rounding out the last bits of things I wanted to post while I was on vacation are these Hollywood Reporter videos. 
Every year, the magazine interviews a set of actors for their Emmy Roundtables videos. These are actors who have a great chance to get an Emmy nomination for their work for the previous TV season.
The interviews are always funny and full of interesting stories and these new videos are just that.
In this interview, THR talks with TV dramatic actors Bryan Cranston, Kelsey Grammer, Jon Hamm, Peter Krause, Damian Lewis and Kiefer Sutherland.
Check it out below! Read more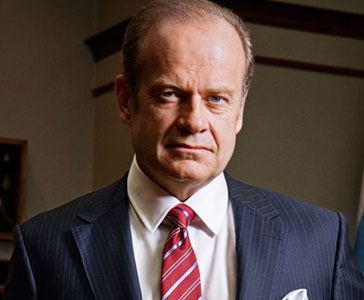 As Tom Kane, the Mayor of Chicago in the Starz series Boss, Kelsey Grammer has finally found a dramatic television role, which is something that has been eluding him for much of his career. 
Speaking with the Los Angeles Times, Grammer reveals how he manages to portray a character that is completely different than his past comedic roles — and how his current role relates to the possibility of his own real-life political future.
Though Boss is a one hour series, each episode is shot relatively quickly — the typical episode is shot in eight days.  For many actors that might be an unbearable pace, but for Grammer — who has spent half his life in episodic television — finds it liberating with an experienced cast, explaining, "I actually love working fast — those limitations can be freeing. There's an honesty to it — you just go with your gut and jump into it. But you need people who are experienced, who can access themselves as quickly as possible. Firing on your first impressions can be really effective."  Read more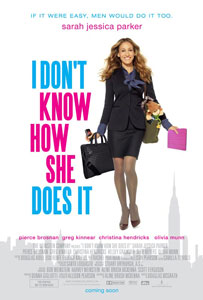 I Don't Know How She Does It: Based on the critically acclaimed bestseller by Allison Pearson, I Don't Know How She Does It follows a Boston-based working mother trying desperately to juggle marriage, children, and a high-stress job. Kate Reddy (Parker) devotes her days to her job with a Boston-based financial management firm. At night she goes home to her adoring, recently-downsized architect husband Richard (Kinnear) and their two young children. It's a non-stop balancing act, the same one that Kate's acerbic best friend and fellow working mother Allison (Christina Hendricks) performs on a daily basis, and that Kate's super-brainy, child-phobic young junior associate Momo (Olivia Munn) fully intends to avoid. When Kate gets handed a major new account that will require frequent trips to New York, Richard also wins the new job he's been hoping for–and both will be spreading themselves even thinner. Complicating matters is Kate's charming new business associate Jack Abelhammer (Brosnan), who begins to prove an unexpected source of temptation. from trailers.apple.com
Director: Douglas McGrath
Cast: Sarah Jessica Parker, Greg Kinnear, Pierce Brosnan, Olivia Munn, Seth Meyers, Kelsey Grammer, Christina Hendricks, Jane Curtin
In theaters: September 16th, 2011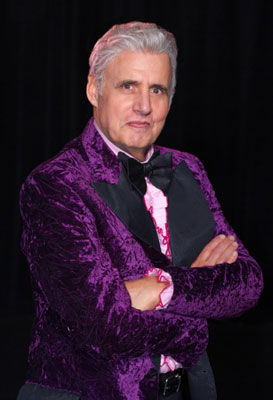 The producers of the Broadway revival of "La Cage aux Folles" announced Friday evening that Jeffrey Tambor has withdrawn from the show following Thursday's performance,  only one week after taking over the role of Georges, previously played by Kelsey Grammer .  The musical's producers released a statement citing Tambor "was experiencing complications from recent hip surgery and the pain and the challenge of performing in a musical eight times a week proved to be too physically demanding. We respect his talent enormously and regretfully accept his withdrawal from the production."
Tambor's understudy, Chris Hoch, will take over the role of Georges until a permanent replacement is announced.
Getting your SAG card. That's the goal all actors are striving towards (if they don't have it already). Here, some of today's hottest stars reveal the story behind the job that landed them that honor.
"I got my SAG card doing the first ever commercial for Dasani bottled water. I thought I only got the part because of my red hair but then the commercial was shot in black and white and I realized I got the part because I could sell the s— out of overpriced bottled water." — Jesse Tyler Ferguson, Modern Family
"Fran Van Hartesveldt, a commercial agent in town, explained to me that to get a SAG card, I needed a job and to get a job, I needed a SAG card. He had pity on me and gave me one line in a show called The Great Gildersleeve. Years later, when I got my own show, I hired Fran as one of my writers." — Betty White
"I got my SAG card with one line in the movie, The Doors. I was very sassy with [director] Oliver Stone in my audition, so he offered me the job on the spot. In every take I kept making the line a little longer until Oliver yelled at me."  — Lisa Edelstein, House
BEST PLAY:
In the Next Room by Sarah Ruhl
Next Fall by Geoffrey Nauffts
Red by John Logan
Time Stands Still by Donald Margulies
BEST MUSICAL:
Fela!
Million Dollar Quartet
From Movieline:
You've accrued a lot of television, film and stand-up experience. In addition to Hank, what kind of work excites you most?
Look, anyone who has a job in show business. as far as I'm concerned. should be grateful and I certainly am. Sometimes you have a particular goal in mind and every actor is probably different in what they think they're going to get. There have been times in my life where I've said "I just want to work." And it just happens and I work. And then there have been other times when I'm looking around and I have a wife and four children. The number one thing I need to do is provide and so other opportunities come this way or that way. And I'm so fortunate that sometimes I have choices while other times I have only what is in front of me.
And right now, with Hank in particular, working on a four-camera sitcom is the best job in show business, it really is. This one in particular happens to be eight minutes from my house. [Just take the] freeway and an off-ramp and boom, I'm in the studio. I have four kids, I need to share my life with them, I can drop them off at school and I can pick them up and it's a great job. So look, I'm very blessed to have this opportunity. I've never had a regular role on a series. I've done different guest spots or had an arc on a series years ago.
Plus, to get to work with Kelsey Grammer. So this is just another beautiful step, you never know where it's going to take you. Wow, what a great trip. I get to do this one and that one. Look at all the great guys I've gotten to work with and going all the way back to Chicago, with all the people I worked with back there. And dude, here's the thing I've realized about my path is that I will always get to work with a bunch of different great people and that's the fun of it.
I imagine that the days are shorter than doing single-camera stuff.
That's right.