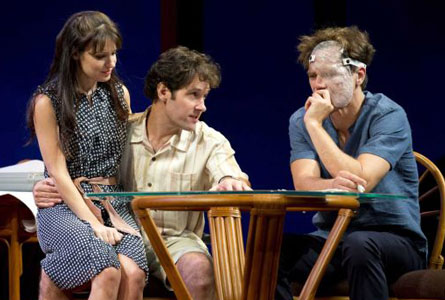 Perhaps Gallagher was on to something with that whole "hand ponchos out to the audience" thing for his comedy shows.
During the November 14 performance of Grace, the Broadway play starring Paul Rudd, Michael Shannon, Kate Arrington, and Ed Asner (which I reviewed here!), a person in the first row of the balcony who was "reportedly drunk and appeared to be elderly" threw up over the edge of the balcony onto audience members in the orchestra below.  The male audience member responsible then collapsed, though Gothamist says the man eventually returned to his seat (and also suggests that he wasn't drunk.  Hmm…) Read more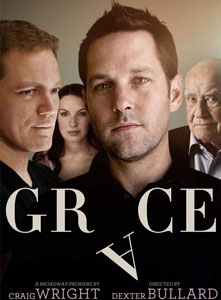 Two woman walked by me on their way out of the theater after seeing Grace starring Paul Rudd and Michael Shannon at the Cort Theatre.  One of the women turned to the other and said, "I thought it was supposed to be a comedy."  She then added "But I'm glad it wasn't." 
Indeed, though there are moments of great humor in Grace, which was written by Craig Wright (who has also written episodes of TV's Six Feet Under and Lost), this forceful drama is about the influence of God (or lack thereof) on the paths of our lives.
Grace takes place in two identical condos next door to each other in Florida and opens with its ending, in which two of the main characters are murdered and a third, the shooter, commits suicide.  This scene is "rewound" and played both forwards and backwards by the cast, a technique that is used later in the play during another key scene.  After this grisly opening the story goes back several weeks to establish the characters we have just seen brutally gunned down.   Read more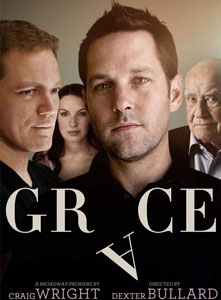 The stars of Grace, Paul Rudd, Michael Shannon, Ed Asner and Kate Arrington, a new Broadway show written by Craig Wright, talk about the production at a recent press event in New York City.
Grace is about a couple (Rudd and Arrington) with big plans to open a chain of Gospel-themed motels. When an agitated rocket scientist (Shannon) and a prickly pest-control man (Asner) enter the picture, the couple's world is thrown into utter chaos.
I read the play and can't wait to see the show with these actors in it. It's at times funny and sad and I think the casting is perfect. Click here to buy the play.
The show began performances last week at the Cort Theatre. For more info: Grace on Broadway Read more