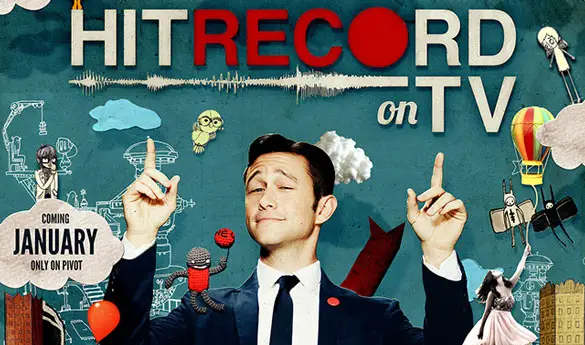 HITRECORD on TV might have just premiered, but Joseph Gordon-Levitt's variety show has not only been viewed online half a million times online but is also something that has existed for quite some time even before that. In fact, HITRECORD was a project that Gordon-Levitt would work on in between his acting projects (and now his writing and directing projects) when he wasn't as in demand as he is now. He spoke about where the HITRECORD name came from and how he became one of the few child stars who remained grounded with The Wrap. Read more
Here's the trailer for Joseph Gordon-Levitt's writing and directing debut, Don Jon. I saw this at SXSW and it was pretty great.
Synopsis: Jon Martello (Gordon-Levitt) is a strong, handsome, good old fashioned guy. His buddies call him Don Jon due to his ability to "pull" a different woman every weekend, but even the finest fling doesn't compare to the bliss he finds alone in front of the computer watching pornography. Barbara Sugarman (Scarlett Johansson) is a bright, beautiful, good old fashioned girl. Raised on romantic Hollywood movies, she's determined to find her Prince Charming and ride off into the sunset. Wrestling with good old fashioned expectations of the opposite sex, Jon and Barbara struggle against a media culture full of false fantasies to try and find true intimacy in this unexpected comedy written and directed by Joseph Gordon-Levitt.
Also staring Julianne Moore, Tony Danza, Glenne Headly and Brie Larson.
In Theaters: October 18th Read more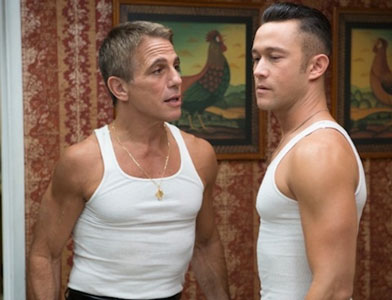 Tony Danza was always impressed with Joseph Gordon-Levitt—even back when they appeared together in Angels in the Outfield in 1994.  Now Gordon-Levitt is directing his old co-star in the new film, Don Jon.
"I've always had sort of a paternal thing for him.  It's kind of a cool symmetry, actually," Danza said in an interview with The Huffington Post.  "Here's a little anecdote: I really had a paternal thing for him.  I can't help myself; I do that with kids.  He was so terrific in that movie; such a good kid.  I'm an inline skater, he's an inline skater.  So we would skate together around Oakland-Alameda County Coliseum.  The smooth concrete there; it's fabulous.  Every once in a while, I'd say, 'Come on, Joe.  Get your skates, we'll go skating.'  He'd say, 'No, I'm following the director today.  I want to see what he does.'  So he always had this in the back of his mind.  At 12!  I was mad!  I was like, 'I'm going to be a jerk and you're going to be a director.'"
Initially, Danza could have felt reluctant taking on the part.  After all, Don Jon is Gordon-Levitt's first writing and directing project.  But with Danza's years of experience in the business, he knew he would be taking a good risk. Read more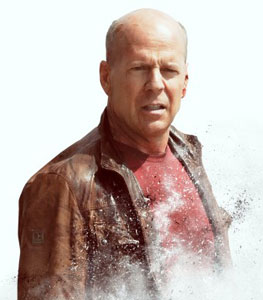 In Looper, Joseph Gordon-Levitt is only pretending to play the younger version of Bruce Willis, with Willis traveling back in time to confront his "younger self."  But if Willis could really go back in time, would he do anything differently?
Surprisingly, he tells Cheyboygan News that he thinks he actually make more mistakes.  He explains, "I would go back and make more mistakes, earlier than I made them.  I made a lot of mistakes early in my life, but if I had made more of them, I would have gotten to the answer to those mistakes earlier.  I have a lot of anxiety about making mistakes and hurting people's feelings. There were things I did as a brash kid that I wasn't paying any attention to – people whose feelings I hurt."  He then adds, "You know what I'm saying. I'd rather not hurt people anymore." Read more
Premium Rush aside, Joseph Gordon-Levitt appears in two of the best-rated action films of 2012, The Dark Knight Rises and Looper, and also stars in the likely Oscar-contending drama Lincoln due out in November. In an interview with New York magazine, Gordon-Levitt talks about the makeup he had to wear to portray a younger version of Bruce Willis in Looper and what inspired him to direct his first film, which is due out next year.
Gordon-Levitt reveals that it was a bit odd between takes when he was still in the makeup that made him look more like Willis, and when asked if he stayed in character or reverted to his usual self he says, "Probably some of both. One of my good friends visited the set and was really disturbed, didn't want to talk to me. My mom, too. She said, 'When I stand next to you, you feel like my son, but when I look at you, you're this different guy.' She found it a little odd." Read more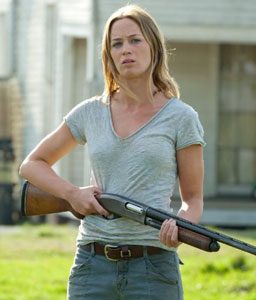 Emily Blunt is one of the many actresses working today that aren't satisfied by repeatedly starring as giggly girls in lighthearted comedies.  Following in the footsteps of her Devil Wears Prada co-star Meryl Streep, Blunt has taken on a variety of roles in many different genres, including a major role in Looper, a sci-fi movie starring Joseph Gordon-Levitt and Bruce Willis. 
Blunt spoke to NBC New York about her role in the sci-fi film and what convinced her to star in a film in this genre.
Blunt reveals that she was immediately drawn to the project after reading only a few pages of the script by writer/director Rian Johnson.  She says, "It's like a singular voice that he has. My agent sent me the script and luckily we got in quite early with it. I read the first 20 pages and then called my agent and said you've got to get me in the room with this guy. Then my agent asked what I thought of my character and I hadn't even got to her yet." Read more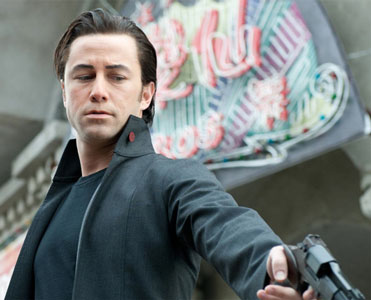 In order to play a younger version of Bruce Willis' character in Looper, Joseph Gordon-Levitt underwent three hours of makeup each day before filming.  While I personally don't think the changes are that drastic (I mean, it isn't like he has to look like the Elephant Man to play Bruce Willis), Gordon-Levitt talked to Moviefone about transforming into Willis and what audiences might discover when watching Looper.
In fact, since actors like to "disappear" into their roles, Gordon-Levitt admits that putting on all that makeup helped him separate himself from the character.  He says, "I love it. One of the main ways that I measure my work is if I can't tell that it's me. If it's convincingly somebody else, that means that the transformation of that character is thorough enough that I did a good job. In this movie I got to transform unlike I ever had before." Read more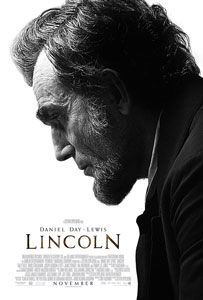 Director
: Steven Spielberg
Cast
: Daniel Day-Lewis, Sally Field,
Tommy Lee Jones
,
Joseph Gordon-Levitt
, Hal Holbrook, James Spader
Synopsis: In a nation divided by war and the strong winds of change, Lincoln pursues a course of action designed to end the war, unite the country and abolish slavery. With the moral courage and fierce determination to succeed, his choices during this critical moment will change the fate of generations to come.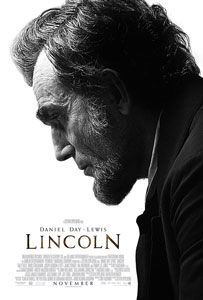 I hate this ridiculous trend of releasing a teaser trailer for an upcoming trailer. Just release the whole damn thing.
Anyway, here is the teaser trailer for Steven Spielberg's, Lincoln. The whole 20 seconds they show look great!
The full trailer will be released this Thursday at 7pm EST, 4pm PST on www.LincolnMovieHangout.com followed by a live chat with Spielberg and Joseph Gordon-Levitt.
Synopsis: Steven Spielberg directs two-time Academy Award® winner Daniel Day-Lewis in "Lincoln," a revealing drama that focuses on the 16th President's tumultuous final months in office. In a nation divided by war and the strong winds of change, Lincoln pursues a course of action designed to end the war, unite the country and abolish slavery. With the moral courage and fierce determination to succeed, his choices during this critical moment will change the fate of generations to come. Read more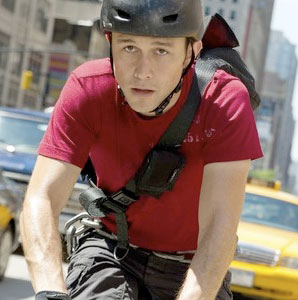 While I like Joseph Gordon-Levitt and really like Michael Shannon and films set in New York City, I'm not sure how much I'm going to get into Premium Rush, a movie featuring Gordon-Levitt as a bike courier in New York.  But I'm sure the film will be filled with a lot of great action sequences that we haven't seen before since there aren't many action bike movies, although I'd love to see a flying bike tackle take-down like on USA's old Pacific Blue series.
But that's neither here nor there.  What we do have here is an interview with Gordon-Levitt with NBC New York about Premium Rush.  He talks about doing stunts and an injury he suffered on-set.
While Gordon-Levitt did most of his own riding in the film, his stunt doubles obviously did most of the action sequences.  He praises them, saying, "I think for what I was doing, the danger was certainly minimized. I was riding fast and riding hard all day long, but what my doubles were doing was so dangerous. Absolutely 100 percent dangerous. That's part of the appeal of this movie. When you watch action sequences that are fake or computer generated – basically what amounts to cartoons – there's a big difference between that and watching a human being really risk their life. It's just exhilarating. Take it back to vaudeville or Evil Knievel or whatever – it's exhilarating. And that's the foundation of the action in this movie." Read more