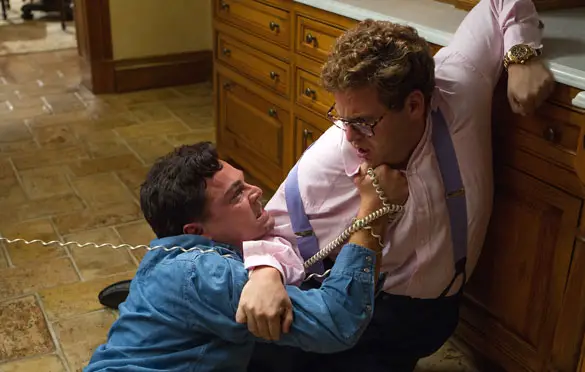 Actors find inspiration in a variety of places when they are researching a role. For The Wolf of Wall Street star Leonardo DiCaprio, he found the perfect subject on YouTube. In the film, DiCaprio and Jonah Hill's characters have a drug-fueled scene after taking too many Quaaludes.
At the Santa Barbara International Film Festival, the 39-year-old Best Actor nominee revealed that it was a popular internet video that helped inspire his behavior in the scene. Read more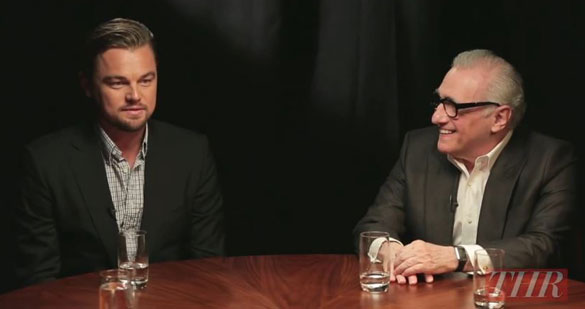 The Hollywood Reporter got Leonardo DiCaprio, Martin Scorsese, Jonah Hill and writer Terence Winter to talk about their new film, The Wolf of Wall Street.
DiCaprio and Hill are wonderful in the film and the more I think about it, the more it grows on me. You've never seen DiCaprio in a role like this and damn, does he knock it out of the park.
Scorsese and DiCaprio talk about how they first met, casting Jonah Hill, DiCaprio's 4-page monologues and more. The Director also talks about the advice he got from Steven Spielberg and if he ever gets nervous on-set.
Check it out! Read more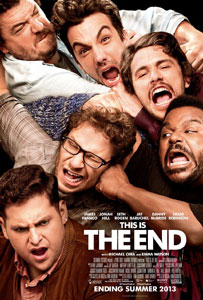 What happens when you take some of the most popular comedic actors working today and have them play heightened versions of themselves in an end-of-the-world movie?
We get a movie that's worthy of being called 'the funniest movie of the year.'
Written and Directed by Seth Rogen and Evan Goldberg, the story is about six friends (Rogen, James Franco, Jonah Hill, Jay Baruchel, Danny McBride and Craig Robinson) who end up trapped in a house at the beginning of the apocalypse. And if you think you'd want to spend the end of the world with your friends, after watching this, you might want to think again. 
This Is The End starts when Rogen picks up Baruchel at LAX. They eat, get high and chat about life. Those scenes alone made me laugh more than any movie I've seen all year.  And that was just the first 10 minutes!
The guys then head to Franco's housewarming party, Baruchel a reluctant passenger. He's not really the best of friends with the gang; he thinks they're too Hollywood. And the way they portray themselves here, they are; Franco especially. They're all hilariously Hollywood. Especially Michael Cera in an over-the-top cameos you'll ever see. Good for him to play that obnoxious and crazy! Read more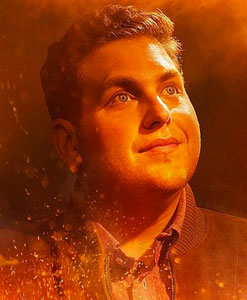 It's official: Jonah Hill is a serious actor.  Sure, he might be co-starring in This Is The End and is likely returning for a sequel for 21 Jump Street, but in an interview with Rolling Stone Hill refuses to speak about his more famous filthy comedies and only wants to speak about his transition from comedian to serious actor in films like Moneyball and The Wolf of Wall Street.
Want proof?
When asked about how he managed to shed so many pounds from his once-chubby frame? He answers, "My workout routine is of little relevance."
When asked about passing gas? He answers, "I'm not answering that dumb question! I'm not that kind of person! Being in a funny movie doesn't make me have to answer dumb questions. It has nothing to do with who I am." Read more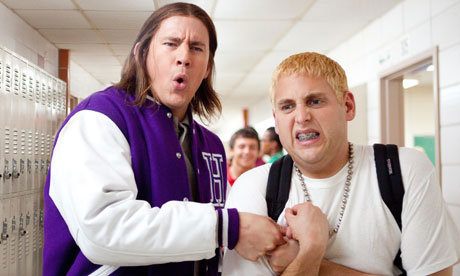 Although it isn't a huge secret now — and it was rumored for months during the film's production — the new film sequel to the 1980s television series 21 Jump Street features three surprise cameos, one of whom is among the most famous actors in the world. 
Surprisingly, the filmmakers had little difficulty getting the star to agree to the cameo and they spoke to Moviefone about not only writing the part, but how the superstar behaved during his one day on the set.
***SPOILERS BELOW*** Read more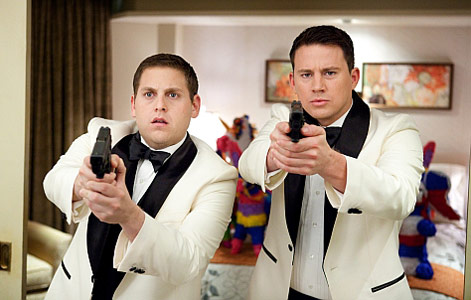 Who knew I would like Channing Tatum so much in a movie?
Haywire aside, he was the main reason I liked 21 Jump Street so much. Well, that and some great cameos – which I won't spill.
I used to love 21 Jump Street the show. Yeah, looking back on it – and I recently watched every single episode – it was a bit cheesy but at the time, Hanson (Johnny Depp), Penhall (Peter DeLuise), Hoffs (Holly Robinson Peete) and Ioki (Dustin Nguyen) were my TV obsession.
When I heard they were turning my beloved show into a film… into a comedy (!) starring Jonah Hill and Channing Tatum, well, I was prepared for it to stink.
I'm happy to say that the new version of Jump Street doesn't suck, in fact, it's hilarious and that's thanks to – go figure – Channing Tatum. Read more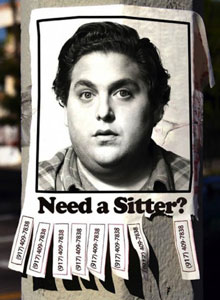 The Sitter: When the world's most irresponsible babysitter takes three of the world's worst kids on an unforgettable overnight adventure through the streets of New York City, it's anyone's guess who's going to make it home in one piece
Director: David Gorden Green
Cast: Jonah Hill, Sam Rockwell
In Theaters: December 9, 2011
Read more
Podcast: Play in new window | Download (Duration: 9:58 — 6.9MB)
Fans of FOX's Sunday night 'Animation Domination' can add another show to their viewing habits, Allen Gregory. Gregory is about a precocious 7 year-old being raised by his father and his father's life partner, who due to a recession, has been forced to attend elementary school.
Jonah Hill is the co-creator and Executive Producer of the animated comedy and on a recent call he talked about the show, the challenges of being a Producer and what inspired the character of Allen Gregory.
What inspired the Allen Gregory? 

Jonah Hill: Well, Allen Gregory came about because we're doing animation and … me to play, Andy and I were saying it would be cool to play a seven-year old because I couldn't play that in real life.  Yes, his parents are going through financial troubles because they spent all their money.  They were like heiresses and they spent all their money.  So you deal with them having to get jobs and having to earn a living for the first time, a bunch of spoiled rich people figuring out how to make their way in the world for the first time. 
Check out our previous interview with Jonah here
Allen Gregory airs Sundays at 8:30/7:30c on FOX
For the full interview, click the audio link above or download it from iTunes
Could talk about a movie where you get to play a character for a finite amount of time and doing  a TV show, where you could play him indefinitely? 

Jonah Hill: It's exciting.  With a film, it's over with and that character is done with.  And with a show, it's cool to see them grow and change and what happens to them over time. 
How do you see Allen possibly changing? 
Jonah Hill: I don't know.  I don't think I'm able to say that yet.  We have to see what the stories are and where we feel things naturally go.  We don't have an idea of that yet until we explore where we want to go.  Read more
My embargo has lifted and I can now safely tell you that Moneyball is fantastic.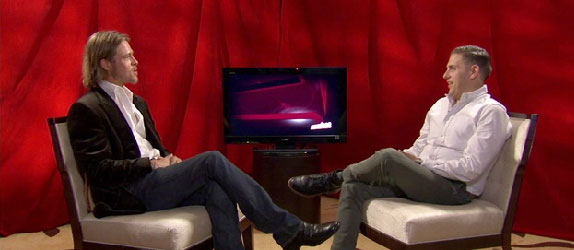 You can read my review here, but it's a good bet that Brad Pitt will be nominated for an Oscar for his performance as Billy Beane, the Oakland A's GM who built up a winning team despite a lack of cash. Thanks to his newly hired Assistant GM's (Jonah Hill) use of statistical data, they figure out a way to calculate the best — and cheapest — players for the roster.
In these videos from Moviefone, the two stars talk about the film while asking reader questions. Most of the questions and answers are ridiculous but you can clearly tell that they both enjoy each others company so from that standpoint, it's a fun watch them tease each other.
Check them out below!   Read more
Best known for his portrayal of the goofy guy stuck in wacky positions most of the time, Jonah Hill's latest role in Moneyball has allowed fans to see a new side of the Superbad star, in a role the actor says required watching a lot of baseball.
"Brad [Pitt] and I would just always have baseball on in the background whenever we were rehearsing," he remembers. "When I was at home, baseball on. When I was touring, promoting 'Get Him to the Greek,' every hotel room – boom! 'Sports Center' baseball."
Moneyball comes from director Bennett Miller, and writers Aaron Sorkin and Steve Zaillian.  The movie chronicles famed Oakland A's general manager Billy Beane, and his  "successful attempt to put together a baseball club on a budget by employing computer-generated analysis to draft his players." 
On a deeper level the flick is "about being undervalued," Hill says in his own words. "That's really what I saw. There are times in life when you feel undervalued and someone is courageous enough to shine a light on you or sees something in you and gives you the courage to execute what you have to say, what you believe in. My character really gets that opportunity through Billy."   Read more