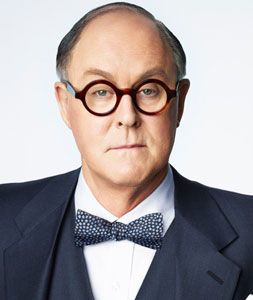 There isn't many sentences you can say in New York's Theatre District that will elicit more smiles than, "John Lithgow is in a new show." The popular Third Rock from the Sun TV star has been appearing regularly on the New York stage after he returned for Sweet Smell of Success in 2002 after a 14-year absence from Broadway. 
Lithgow stars in The Columnist, based on the life of journalist Joe Alsop, a staunch conservative who nevertheless was a closeted homosexual.  Lithgow spoke to the New York Times about taking on such a conflicting role.
Lithgow admits that despite his experience he still is nervous about appearing in a bad production.  He says, "You work this hard on something and number one, you want so badly for people to love it. Number two, you gradually persuade yourself that it's absolutely brilliant. Going to see a play, you think, 'How could anybody think this was any good?' You see that 50 people worked on it. Or a movie. Nobody sets out to do something bad, they all set out to do something good, by the time it opens they think it is good, which is why bad reviews stung them so deeply. I've had that experience many times. Acting on stage is a batting average game, if you bat 300, you're doing extremely well." Read more
John Lithgow's roots are in the theater. In 1973, he won a Tony Award three weeks after his Broadway debut, in David Storey's The Changing Room. Since then, he has appeared on Broadway 19 more times, earning another Tony, three more Tony nominations, four Drama Desk Awards, and induction into the Theatre Hall of Fame. Ensuing stage performances have included major roles in My Fat Friend, Trelawney of the "Wells," Comedians, Anna Christie, Bedroom Farce, Beyond Therapy, M. Butterfly, The Front Page, Retreat from Moscow, All My Sons, the Off-Broadway premieres of Mrs. Farnsworth and Mr. and Mrs. Fitch, and the musicals Sweet Smell of Success (his second Tony), and Dirty Rotten Scoundrels.
In 2007 he was one of the very few American actors ever invited to join The Royal Shakespeare Company, playing 'Malvolio' in Twelfth Night at Stratford-upon-Avon. In 2008 he devised his own one-man show Stories by Heart for The Lincoln Center Theater Company, and has been touring it around the country ever since, including a triumphant six-week run at The Mark Taper Forum in Los Angeles.
In the early 1980's Lithgow began to make a major mark in films. At that time, he was nominated for Oscars in back-to-back years, for The World According to Garp and Terms of Endearment. In the years before and after, he has appeared in over 30 films. Notable among them have been All That Jazz, Blow Out, Twilight Zone: the Movie, Footloose, 2010, Buckaroo Banzai, Harry and the Hendersons, Memphis Belle, Raising Cain, Ricochet, Cliffhanger, Orange County, Shrek, Kinsey, and a flashy cameo in Dreamgirls. This summer, Lithgow was seen on the big screen in Rise of the Planet of the Apes, Fox's prequel to Planet of the Apes. Read more
John Lithgow is an actor who has had success on stage, television, and movie screens, although he's probably best known for his lengthy run as Dr. Dick Solomon on the sitcom 3rd Rock from the Sun or for his turn as the Trinity killer on Dexter.
Despite his success, in his memoir, Drama: An Actor's Education, Lithgow focuses mostly on his beginnings as an actor, including how he learned how to perform so well as both a comedic and dramatic actor.  Nonetheless, in an interview with the A.V. Club,  Lithgow doesn't hesitate to talk about his time on the popular 3rd Rock from the Sun series.
Portraying the same character in a television series for six seasons has plenty of challenges, but Lithgow recounts working on the series as one of the most rewarding experiences of his career because of the collaboration between the actors and the writers. 
He explains, "3rd Rock was remarkable. I've tried another sitcom, and I knew it wasn't going to work. A lot of it had to do with the fact that it was so theatrical. It was very high-energy, it was a bunch of theater actors, and we worked intensely with the writers, which was very, very exciting. It was a very creative experience every week, just inventing a 22-minute, one-act farce. It never got boring. Sometimes it got a little crazy, toward the end, but it never got boring. Imagine laughing for a living—that's what we did."  Read more
The MTC (Manhattan Theater Club) just announced that Tony Award Winner John Lithgow is returning to Broadway in The Columnist.
Written by David Auburn and directed by Daniel Sullivan, the show is about Joe. He's "beloved, feared and courted in equal measure by the Washington political world at whose center he sits. But as the '60s dawn and America undergoes dizzying change, the intense political drama Joe is embroiled in becomes deeply personal as well."
The show begins performance April 3rd and opens April 25th at MTC's Samuel J. Friedman Theatre.
Click below for the press release.