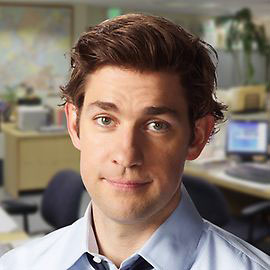 On May 16th, The Office will be closing its doors. After an eight-year run, Jim Pam, Dwight and the rest of the gang will be moving on to bigger and better things (hopefully). I've watched every episode of the long running series and I'll definitely be sad to see the show go.
Before getting the role of Jim, John Krasinski was like almost every other actor in New York. He'd work his job as a waiter during the week then run off to an audition when he could. He had booked a few things but "not anything that would allow me to claim that I was a working actor and didn't need another job," he said during a conference call. Booking The Office was like winning the lottery, "except with a winning lottery ticket you just get money, and with this you get a whole change of your life."
If you're a fan of the show, you'll love this interview. And honestly, even if you're not, there's some great stuff in here about what it's like to go from hustling for auditions to becoming a star on a major network show. In this interview, John and Executive Producer/Writer Greg Daniels talk about the end of The Office, John's audition, his past commercials and more. It's a long one but it's really great.
The Office airs on Thursdays at 9 on NBC – for only 2 more weeks! Read more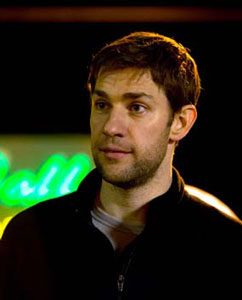 Once an actor has starred in a television series for a number of years it gets a bit difficult to see the actor in other roles — not just for audiences, but also for those who handle casting.  Case in point, I saw John Krasinski in a movie this year in which he was essentially playing his Jim Halpert character from The Office with a different name. That's not exactly the type of role that helps an actor grow.
Krasinski explains that he was inspired by Tom Hanks, who once mentioned on Inside the Actor's Studio that he took the less-than-affable role of the manager in A League of Their Own in order to break away from his typical 1980s "nice guy" roles.  He explains, "What Tom said was that he took the role because he wanted to play a guy with conflict.  He called his agent and said, 'I don't want to play pansies anymore.' That's exactly what I'm headed toward … I want to play something a little more real and gritty." Read more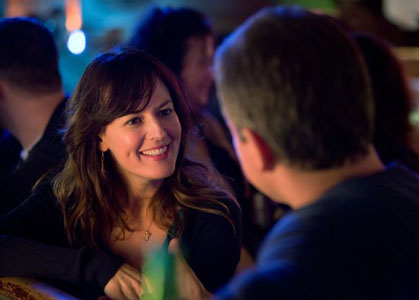 Rosemarie DeWitt has popped up everywhere recently, from the indie Your Sister's Sister to the comedy The Watch.  Now, with her role in Gus Van Sant's Promised Land, DeWitt is showing other actors how to take on a variety of projects.
"If I could plot the rest of my career I would only do indie movies and have them pay more big budget salaries," the actress joked in an interview with Moviefone.  "I like the pace of the indies.  I like being challenged in that way—quickly.  I like having the time to prep.  And I feel like it's hard to keep up the energy on a big studio movie because there are so many obligations and you don't shoot that much.  Although it's nice to have those resources."
Promised Land, which opens this Friday, is sort of a combination of an indie and a big-budget film—the movie has a indie-like message about environmental woes, while still maintaining a pedigree of a famous director (best known for Good Will Hunting and Milk) and famous costars like Matt Damon and John Krasinski. Read more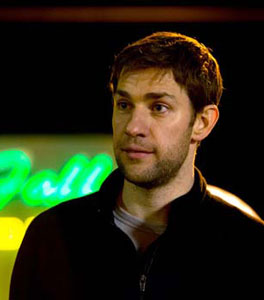 Though it'll be difficult, if not impossible, for John Krasinski to shake off the public perception of him as Jim from The Office (plus he'll have to get used to not mugging for a camera), Krasinski is certainly giving it a try as The Office wraps up its final season.  He not only stars with Matt Damon in the movie Promised Land, but he co-wrote the script with Damon.  He talks about how that project came together with USA Today and also touches on what the end of The Office means to him.
Krasinski explains that the pairing between him and Damon happened after the two met while Krasinski's wife, Emily Blunt, was starring with Damon in The Adjustment Bureau.  He says, "Matt was working on The Adjustment Bureau with Emily. We got to know each other and quickly became good friends. We did a whole lot of double-dating with Matt and (his wife) Lucy and we got along really well. Matt had mentioned that he wanted to direct and asked me if I was working on anything. I told him about this. And we started writing pretty much right away." Read more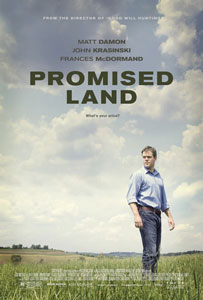 Director: Gus Van Sant
Cast: Matt Damon, John Krasinski, Frances McDormand, Rosemarie DeWitt, Scoot McNairy, Titus Welliver, Hal Holbrook
Synopsis: Promised Land is the new contemporary drama directed by Gus Van Sant (Good Will Hunting, Milk). Matt Damon plays Steve Butler, an ace corporate salesman who is sent along with his partner, Sue Thomason (Frances McDormand), to close a key rural town in his company's expansion plans. With the town having been hit hard by the economic decline of recent years, the two outsiders see the local citizens as likely to accept their company's offer, for drilling rights to their properties, as much-needed relief. What seems like an easy job for the duo becomes complicated by the objection of a respected schoolteacher (Hal Holbrook) with support from a grassroots campaign led by another man (John Krasinski), as well as the interest of a local woman (Rosemarie DeWitt). Promised Land explores America at the crossroads where big business and the strength of small-town community converge.
In theaters: December 28th  Read more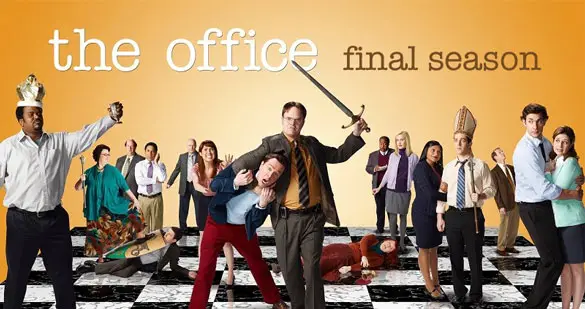 Greg Daniels, the showrunner for NBC's The Office, dropped a bombshell during a recent conference call I participated in: This will be the last season of The Office.
For fans of the show (like me), it was a bit of a shock but definitely not unexpected. This is the 9th season and it's core group of actors, John Krasinski, Jenna Fischer and Ed Helms are in their last years of a contract and would be on the verge of a huge raise. Rainn Wilson is set to leave and spin off his character, Dwight, on the new show, The Farm and Mindy Kalling (who has a new FOX pilot) and B.J. Novak have taken diminished roles this season. So, yeah, a shock but not unexpected.
I'll be sad to see the show go but as you'll read in this interview, they won't leave it's audience hanging. Daniels talks about wrapping up the storylines, finally finding out about the documentary crew that's been following the characters for the past 9 years and if Steve Carell will return.
The Office's final season begins on NBC on Thursday, September 20th at 9/8c Read more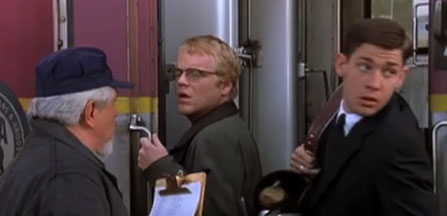 Here's a cool video featuring a bunch of well-known actors in the very first on-camera roles.
Some of them are pretty obvious; Jack Nicholson in Little Shop of Horrors, Johnny Depp in A Nightmare on Elm Street, Nicholas Cage in Fast Times at Ridgemont High and Kevin Bacon in Animal House.
But, there are also some that I didn't know like Woody Harrelson, John Krasinski, Jon Hamm and Jack Black.
Unfortunately, it's back by music and you can't hear any of the dialogue but it's still fun to watch nonetheless.
Check it out below! Read more
Big Miracle: Inspired by the true story that captured the hearts of people across the world, the rescue adventure Big Miracle tells the amazing tale of a small town news reporter (John Krasinski) and a Greenpeace volunteer (Drew Barrymore) who are joined by rival world superpowers to save a family of majestic gray whales trapped by rapidly forming ice in the Arctic Circle. Local newsman Adam Carlson (Krasinski) can't wait to escape the northern tip of Alaska for a bigger market. But just when the story of his career breaks, the world comes chasing it, too. With an oil tycoon, heads of state and hungry journalists descending upon the frigid outpost, the one who worries Adam the most is Rachel Kramer (Barrymore). Not only is she an outspoken environmentalist, she's also his ex-girlfriend. With time running out, Rachel and Adam must rally an unlikely coalition of Inuit natives, oil companies and Russian and American military to set aside their differences and free the whales. courtesy of trailers.apple.com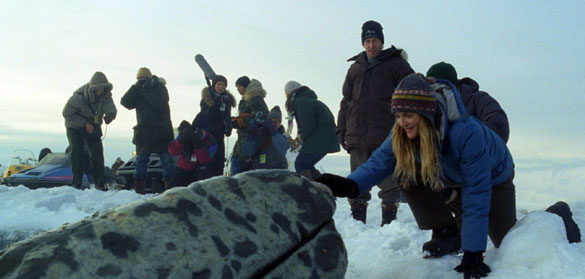 Director: Ken Kwapis
Cast: Drew Barrymore, John Krasinski, Kristen Bell, Dermot Mulroney, Tim Blake Nelson, Ted Danson
In theaters: February 3rd, 2012   Read more
If you've seen one episode of The Office, you know that light-hearted, fun-loving paper salesman Jim Halpert (played by John Krasinski) would never hurt a fly, unless that fly was named Dwight Schrute. As Moviefone notes, though, Krasinski portrayed a possibly-murderous high school basketball player on a 2004 episode of Law & Order: Criminal Intent before he hit it big as everybody's favorite card stock vendor.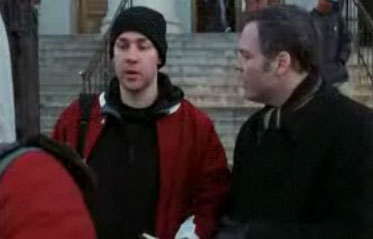 Since Krasinski is now so inextricably linked to his Office character, it's hard to believe the guy who married his sweetheart at Niagara Falls as a morally-questionable hoopster. In a clip from the episode, available after the jump, Krasinski's character starts a fight with a teammate after lying to police during a questioning.
However, Krasinski isn't the only actor to make a cameo as someone completely opposite from the roles that made them famous — in fact, the TV landscape is littered with them. To keep this Office-related, remember Amy Adams as Halpert's love interest in the show's early days? Or Breaking Bad star Bryan Cranston as a dentist on Seinfeld before his Malcolm in the Middle run?
From Moviefone.com:

Can you describe your reaction to getting the call for this from director Sam Mendes?
I can if you can detail the writing version of having a nose bleed and passing out on the floor of a trailer, and if you can make it look like a crime novel, that's what I looked like … I was in my trailer for 'The Office,' practicing my looks for the camera in the mirror, and I got a call and Sam said, "I just read the script, and I can't see anyone other than you doing it" … And yes, there was a small part of me that was like, "Wow, George Clooney is an incredibly complex prankster." He's the kind of guy who could get Sam Mendes to make that call, and then be like, "Remember when your life was awesome? Well, it was all a joke."
But Clooney had nothing to do with it?
I definitely looked outside my trailer because he would also get on set, because he's so charming he just smiles at people and everyone falls on the ground. No, it was awesome, and I actually did talk to George about doing the movie later, and he obviously said it was a no-brainer to do a movie like this and work with Sam.
Do you think your chemistry came pretty natural, or did you have to work on it a little bit?
Believe it or not, I had known about Maya and there're few people that I like watching perform more. I almost reached stalker status at 'SNL,' I loved being behind the scenes at that show. So I had known her through a mutual friend, but then when we actually started rehearsing, because we got to work on the script together and Sam was so collaborative, we actually started to feel like this was our project … And honestly, I think Maya's one of the most special people I've ever met, so I was just psyched to have a friend that was this incredible, and on top of it we were doing a movie.