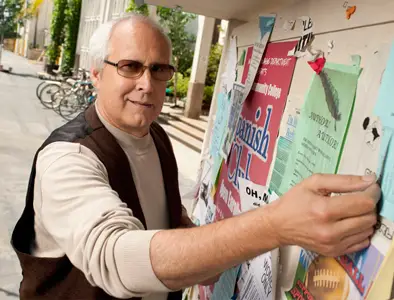 Chevy Chase continues to demonstrate that he must be a joy to work with on the set of Community.  It hasn't been six months since Chase's very public spat with Community creator Dan Harmon.  Then last month (after NBC removed Harmon as showrunner) Chase made it clear that he still wasn't happy, calling the hours "hideous" and sitcoms "the lowest form of comedy," and though he complimented the young cast (calling them his "friends") he made sure to mention that he was aware that he wasn't "working with the great innovators of all time."  In a follow-up interview, co-star Joel McHale simply said Chase's ornery comments just give the cast ammunition to make fun of him with. Read more
I'm not sure what's more entertaining — the comedy of the show Community or the backstage drama that has surrounded the series over the past year.  Star Joel McHale is the latest member of the cast to step forward and talk about the departure of creator and show runner Dan Harmon and co-star Chevy Chase's numerous comments to the media about how much he dislikes working on the show. 
Though Harmon is no longer involved in the ongoing production of the series (except as a "consultant"), McHale explains that the show is so well established that his presence really isn't needed.  He says, "Really, not much has changed. A lot of writers stayed, so they know the spirit and tone of the show. And it's our fourth year, so we have a good sense of our characters. The main difference is he's not physically there."
On Chase's candid comments that called sitcoms "the lowest form of television," McHale similarly doesn't hold back when attacking Chase's comments.  He says, "I will tease Chevy about that stuff, and then he always goes, Oh, I was just joking! and then I'll say, a) Hilarious, hilarious! and b) You should soak your dentures. It's like, Chevy, why are you here? This is not a tour of duty. You are not going to be sued. And then he's like, well you know, I like it here, I do. And I'm like, alright, well then stop saying stuff. Or, I guess, say whatever you want, but I'm gonna make fun. It gives the whole cast fodder to make fun of him." Read more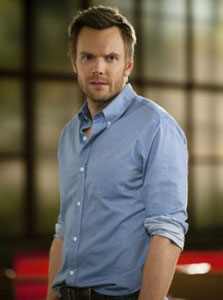 Joel McHale is most known for his snarky commentary on his E! show The Soup or contributing to NBC's zany comedy, Community.  So his guest spot on the notoriously dark Sons of Anarchy might come as a little shocking.
McHale is set to appear in two episodes on the FX drama, starting with the fifth season premiere on September 11.  "They came on The Soup and then Kurt [Sutter, the creator] said, 'Would you wanna come on sometime?'  I'm like, 'Yes!'—and that's how I said it too—and so it worked out."
For now, McHale is keeping mum on his role.  "I'm not going to say [if I kill anyone], because Kurt Sutter, the creator, will—it'll be like a cartoon in that it'll be like, 'I can say this,' and then I'll turn around and he'll be standing right there ready to punch me in the face," he told Yahoo! News.  "No, I got to work with the lovely and beautiful Katey Sagal—most of my scenes were with her, but I did get to work with Jimmy Smits a couple of times and he's pretty fantastic.  I had a ball of a time doing it." Read more
Podcast: Play in new window | Download (Duration: 17:39 — 12.1MB)
Community is back after it's summer hiatus and this fall, the gang has another authority figure to deal with, Vice Dean Laybourne.
Laybourne is played by John Goodman who, according to Goodman, may or may not be in 6 episodes this year. That all depends if they "can rid of [me] more cheaply," he said.
I talked to John and series star Joel McHale in a conference call about the upcoming season, Goodman's return to TV and why Joel keeps doing E's The Soup.
Follow Joel on Twitter!
Community airs Thursdays at 8/7c on NBC
For the full interview, click the audio link above or download it from iTunes
John, do you have any idea of what your episode count is going to be this season?
John Goodman: Six, I think. Unless they can get rid of me more cheaply.
What was it about this role or about Community in general that made you want to be a part of it?
John Goodman: It's the cast. I think they're a wonderful ensemble. The writing is out there. It's just – it's not a typical situation comedy sitcom. It's risky and – yeah, it – you know, it's combination of great things and I've – I'm just dying to get back into comedy again. That's what I like to do. I enjoy it. And I've been doing pretty heavy guys lately, so you know, it's nice to lighten up. Not that that's any easier, I mean the stuff – I had pages of dialogue yesterday that was really precise and – but it's good to stretch like that.   Read more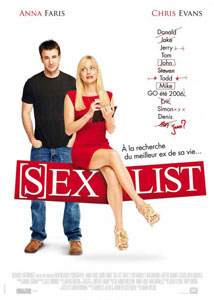 Here's 5 clips from the Anna Faris and Chris Evans film, What's Your Number?
The film, about a woman (Faris) who, having hit her sexual limit at 20 men, decides to track down the other 19 guys in hopes that she's overlooked one who could be "the one" has a great cast – Zachary Quinto, Joel McHale, Andy Samberg, Thomas Lennon and Aziz Ansari – but judging from these clips, I'm skeptical of how it's going to turn out.
And, here's something funny. In France, they've renamed the film to Sex List as you can see in the picture on the right. They should use that name here. It's definitely better than the bland sounding What's Your Number?
Anyway, judge for yourself in the clips below!
Melissa McCarthy is announcing the Primetime Emmy Nominations and she's a little freaked out about the whole deal.
Lucky for her, Joel McHale (who did the honors last year) is around to help her with… advice and training; including chasing a chicken, folding his laundry, torture from a puppy and other Rocky-esque tasks.
The announcements are this coming Thursday, July 14th at 5:35 pst. I'll be happily snoozing away but I'll post them as soon as I wake up.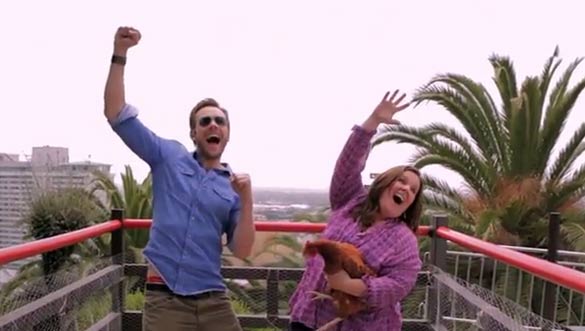 Check out the video below!
Danny Pudi, who plays Abed on "Community" experienced a "cross over" during the episode titled "Critical Film Studies." It is no secret to viewers Abed  is completely obsessed with pop culture, and in the episode he tells Jeff (Joel McHale) he got to be an extra on a television show.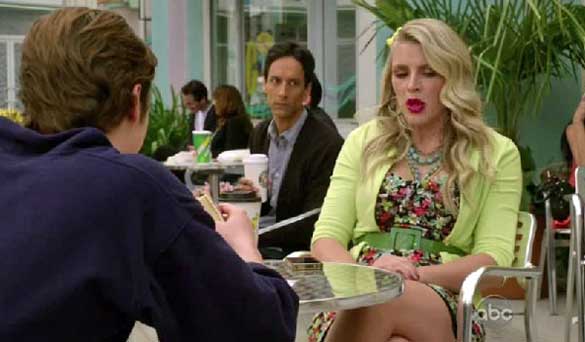 Pudi's character Abed says to Jeff,  "That's when I really started to panic, Jeff, because … if I'm a person that watches 'Cougar Town,' how can I be in 'Cougar Town'? The more I start thinking about it, the less any of it makes any sense at all." Later, Abed confesses to Jeff he made it all up.
On Wednesday's finale of "Cougar Town," Pudi appears as a background actor in a scene with "Cougar" co-stars Dan Byrd and Busy Philipps, who coincidentally appeared as extras on an episode of "Community".
So, did Abed make it all up, or not?
Video after the jump!
Read more
Here's the winners of last nights Independent Spirit Awards. There were no real surprises – Winters Bone took both supporting actor nod which was nice to see.
Also, check out the 3 videos of host Joel McHale!

BEST FEATURE
Black Swan
BEST DIRECTOR
Darren Aronofsky, Black Swan
BEST SCREENPLAY
Stuart Blumberg, Lisa Cholodenko, The Kids Are All Right
BEST FEMALE LEAD
Natalie Portman, Black Swan
BEST MALE LEAD
James Franco, 127 Hours
BEST SUPPORTING FEMALE
Dale Dickey, Winter's Bone
BEST SUPPORTING MALE
John Hawkes, Winter's Bone
BEST CINEMATOGRAPHY
Matthew Libatique, Black Swan
BEST DOCUMENTARY
Exit Through the Gift Shop
BEST FOREIGN FILM
The King's Speech