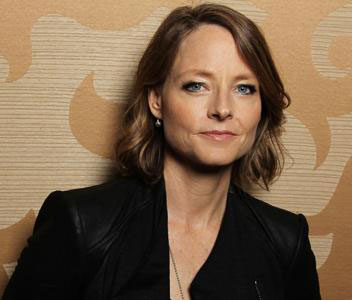 Jodie Foster is best known for her long acting career, but the actress has always seen herself in the director's chair.  But after directing three theatrically films — Little Man Tate, Home for the Holidays, and The Beaver — Foster has been looking at her fellow big-name actors and actresses who have done shows on cable television and believes her future work belongs there.
During the Comic-Con panel for Neill Blomkamp's Elysium, Foster revealed that she was "Developing a few things" for cable, and pointed out that television is "a good outlet for what I do.  I think I may spend some time on cable."
"I think it's a good outlet for what I do," She added, "What I do are personal stories and, in some ways, usually involve family and they have equal amounts of comedy and drama, sometimes an absurdist twist, and they're very verbal. And I like constructing complex characters and hopefully seeing this sort of tapestry of how they interact with each other over time evolve. Well, TV's the place for that." Read more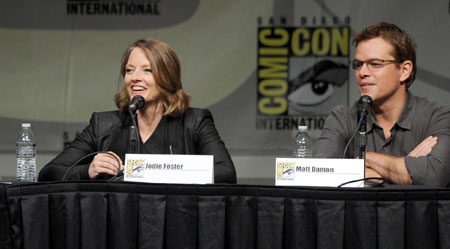 One of the things I love about Comic-Con is finding out about films that I'm kind of 'meh' about.
Case in point is Neil Blomkamp's Elysium. Starring Matt Damon, Jodie Foster and Sharlto Copley, the film is set in the year 2159, where rich people live on a man-made space station and the rest of population reside on a ruined Earth. A man (Damon) who is on the verge of death tries to bring the worlds together.
The footage they showed was pretty damn great and seeing Matt Damon be a bad ass again is always a treat. I loved the panel and now, I totally want to see this film.
Check out the whole panel below – minus the clips from the film, of course. Read more
20-year-old Best Actress Oscar nominee, Jennifer Lawrence recalls growing up in Louisville, Kentucky, where her dad owned a construction company and her mom ran a summer camp.  Her family had land and horses, she loved to fish and was a total tomboy: field hockey, softball, basketball on an all-boys team. "I was so dykey," she says. The actress now lives in Los Angeles, but "little redneck things still come out, like I'm attracted to my brother. Stuff like that."
Lawrence was 14, when she admits she "dragged" her mom to New York for auditions, including one for the role of Bella in "Twilight". And she would have been perfect for the part, if Bella were a badass, instead of a frightened waif. She now views losing out on that part as a great thing, because the role she did get was in "Winter's Bone", a role she has received glowing reviews for : she is both harrowing and tender as the 17-year-old daughter of an Ozarks meth-cooker who's fighting to take care of her little brother and sister.
While prepping for the part, Lawrence learned how to shoot a gun and field-dress squirrels. She ­already knew how to chop wood: "I went through a wood-chopping phase when I was nine or 10." Has she been preparing an Oscar speech?  "I have been practicing my losing face."
To read more of this interview, go to: rollingstone.com