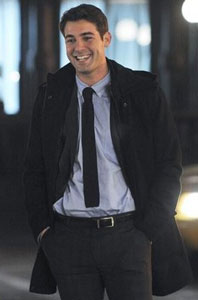 James Wolk starred in one of the most talked about series of last season, Fox's Lone Star. The show got great reviews and it looked like his career was about to skyrocket but, unfortunately, the show was quickly cancelled.
Calling the whole experience "humbling" and a "huge learning lesson', Wolk backed away from TV and appeared in Next Fall at the Los Angeles' Geffen Playhouse. Now, he's back on TV in Showtime's Shameless and has a 3-episode-arc on Happy Endings as Max's (Adam Pally) new/old boyfriend, Grant.
I talked to James on a conference call about working on Happy Endings, theater and surviving Lone Star's quick cancellation.
Happy Endings airs on Wednesdays at 9:30/8:30c on ABC
Happy Endings is a bit different from some of the other work you've been doing lately.
James Wolk: It does definitely differ from some of the work I've done in the past. And, you know, when I take a project on or go after a project or get excited about a particular show or film or something, to me it's all about who's acting in it, who's writing it, who am I surrounded by and what that's going to give me as an actor.  Read more