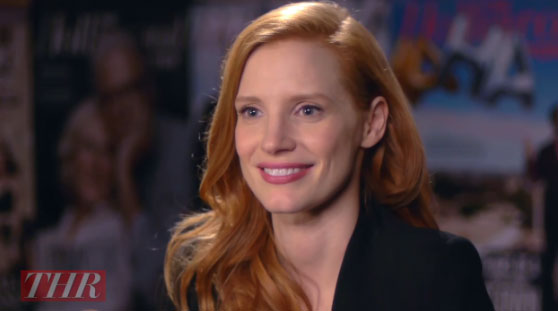 Jessica Chastain is a perfect example of an actress who by hell or high water was going to break through.  In a lengthy interview with The Hollywood Reporter, she spoke in detail about her early career struggles, which sheds some light on why she doesn't want to slow herself down.
Chastain credits her grandmother with giving her the first exposure to acting.  She recalls, "I was seven years old and she said, 'Jessica, this is their professional job, these people.' She was trying to tell me this was a real thing. I didn't quite understand it, but we went in, and then the lights went down, and a spotlight came up on — I think it was, like, a 10-year-old girl. And immediately, in my mind, I was like, 'Oh, this is what I am.'"
She then joined her drama club in junior high school, and her work in her formative years eventually earned her a scholarship to Juilliard (which she later revealed was paid for by none other than Robin Williams).  While at Juilliard she landed her first television role — a guest spot on ER.  She says, "It was the first time I was put in front of a camera. That's how I got my SAG card." Read more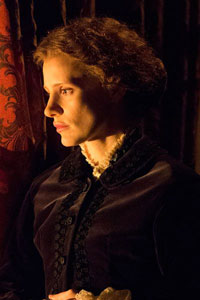 The Broadway revival of The Heiress, starring Jessica Chastain, David Strathairn, Dan Stevens and Judith Ivey, will now play its final performance on Saturday, February 9th at 7pm.
It was previously scheduled to end that Sunday the 10th but that performance was cancelled to let Chastain attend the BAFTA Awards (the British equivalent to the Academy Awards) where she is nominated for Best Actress. The awards show is on that Sunday in London.
Chastain is also nominated for an Academy Award and has already received Golden Globe and Critics Choice Awards for her performance in the film Zero Dark Thirty.
The Heiress is currently playing at Broadway's Walter Kerr Theatre (219 W. 48th St. NYC).
I saw the show back in December and liked it a lot. Chastain was great and it was a role I hadn't seen her play yet so if you get a chance, definitely check it out.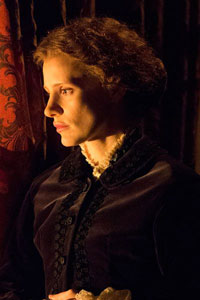 Jessica Chastain is currently queen of the box office, after two of her movies led ticket sales this past weekend.  Her horror flick, Mama, and the Oscar-nominated, Zero Dark Thirty, offered moviegoers completely different fare, but cemented the fact that Chastain is a force to be reckoned with.
The 35-year-old recently walked away with a Best Actress award from the Golden Globes for her portrayal of the CIA agent responsible for killing Osama bin Laden in Zero Dark Thirty.  Along with statues from the National Board of Review, the Broadcast Film Critics Association, and a Critics Choice Award, Chastain is proving that she's a true winner in the acting world.
She was nominated for an Oscar last year for her role in The Help, and is now admitting, "Two awards seasons in a row.  I think people are starting to notice me." Read more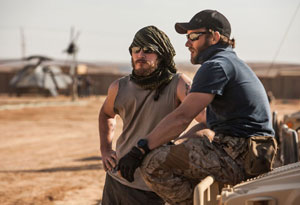 Exactly how much influence the media has on the public has always been a significant question, and in particular the connection between real-life gun violence and violent movies has been on a lot of people's minds lately.  Similarly, there is growing criticism of Kathryn Bigelow's Zero Dark Thirty, which is about the hunt for Osama bin Laden, especially with how the film depicts the role advanced interrogation or torture (depending on your definition) played in uncovering bin Laden's secret whereabouts.  Some believe that the film glorifies torture and advocates for its effectiveness.
Organized protests against the film have happened at theaters where it has been playing, and U.S. Senators Dianne Feinstein, John McCain and Carl Levin have spoken out against the film, calling it "grossly inaccurate."  However, intelligence experts — including former CIA deputy director Phil Mudd, called such techniques "invaluable" and "crucial" to eventually finding bin Laden's whereabouts. Read more
Jessica Chastain has just earned her second Oscar nomination for her role in the terrorist drama, Zero Dark Thirty.  The actress, previously nominated for her role in last year's The Help, became fully immersed in her role as a CIA agent in the film.
"I asked [screenwriter Mark Boal] a lot of questions about the CIA, about the woman, everything about the scenes…You don't think there are that many questions but there are thousands that come up," Chastain said in an interview with The Wall Street Journal.  "I read The Looming Tower by Lawrence Wright.  Michael Scheuer's book, Osama bin Laden, which I found to be fantastic.  I learned so much about him which I could never have learned from reading articles or following regular news.  Then I had to use my imagination to fill in the blanks of what I couldn't find in the research about this woman." Read more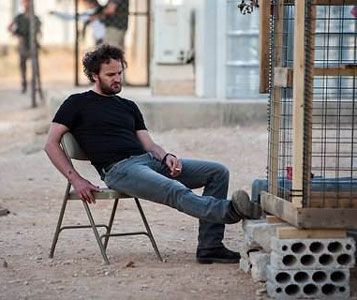 After starring with Jessica Chastain in 2011′s Texas Killing Fields and this year's Lawless, actor Jason Clarke teamed up with the leading lady again this year for Zero Dark Thirty, a film about the hunt for Osama bin Laden.  While speaking to The Hollywood Reporter about his role as an interrogator, he explains how he approached the role.
When asked how he learned about the so-called "advanced interrogation techniques" he used in the film, he points out, "You can read a lot of these on the Internet.  You'd be surprised what's on there … The techniques and the devices they use are factual, and they're there and they're not that complicated. I've had a couple of big nights out. I know what it's like to not sleep for 28 or 48 hours. But what I was interested in was creating a relationship." Read more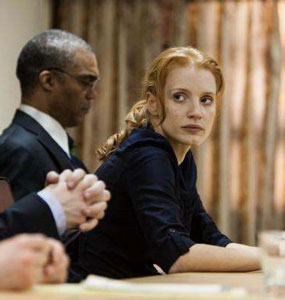 I don't think any actress has had the rapid career trajectory of Jessica Chastain — in 2010 she was a virtual unknown, and in a few weeks she will likely be nominated for an Oscar for the second consecutive year. She's already been nominated for many other awards for Zero Dark Thirty, in which she stars as a CIA operative named Maya who was instrumental in locating Osama bin Laden's hiding place. vulnerable
In a conversation with The Hollywood Reporter, Chastain spoke about the difficulties of playing an individual with such a stoic nature and whose real-life identity remains unknown.
The film opens with a scene in which a member of al-Qaida is waterboarded and abused in order to reveal information. Chastain's character is in the scene observing the interrogation. Read more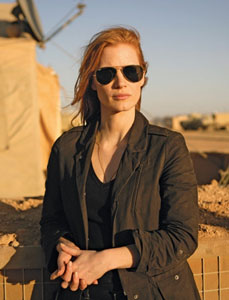 Even though Jessica Chastain is portraying a real person in the new film, Zero Dark Thirty, she didn't have the opportunity to meet her.
"I never met Maya, because she's an undercover CIA agent—it would not have been a good thing to do," Chastain told Movieline. "I had to approach [the role] like any other character I've played.  [When there were] questions that I couldn't answer through the research, I had to use my imagination, [director] Kathryn [Bigelow]'s imagination and Mark [Boal, the screenwriter] to create a character that went along the lines that respected the real woman."
The film centers around the CIA operative's search for Osama bin Laden in Iraq, but was filmed in Jordan and India.  While shooting, Chastain helped remain in the right frame of mind by focusing on her character.  "I had the props person print out all of the photographs of the terrorists and I hung them in my room at the hotel," she mentioned.  "So even when I'd come home from the set, they were always around me." Read more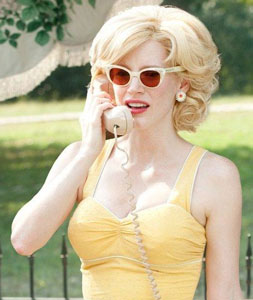 Jessica Chastain talked to Marie Claire magazine recently and said that she almost blew off the the final audition for her Oscar nominated role in The Help.
She had already auditioned and been called back a handful of times for the part of Celia Foote, but when she was called back for one last meeting, she was already Louisana filming Texas Killing Fields.
"It (the auditioning process) had been stretched out for so long, and I thought it was because I wasn't the right look, you know? I didn't look like Celia Foote, so I remember there was a moment when I was like, 'I'm not going to go. They clearly don't want me for this part. It's my day off. I shoot all night, so I can't fly to L.A. and then fly back, I just can't do it.' But I was talked into going."
After the announcement that Oscar-nominated workaholic actress Jessica Chastain would be making her Broadway debut in The Heiress in the lead role of Catherine, one wonders how Chastain feels about stepping out on a Broadway stage for the first time.  She spoke to New York magazine about one of the more trickier aspects of the productions: what she will be wearing!
Being a period piece set in the 1850s (the play, written in 1947, is based off Henry James's novel Washington Square), Chastain had to not only learn the part but try to envision what her character would be wearing.  She says, "As an actor, you approach the characters from what the script tells you. You don't think about, Well, what do I look like compared to what she looks like?" 
In fact, one of the more difficult aspects of the production for Chastain was getting used to the period clothing, which she actually tried to stay in as long as possible — even during rehearsals.  She explains, "I'm a jeans girl, but a blue-jeans way of moving is very different from wearing petticoats, so from day one, I was wearing the shoes, the skirt, the corset. I never really left the rehearsal room.  It took so long to put everything on every day, it's like, Well, I'll just bring my lunch and eat it here." Read more