"As an actor, you just want to be challenged," Hurt Locker star Jeremy Renner recently shared in an interview with Stltoday, and that's exactly what the actor is in for. 
The forty year old Renner, a California native, has been busy working on several soon to be box office hits.  Renner will not only show up in the Brad Bird's Dec. 21st release Mission: Impossible — Ghost Protocol as Brandt, but the next installment of  Bourne, due out on Aug. 3rd of 2012, as well as the May 2012′s Avengers as Hawkeye.
Options like this hasn't always been the "norm" for the performer, who also gained notoriety for his work in Ben Affleck's The Town last year.  As he explains in his Q&A with the news outlet, his work as the titular character in 2002′s Dahmer seemed to have scared off many movie heads, until he caught the eye of The Hurt Locker's Kathryn Bigelow, nabbing the lead.  "She had to convince the producers that the same guy who played Jeffrey Dahmer could be a war hero.  But she thought I was someone who could add dimensions to the character without judging him. Finding the humanity in a villain and the flaws in a hero is Drama 101."  Read more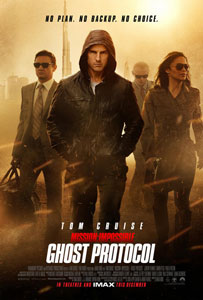 Here are 2 clips and a featurette for the upcoming sequel, Mission: Imposible – Ghost Protocol, starring Tom Cruise and Jeremy Renner. Say what you will, but I really enjoy these movies. They're fun, action packed films that don't talk down to the audience.
I'm wondering though, why the first 2 clips that they release feature Renner and not Cruise. Does he die in this film so Renner can take over the franchise? Hm.
The featurette is a quick segment that shows Cruise dangling, running and walking up the highest building Burj Khalifa, the tallest building in the world. "Just another day at work on Mission Impossible," says Director Brad Bird.
The film comes out December 16th, 2011
Read more
Mission: Impossible – Ghost Protocol: The IMF is shut down when it's implicated in a global terrorist bombing plot. Ghost Protocol is initiated and Ethan Hunt and his rogue new team must go undercover to clear their organization's name. No help, no contact, off the grid. You have never seen a mission grittier and more intense than this.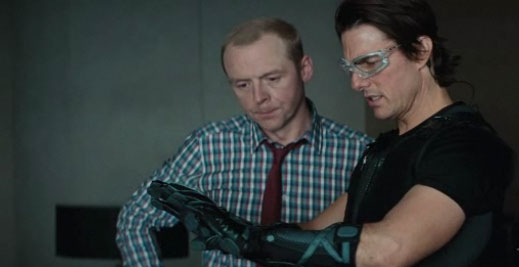 Director: Brad Bird
Cast: Tom Cruise, Simon Pegg, Ving Rhames, Jeremy Renner, Josh Holloway, Paula Patton
In Theaters: December 16, 2011
It looks like Jeremy Renner is quickly becoming the 'It' Guy. After making noise with his great work in The Hurt Locker, everyone is itching to work with him.
Here he talked to Speakeasy (a blog on the Wall Street Journal) about his upcoming and current projects: The Town, Mission Impossible and The Avengers.
On The Town:
The Wall Street Journal: You're from Modesto, Calif.. What did you do to prepare a Boston accent for role in "The Town"?
I was kinda nervous about that. Accents can be a great tool to tell a story—but if you do it wrong, it pulls you right out of the movie. So I was freaking out about it. I was asking for an accent coach, but Ben [Affleck] didn't want to do that. He kinda just sent me a bunch of ex-cons and prisoners on audio tapes. He said just listen to these guys—I don't want a polished accent. Once I got to Boston I was hanging out in bars and there was information for me everywhere I looked.
I heard you were a criminology major for a short time at a junior college. Did your major help you prepare for this role?
No, it was one of those things where I was switching majors from computer science and I thought, I'm going to switch to criminology. I quickly found out you have to be like a beat cop and do all this stuff. The most experience I had in the criminology field is playing a thug as an actor. That was my first paid job. The police academy at the college was paying people to reenact the calls that potential cops would get. So I got to play thugs and people who were unruly.
What's Ben Affleck like as a director?
The guy is so artistically smart. He's great because of his acting experience—he set a really good tone on the set for his actors and for everybody. He made it very collaborative. It was like an acting class. He loves his actors. He really took care of us.