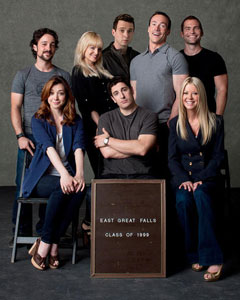 American Reunion: It was summer 1999 when four small-town Michigan boys began a quest to lose their virginity. In the years that have passed, Jim and Michelle married while Kevin and Vicky said goodbye. Oz and Heather grew apart, but Finch still longs for Stifler's mom. Now these lifelong friends have come home as adults to reminisce about — and get inspired by — the hormonal teens they once were.
Starring: Jason Biggs, Seann William Scott, Alyson Hannigan, Eugene Levy, Jennifer Coolidge, Chris Klein, Thomas Ian Nicholas, Tara Reid, Mena Suvari, Katrina Bowden, Shannon Elizabeth, Natasha Lyonne, John Cho
Directed by: Jon Hurwitz and Hayden Schlossberg
In Theaters: April 6, 2012   Read more
Brendan Fraser is making his Broadway debut in the play, Elling (also starring Denis O'Hare and Jennifer Coolidge). The show, about two roommates in an asylum, is currently in previews; opening night is November 21st. From what I've heard about it, it looks pretty good.
Fraser talked to the AP about Broadway, his preparation and a fateful taxi ride.
On Preparation:
"Everything you need to know as far as preparation, whether you're doing Shakespeare or a contemporary piece, should all be right here [he's holding a copy of the play]. And if it's not, then there's a clue about where to find it if you're paying attention." But, "in the end, it pretty much becomes about just brute memorization and burning calories. You put all the glittery bits aside"
On Choosing To Do Broadway:
"You have to look at your calendar, your life. Am I going to do another 'Mummy' movie? Hey, guess what? I have bills to pay, too. But you just have to carve out the six to eight months that it takes to commit to it."
On A Fateful Taxi Ride:
When he was a child, he lost his family while visiting New York City. A taxi driver picked him up and drove him back to his hotel, all the while talking about theater. "He said something to the effect of, 'I'll see you on the Great White Way, kiddo!' I thought, 'Wow. New York is the coolest place. I guess a seed of some sort was planted."
On The Future:
"I'll be here until March, until I get fired or something. If it goes on any further and if I get a call that I have got to go and clobber some more mummies or something like that, I'll think about it. But for right now, I'm happy as a clam."
For the full article, click here