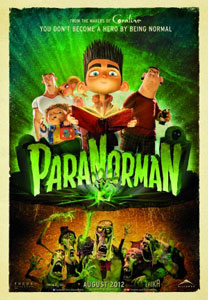 Norman (Kodi Smit-McPhee) is a normal, young boy. He loves to sit on the couch and watch TV with his Grandmother (Elaine Stritch), chat with people as he walks down the street in his small town and play with all of the dogs and cats as he passes them by.
There's only one problem. They're all dead.
Ok, so he might not be your typical young boy.
But that's ok, because when the town suddenly becomes overrun with ghosts, ghouls and zombies, Norman is the only one who can help. But from his disbelieving family and the school bullies, will Norman – ParaNorman – have enough confidence in himself to get rid of the horrors?
The film, from the stop-motion animation studio that gave us 2009's Coraline, is entertaining and the visuals are outstanding. It's got humor for young kids – not too young though, there is some creepy stuff going on in the film – and older and a lot of don't-blink-or-you'll miss-it moments that someone my age got a big kick out of. The film also has a solid (but not preachy) attitude about bullying and what it's like to be different. Read more