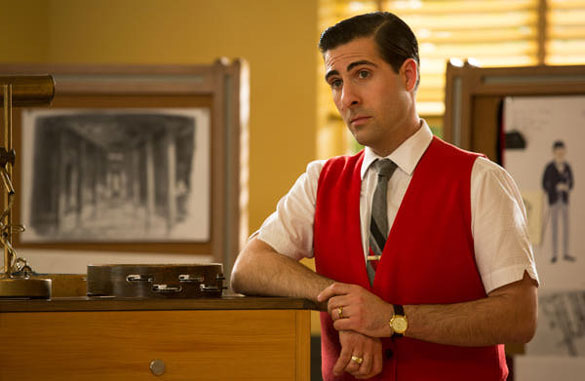 Jason Schwartzman's career has been mostly defined by his regular roles in Wes Anderson's films, so in a sense it's almost odd to see him pop up in a film as commercial as Saving Mr. Banks, which is about the behind-the-scenes struggles during the making of the Disney classic Mary Poppins. Schwartzman plays Richard Sherman, one half of the songwriting brothers who wrote many classic Disney music (brother Robert is portrayed by B.J. Novak).  Schwartzman told Moviefone how he got picked for the role in the film and a trick that his co-star, Emma Thompson, pulled on him that actually helped his performance. Read more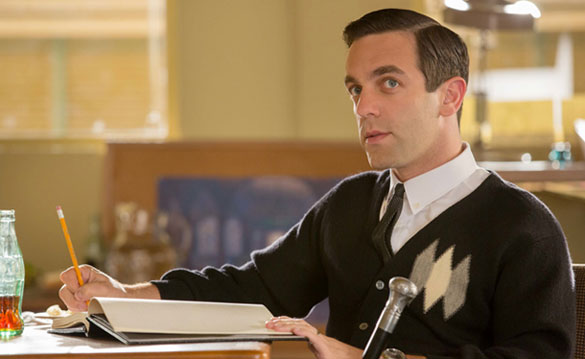 Many pegged B.J. Novak as being set for movie stardom by many after he landed a significant role in Quentin Tarantino's Inglourious Basterds, but between working on The Office as an actor, producer, writer, and director he was a bit busy to chase Hollywood stardom.  Now that The Office has ended, Novak has his first significant post-Office movie role in Saving Mr. Banks, which is about the making of Mary Poppins.  Novak stars as Robert Sherman, one half of the real-life songwriting brothers who wrote so many classics for Disney and other studios (his brother, Richard, is portrayed by Jason Schwartzman).  Novak spoke about to Moviefone about the experience working on the film, getting apologizes from Emma Thompson, and how the movie relates to his own career. Read more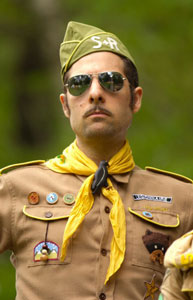 Jason Schwartzman is back on the big screen with another of Director Wes Anderson's films, Moonrise Kingdom. The film has had rave reviews and even though Schwartzman is only in it for about 10 minutes, he does leave his mark on the film.
The actor said that  working with Anderson has made his acting choices a lot less difficult. "It makes it a lot easier when you have the ability to work with someone you  know," he told Collider. "On the first day of work, you're meeting new people and there's a little bit of nervousness in your body, because in order to work, you have to be unafraid to be terrible.  And that can be embarrassing.  But Wes, for instance, I have been so bad in front of Wes—bad acting, bad mood—that there's no expectation anymore." Read more
Jason Schwartzman made his motion picture acting debut for Wes Anderson, starring as Max Fischer in the acclaimed comedy Rushmore, opposite Bill Murray. His performance earned him a nomination for Most Promising Actor from the Chicago Film Critics Association, among other honors. He again starred for Mr. Anderson in The Darjeeling Limited, which the two wrote with Roman Coppola; in the short film Hotel Chevalier; and, in voiceover, on Fantastic Mr. Fox. He appears in the upcoming A Glimpse Inside the Mind of Charles Swan III, written and directed by Mr. Coppola.
His other movies include Judd Apatow's Funny People, opposite Adam Sandler, Seth Rogen, Jonah Hill, and Aubrey Plaza; Edgar Wright's Scott Pilgrim vs. the World; Sofia Coppola's Marie Antoinette, alongside Kirsten Dunst; David O. Russell's I Heart Huckabees; Roman Coppola's C.Q.; Jonas Åkerlund's Spun; Andrew Niccol's Simone, with Al Pacino; and Anand Tucker's Shopgirl, adapted by Steve Martin from the latter's book of the same name, for which Mr. Schwartzman received a Satellite Award nomination. Read more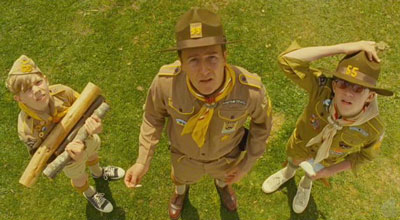 Moonrise Kingdom: Set on an island off the coast of New England in the summer of 1965, MOONRISE KINGDOM tells the story of two twelve-year-olds who fall in love, make a secret pact, and run away together into the wilderness. As various authorities try to hunt them down, a violent storm is brewing off-shore — and the peaceful island community is turned upside down in more ways than anyone can handle. Bruce Willis plays the local sheriff. Edward Norton is a Khaki Scout troop leader. Bill Murray and Frances McDormand portray the young girl's parents. The cast also includes Tilda Swinton, Jason Schwartzman, and Jared Gilman and Kara Hayward as the boy and girl.
Director: Wes Anderson
Cast: Bruce Willis, Edward Norton, Bill Murray, Frances McDormand, Tilda Swinton, Jason Schwartzman, Jared Gilman, Kara Hayward
Writers: Wes Anderson, Roman Coppola
In theaters: May 25th, 2012
Read more
Podcast: Play in new window | Download (Duration: 20:15 — 13.9MB)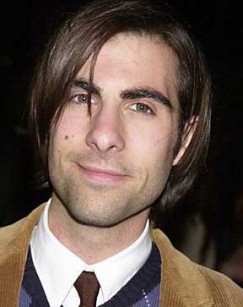 Jason Schwartzman has been on a role recently with great reviews in some great projects – Funny People, Bored To Death and now, Wes Anderson's new film, The Fantastic Mr. Fox.
In this exclusive interview, he talks about playing a 12 year old fox, working with Bill Murray, George Clooney and Meryl Streep and his favorite scene in the film (which totally make me want to see it even more).
If you get a chance, you should listen to the audio interview. There is so much more he said that I haven't included in the transcript.  Just for the way he talks and goes off the cuff is worth the listen.
Jason Schwartzman: This is really exciting.  This is really exciting for me.  You know, in this industry, you get to experience so many amazing things that you would never get to do otherwise.  Like just 20 minutes ago I was sitting in a chair in another room with an earwig in my ear, and I was staring into a camera, and they were patching me in live to all these different morning talk shows all around America.  And it was such a weird thing, because I would literally be sitting there and then someone would come through my ear saying, "Hello Jason!  This is Jen and Danny from Detroit!" or something.  I can't see them, but they can see me, and I'm literally live on television in Detroit.  It's such an amazing, such a bizarre thing.  But it's so cool because it's so unusual, you know?
Q: Can you relate to your character, Ash, from the film and if so, how?
JS: Absolutely.  When I read the script, I completely related to this character.  I mean, I literally like down to almost every aspect of it.  I'm the son of George Clooney and Meryl Streep, of course in the movie. I'm an adolescent fox, about 12-13 years old, fox years.  And I'm little, I haven't hit my growth spurt yet, and I don't have many friends.  I get picked on a little bit, quite a bit actually.  And I like a girl who doesn't really like me back and likes my cousin actually who is living with us.
I mean I felt like when I was 12-13 years old, it's an amazing time and it's also you know, there's lots of new things happening in one's life.  In my case, I don't know about everyone, I was entering a new school, meeting new friends, and I hadn't hit my growth spurt until later.  I felt little.  I wished I was a better athlete.  And I, of course, liked lots of people and wanted to be friends with people that didn't all the time want to be friends back with me.  And it was very weird.  I, myself, I did feel like it was very odd and such a bizarre time.  And what's so nice, is that in this movie my character who is little and he's embarrassed about being little…  in the end of this movie it's actually his size that helps save his cousin's life.  And what he realizes is that the things that make him different are not things that he should be embarrassed about.  They're actually things that make him kind of incredible, and I think that's really the positive message of the movie and one that I would have loved to have seen when I was a kid, which is basically it's okay to be yourself and don't worry if you feel different.  Being different is what's cool and what's great.