Podcast: Play in new window | Download (Duration: 21:14 — 14.6MB)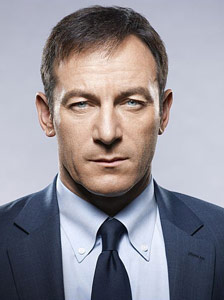 In the new NBC drama, Awake, Jason Isaacs stars as Michael Britten, a homicide Detective who is coping with the aftermath of a devastating car accident that involved him and his wife and son.
When he wakes up after the accident, he realizes that he exists in two realities. One reality has the son that survived the crash and his wife does not, and the other where his son is the one who died while his wife survives. Not wanting to face either loss, Britten begins to exist in both realities. 
In this interview, Jason talks about the show, how he got involved, the acting challenges he faces and how working in the UK is different from the US.
Awake airs on Thursdays at 10/9c  on NBC
With your character Michael Britten living in these two separate realities, does it ever feel like you're working on two different shows with different casts simultaneously?
Jason Isaacs: It does actually. I have two different sets of people I work with. I work with Wilmer and Laura who plays my wife and whatever is going on that side of the story. And then I work with Dylan who plays my son and Steve Harris is my partner.
Laura Innes who plays a police captain in both are the only person that overlaps although as the season goes on the writers started to be slightly more insane and very imaginative things happen where people cross over.
But yes I feel like I'm the hub. There's all this – there's a cast that normally feels like a family but most of them only have scenes with me and I'm the only common thread.
But it's less really that my colleagues are split, more that I have to really work to remember what has happened in what world in exactly the same way that Michael Britten does. And hopefully it's me struggling through that is entertaining to watch because we all like to watch other people suffer. Read more