After accepting her body image issues, actress Annie Funke has landed in the arms of Jake Gyllenhaal (well, as his costar) in the Off-Broadway production of If There Is I Haven't Found It Yet.
"He's told me a few times, 'When we go out there, whatever happens, we have each other's back in this,'" Funke told The New York Post.
The actress, who has long struggled with her weight, admitted to being bullied when she was younger.  "There's a pressure to be thin, in Hollywood and everywhere," Funke said.  "I've been on every fad diet and my weight goes up and down, and I spent so much of my life wishing I'd fit into a size ten.  But my journey's been the opposite.  The weight's actually been a blessing!"
After appearing as an understudy for Tracy Turnblad in Haispray, Funke lost more than 60 pounds.  "It was really interesting to try to find work in a new type," she said.  "In fact, it was a struggle, so I've since put some of the weight back on." Read more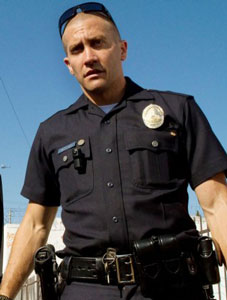 Jake Gyllenhaal took his role as a police officer in End of Watch extremely seriously, getting hands-on training and experience for his part.
Gyllenhaal shot his own scenes with a handheld camera every day for the first person point-of-view for the film.  "We went on ride-alongs for five months, two to three times a week with the LAPD and sheriff's department and Inglewood PD," the actor told Moviefone. 
"We would work with them from about 4 p.m. to about four or five in the morning.  Then we did tactical training about two or three times a week with live ammunition and training exercises, then fight training almost every morning with [director] Dave Ayer's best friend, who has a dojo, getting the crap beat out of us by 14 to 20-year-old kids," he said.  "That coupled with rehearsing on our time off and just spending time with [costar] Mike [Pena] out of work and getting to know each other." Read more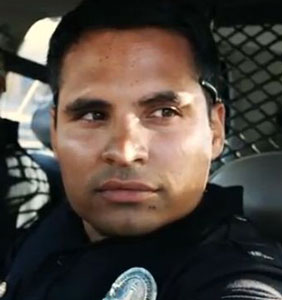 Michael Pena thinks Hollywood is finally starting to diversify. 
The Latino actor, who was cast alongside Jake Gyllenhaal in the cop drama End of Watch, tells Movieline that "the script was written for actors like Jake Gyllenhaal and me—a Latin dude. It had to be a Latin dude, there is so much Latin [material] in it.  Ten years ago, I don't know if that would have been the case.  I don't know if it would have been so easy to do."
Pena, who has appeared in films like Crash, Million Dollar Baby, and The Lincoln Lawyer, could definitely relate to a character familiar with rough neighborhoods.  "I never wanted to be in a gang," he said.  "I didn't want to follow anybody's orders.  I thought of myself as an individual ever since I was little.  I grew up in the ghetto, and the thing is when there were problems, I knew when to get away.  But police go to the problems.  I didn't do that growing up." Read more
Jake Gyllenhaal is taking a step away from film projects to star in the stage production of Roundabout Theatre Company's, If There Is I Haven't Found It Yet. 
In the show, the actor plays a man named Uncle Terry, 'a heartbroken drifter with the mouth of a sailor.' "The intentions of Terry are very different from anything I've played before, especially his vicious side," Gyllenhaal noted.  "It intrigued me so much, and that was the sign.  I want to come home at the end of the day and be wiped out and feel I've torn my heart out from acting and feel fulfilled.  At this point I don't have the desire to do anything other than projects that make me feel this way."
"I wasn't really listening to myself about the kinds of projects I wanted to do," he told The New York Times.  "I had to figure out what kind of an actor I wanted to be and feel confident going for that." Read more
Jake Gyllenhaal, currently in previews for Roundabout Theatre Company's, If There Is I Haven't Found It Yet, says that versatility is what fuels his acting.
"Variation keeps me inspired," he told BroadwayWorld.com.  "I always like finding roles that are different from the one I played before.  And I love playing intentions in scenes differently every night on stage and in every take on a movie.  I always try and challenge myself and surprise my fans.  It makes it fun for everyone."
Although Gyllenhaal has a lot of experience, he is still deferential towards the director of each project he's involved with.  "The director is the leader, and I'm not sure that I would say it's about collaboration," he said.  "It's ultimately about trying to service his or her vision.  If I have an idea, I will always share it—I'm not shy.  I don't believe in a dictatorship, but in the end it's the director's decision as to what will be suitable to their production.  I like a director who has a clear and simple sense of what they want to say.  When dealing with something as complicated as family drama, it takes great intelligence to make things clear and simple for an audience." Read more
Anna Kendrick admits to being an animation geek.  So it's easy to see why the actress was so excited to get the part in the upcoming film, ParaNorman. 
In an interview with NBC, Kendrick said, "I genuinely love the art form.  And I think some of the best storytelling takes place in animation, because they have the luxury of the time to kind of workshop through it.  With film sometimes you just get what you got.  And you've got to edit it the best that you can.  And it seems like some of the best storytelling comes through that workshopping process of seeing how the storyboards are coming together and what it actually sounds like once you hear it out loud.  So I'm just happy to be a part of this."
ParaNorman tells the story of a young boy who has to save his town from supernatural forces.  Kendrick plays the boy's older sister.  "I'd always wanted to do an animated film, so I jumped at the opportunity," she said.  "This is my first one.  I was really nervous because I'm not great at ADR [Automated Dialog Replacement or looping], so I wasn't sure how this was going to be.  But, it was, actually really, really freeing.  In ADR, you're watching your own movie and trying to say your line.  In this, I just felt like it was a really safe space, and it was okay to make really ugly faces and really ugly body gestures.  To use all those things as tools was really helpful.  To not be self-conscious about the way you look on camera helps the intention to be really pure." Read more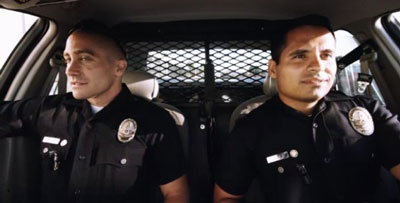 End of Watch: Two young Los Angeles police officers, Taylor (Gyllenhaal) and Zavala (Pena) patrol the city's meanest streets of south central Los Angeles. Giving the story a gripping, first-person immediacy, the action unfolds entirely through footage from the handheld HD cameras of the police officers, gang members, surveillance cameras, and citizens caught in the line of fire to create a riveting portrait of the city's darkest, most violent corners, the cops who risk their lives there every day, and the price they and their families are forced to pay.
Writer/Director: David Ayer
Cast: Jake Gyllenhaal, Michael Pena, Anna Kendrick, Natalie Martinez, America Ferrera
In Theaters: September 28th  Read more
Roundabout Theatre Company has announced two new productions for their fall schedule, If There Is I Haven't Found It Yet and Bad Jews. 
If There Is I Haven't Found It Yet is the American premiere of Nick Payne's comic drama that will be directed by Michael Longhurst with an ensemble cast that includes Jake Gyllenhaal who is making his American stage debut. 
The story follows fifteen-year-old Anna, whose weight makes her a natural target for bullies. When her mom transfers Anna to the school where she teaches in order to protect her daughter, it only makes things worse. Anna's environmentalist dad, determined to finish his new book and save the planet, is no help at all. Just as Anna gets suspended for retaliating with a head-butt, her estranged uncle Terry (Gyllenhaal) arrives unannounced. A heartbroken drifter with the mouth of a sailor, Terry reaches out to Anna in a way that no one ever has. Their unexpected friendship sends her parents' rocky marriage into a tailspin as the whole family wonders, what–or who–really needs saving? Read more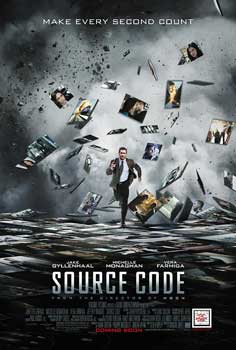 Want the screenplay to Source Code?
Sure you do!
Director: Duncan Jones
Cast: Jake Gyllenhaal, Michelle Monaghan, Vera Farmiga, Jeffrey Wright
Writer: Ben Ripley
Podcast: Play in new window | Download (Duration: 25:32 — 17.6MB)
In the new sci-fi thriller, Source Code, Vera Farmiga plays 'Goodwin', a mysterious Military Officer who sends Jake Gyllenhaal on a mission to save thousands of lives. Her character spends the majority of time dealing deal with Gyllenhaal, as he attempts to understand what is happening to him.
In the film, Farmiga acts right to the camera as she's talking to Gyllenhaal and she admits, that "acting with those physical limitations" is hard.
I talked to Vera at SXSW in a roundtable interview about rehearsing with Gyllenhaal, if acting to a camera got any easier and how visuals help her create a character.
This interview is spoiler heavy, so I left a lot out in the transcript. For the full interview, click the audio link above or download it from iTunes
Did you have to do a lot of like research before filming?
Vera Farmiga: This wasn't a real research kind of a role, it was really just using your imagination and working in the confines of the role which was pretty limited as far as the kinds of roles that I'm normally drawn to, is pretty much the antithesis of this character. But arc is always important to me and I found the challenge of that arc within these limitations, these 8 minute increments, I found that to be compelling.
How quickly she changes and the moral dilemma within that – treating 'Colter' [Gyllenhaal's character' as science project first – and then getting to know him personally in this 8 minute increments and then having that impact the way she does her job. So that's really what I focused on most, the pyscho-spiritual energy between the two and how best to convey it when the actor's not in your presence. I did not work with Jake at all, except for in rehearsals. It's important in rehearsals to hash out some stuff and we did. We sat opposite the table in rehearsals so with had that time spent, and he was there a couple of days reading lines off camera, but other than that it was the script supervisor and me staring in the barrel of the lens which is extremely difficult to do for an actor who spends most of your time ignoring it.
So, thinking about the character in these ways, how best to convey the emotional life of the character and the mental life with very little movement and the confines of the space.
Read more