Though Jack McBrayer has a major role in the animated film Wreck-It Ralph, the regular role that brought him to his highest point of recognition is coming to an end with 30 Rock in its final season. 
Though McBrayer admits to New York magazine that this is nerve-wracking, he reveals that he feels that 30 Rock has made him more comfortable with his unique persona and how the entertainment industry has become more receptive to him and his voice, as evidenced by being offered the Wreck-It Ralph role.
On the end of 30 Rock, he says, "I'm not panicked, but at the same time, it's like, Whoa! Time to save money like it's a contest. You'll have to pull the cash from my cold, dead hands! It is weird, like you, if you lost your job and you didn't have anything else lined up? What would you do? Cut back, right? So I'm no longer eating." Read more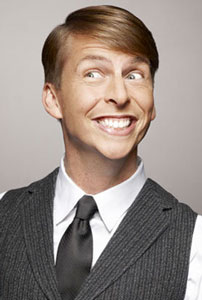 Though a long-time supporting player, comedian Jack McBrayer has since broken through with his starring role on 30 Rock over the last few years.  He's also putting his familiar voice to work voicing Fix-It Felix, Jr. in Disney's latest animated film, the classic arcade game-inspired Wreck-It Ralph. 
McBrayer spoke to NBC New York about his role in the film and about his dedication to becoming a success after years of trying.
While McBrayer has always been working, it's only recently that he has become successful after all of his hard work.  He explains, "I was very hungry right before things came into play. I got my start in Chicago doing Second City, which is where I met Tina Fey. So this is like from 1996 to when 30 Rock started in 2006, between living in Chicago doing Second City, moving to New York, doing the comedy scene there – Conan O'Brien was shooting his show there – and then I moved to Los Angeles. I was still temping and struggling. It was a solid decade. It was ten short years in the making before I finally got a break where I could eat three meals a day. But I was always happy to do the work because I knew what I wanted to do, and I was going to do whatever it took to get there." Read more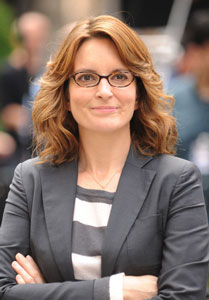 Tina Fey is already preparing herself for what it will be like to stop work on the hit NBC comedy 30 Rock.
"Oh my God, it's going to be horrible," she said.  "For years, I've been doing this joke whenever Jack McBrayer would finish, I would say, 'That's a series wrap for Jack McBrayer,' or 'That's a career wrap for Jack McBrayer.'  And now that's going to be true for all of us."
Fey admits that letting go of playing the character of Liz Lemon will be just as difficult as ending the show's run.  "I keep trying to tell my husband and Robert Carlock [writer and producer of 30 Rock] to be ready," she told Vulture.  "At SNL, you knew at the end of the season you were going to hit a two-week depression.  It's hard to stop.  And this has been a longer run and a harder run in a lot of ways.  I think it's going to be like when people run a marathon and they throw up at the end." Read more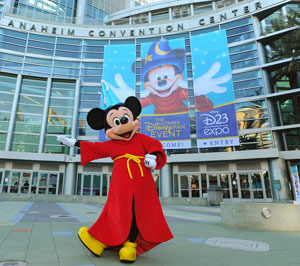 This past weekend I went to D23, the fan expo that Disney held at Disneyland. While I'd like to say it was awesome, it was just… ok.
I'm a big fan of Disney and their movies but I think for this, you had to be a Super-Fan. There wasn't a lot to do beyond the panels and the expo floor was really small, with neither Marvel or Pixar being represented. 
The one great thing about the weekend was the Disney/Pixar and Disney/Marvel movie presentations. It was a long panel, clocking in at almost 3 hours but the time flew by.
The only thing I didn't like was that the presentation was scripted. From the intro's to the fake banter and questions, there were no real spontaneous moments in the whole thing. It felt rehearsed and I wish it weren't.
Enough moaning!
I've broken down the Disney/Pixar and Disney/Marvel panels into 2 posts. Most of the time, I'll just write down what I thought and post the various quotes I jotted down.
First up: Disney and Pixar!   Read more
You know Jack McBrayer as 'Kenneth' from 30 Rock but did you also know he's a voice over actor?
Tonight, his voice over talents are on display in NBC's, Kung Fu Panda Holiday Special. He plays 'Wo Hop,' a rabbit that is constantly at Po's side throughout the special.
The special also features the voices of Jack Black, Angelina Jolie, Dustin Hoffman, Jackie Chan, Seth Rogen, Lucy Liu and David Cross.
Jack talked to us in a conference call where he talked about how he came up with the voice of 'Wo Hop,' working on The Simpsons and more!
Can you explain a little bit about how you ended up working on this special and what it was like actually going in and recording the part?
Jack McBrayer: I play a rabbit called Wo Hop and traditionally with voice-over work a lot of times you'll go into a studio and you'll meet with creative people and the director and producer and they'll give you an idea of what the character looks like and what their attitude is. And then you just give it a whole bunch of shots.
And there's nothing really to look at it so it's kind of – you're just flying by the seat of your pants, which can be super fun but also pretty intimidating because you don't know if you're doing great or stinking up the joint. So really relying on the people working with you, the director and producer and any of the artists or animators who are there.
So for this one I was by myself just in front of a microphone and, you know, you lay it down based on what's with the script. And then eventually you get to come back and see whatever artwork they've put to that recording and then make changes or make additions or anything like that. So it's an eventual process but it's wonderful and liberating but at the same time it can be pretty terrifying because you're like, I have no idea what this is going to look like or how good it's going to be or anything.