Gifted physical comedian and crimson-haired cutie Isla Fisher is having quite the summer. First she whooped it up in fellow Aussie Baz Lurhmann's over-the-top adrenaline-infused retelling of Fitzgerald's American Classic, The Great Gatsby. Now, she's steaming up the screen opposite an all-star cast including Michael Caine, Morgan Freeman, Woody Harrelson, and Jessie Eisenberg in Louis Leterrier's fun and fast paced magic caper Now You See Me.
Having acted on Australian television since she was a child, then attended the prestigious L'École Internationale de Théâtre Jacques Lecoq (try saying that five times) an acting and mime school in Paris, and of course, married A-list provocateur Sasha Baron Cohen in 2010– he is the father of their two adorable girls – it's hard to believe that this effervescent sparkplug ever struggled at the bottom of the Hollywood totem pole. But alas, even after taking America by storm with her hilarious breakthrough in 2005's Wedding Crashers, such was the case. Read more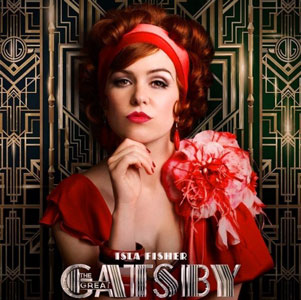 The next time I interview for a job I'm not going to say anything.  I don't mean I won't say anything of substance, I'm literally not going to say anything at all.  Not a word. 
After all, it actually worked for Isla Fisher.
According to ContactMusic.com, auditioned for the role of Myrtle Wilson in The Great Gatsby by not saying a single word.  She figured that because she is completely unlike the loudmouth Myrtle she ought to not say anything at all when auditioning for director Baz Luhrmann.
She reveals, "I was so nervous because I thought, 'If talk at all, he's (Luhrmann) going to see my real personality and I won't get the job, because I'm just not like Myrtle at all… so when I went for the audition I just totally didn't say a word." Read more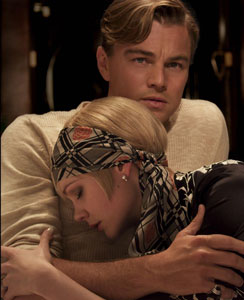 Like all Baz Luhrmann films, I love the look of this film. The colors and costumes look perfect. The cast is great and I'm totally looking forward to it.
Why wasn't this around when I was in High School? Anyone remember having to watch that dreadful Robert Redford version?
The Great Gatsby: From the uniquely imaginative mind of writer/producer/director Baz Luhrmann comes the new big screen adaptation of F. Scott Fitzgerald's novel, The Great Gatsby. The filmmaker will create his own distinctive visual interpretation of the classic story, bringing the period to life in a way that has never been seen before, in a film starring Leonardo DiCaprio in the title role. "The Great Gatsby" follows Fitzgerald-like, would-be writer Nick Carraway as he leaves the Midwest and comes to New York City in the spring of 1922, an era of loosening morals, glittering jazz and bootleg kings. Chasing his own American Dream, Nick lands next door to a mysterious, party-giving millionaire, Jay Gatsby, and across the bay from his cousin, Daisy, and her philandering, blue-blooded husband, Tom Buchanan. It is thus that Nick is drawn into the captivating world of the super-rich, their illusions, loves and deceits. As Nick bears witness, within and without the world he inhabits, he pens a tale of impossible love, incorruptible dreams and high-octane tragedy, and holds a mirror to our own modern times and struggles.
Director: Baz Luhrmann
Cast: Leonardo DiCaprio, Tobey Maguire, Joel Edgerton, Carey Mulligan, Isla Fisher, Jason Clarke, Elizabeth Debicki, Amitabh Bachchan
Writers: Baz Luhrmann, Craig Pearce
In Theaters: December 25th  Read more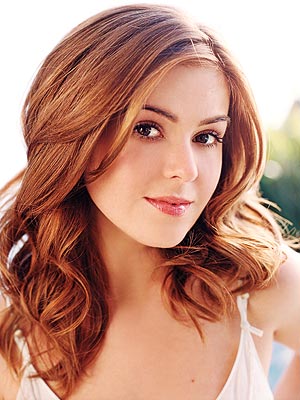 After 15 years acting in dramatic roles in two Australian soap operas, smaller parts in British and American television and movies, Isla Fisher was about to give up acting.
"I remember when I was auditioning for all these dramatic roles and getting rejected and really disheartened," she said. "And I just thought 'That's it. I am done.'
But then, her boyfriend Sacha Baron Cohen, suggested she should try comedy. "He said to me, 'You should be doing comedy, you are so funny.' And I said, 'What?' Then I thought 'Well, if he is the funniest man in the world and he thinks I am funny, then maybe I should give it a go.'"
It worked.
That was just before her breakthrough comic role in "Wedding Crashers." That role helped her in nabbing the lead in "Confessions of a Shopaholic."
Her new found success, she says, is the resurgence of her silly side. "Once I stayed true to the fact that I have always been the one to make a fool out of myself, then all the doors opened for me."
Here's some scenes from the movie that opens today.