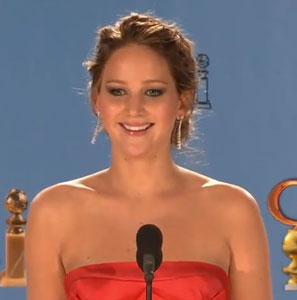 Here are 11 backstage videos from last night's Golden Globe Awards, including the winning actors and the casts of the winning films and TV shows. Most are 5 minutes plus but they're definitely entertaining.
My favorites were the Argo interview with Ben Affleck and George Clooney, and Jennifer Lawrence and Anne Hathaway.
Check them out below! Read more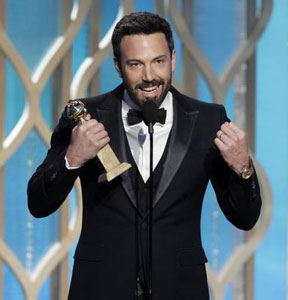 Ben Affleck's Argo took home one of the big prizes of the night, winning the Golden Globe for Best Motion Picture, Drama. Affleck himself nabbed the statue for Best Director, which I thought was great considering the snub he got from the Oscars. The other big prize, Best Motion Picture, Comedy or Musical went to Les Miserables. Duh. 
The big acting prizes went to Daniel Day-Lewis (Actor, Drama for Lincoln), Jessica Chastain (Actress, Drama for Zero Dark Thirty), Hugh Jackman (Actor, Comedy or Musical for Les Miserables), Jennifer Lawrence (Actress, Cmedy or Musical for Silver Linings Playbook), Anne Hathaway (Supporting Actress for Les Miserables) and Christoph Waltz (Supporting Actor for Django Unchained).
On the TV front, the actors taking home the gold were Damian Lewis (Actor, Drama Series for Homeland) and his co-star Claire Danes (Actress, Drama). Don Cheadle (Actor, Comedy or Musical for House of Lies), Lena Dunham (Actress, Comedy or Musical for Girls), Ed Harris (Supporting Actor, Mini-Series or Movie for Game Change), Maggie Smith (Supporting Actress, Mini-Series or Movie for Downton Abbey), Kevin Costner (Actor, Mini-Series or TV Movie for Hatfields & McCoys) and Julianne Moore (Actress, Mini-Series or TV Movie for Game Change).
The full list is below. Read more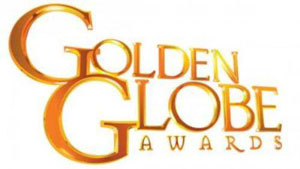 I was traveling to the East Coast most of the day and am now just getting to post this list of nominations.
Django Unchained and Argo both came away big with 5 nominations while Homeland received four in the TV Drama category.
Just quickly reading over it I saw that Salmon Fishing in the Yemen got a nomination for Best Motion Picture, Comedy. That came out this year? Feels like that was back in 2011.
I'm not a huge fan of the Globes, the actual awards, I mean. I do like watching the cerenomy, you can tell most people are there to have fun and drink. And this year with hosts Amy Poehler and Tina Fey, its bound to be great.
Check out the list below! Read more
Tonight, Hollywood will honor the best in the business at the 69th Annual Golden Globe Awards.  One of film's most esteemed actors, Morgan Freeman, is receiving the Cecil B. DeMille Lifetime Achievement Award. 
At 74 years old, Freeman still believes he has a lot left to do.
In an interview with USA Today, Freeman says, "I'm getting a lot of end-of-the-career awards, that lifetime achievement stuff.  I'm beginning to feel like I'm being told, 'OK, time to hang up your cleats and sit down.'  Once you start getting them, it's like, 'What do you—what?! What is this lifetime achievement?  Have I done it already?  There's no more achieving for you?'  You just ask, you know.  You have to get up when they give these things to you and say, 'Now, wait a minute; I don't consider myself done yet.'"
In fact, Freeman is busier than ever.  His career dates back to the 70s and includes star-making performances in Shawshank Redemption, Driving Miss Daisy, and his brave undertaking of the role of God in Bruce Almighty and Evan Almighty.  He's been nominated for four Academy Awards, and won best supporting actor in 2004 for Million Dollar Baby.  His next project is The Dark Knight Rises, the much-anticipated third and last film in Christopher Nolan's Batman series.  Read more
George Clooney might be one of the most praised actors in Hollywood — he's been nominated for three acting Oscars (winning one for Syriana) and was also nominated for Best Director and Best Original Screenplay for Goodnight and Good Luck.  But despite being nominated for four Golden Globes this year for The Descendants and The Ides of March, and a likely nominee for an Oscar or two, Clooney claims he's so over the whole awards scene. 
So over it that he's talking all about it, of course.
On the NBC news program Rock Center, Clooney explained to Brian Williams, "I am a fan of movies. And so my job is to try to make films that last longer than an opening weekend.  And then if someone's nice to you at the end of the year– and they've been nice and they've been mean — my job is to try to make films that I think are entertaining."
Those words echo the even harsher sentiments he expressed in the latest issue of Entertainment Weekly.  When asked about campaigning for awards, Clooney answered, "You use the word 'campaign.' I've actually done it where it was like a campaign, like kissing babies.  You can justify it by saying, 'I'm helping the movie,' but you cross a line where it feels like you're only helping yourself. And it starts to feel unclean. So I haven't done that version of it since then. I didn't do it for Up in the Air or Michael Clayton. So the word 'campaigning' isn't part of it anymore."  Read more
Podcast: Play in new window | Download (Duration: 44:03 — 30.3MB)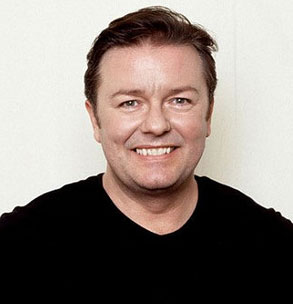 Ricky Gervais is back as the host of the Golden Globes this Sunday and when he was asked why NBC brought him back, he said, "I assume they are desperate."
He talked to a group of us on a conference call about the Golden Globes, The Office, his stand-up comedy and more. I usually edit the interviews so they aren't too long but this one was special. He was candid and I think, truly inspiring when he talked about his career.
The Golden Globes air on NBC, Sunday January 16 at 8pmET / 5pmPT.
For the full interview, click the audio link above or download from iTunes.
I love how a lot of the Americans didn't get the reference during your last hosting gig to Extras when you made the comment to Kate Winslet about the Holocaust. I'm hoping you're going to have some more stuff like that coming up.
Ricky Gervais: Do you mean references that no one understands? I've got loads of those.
Yes, that will insult like a bunch of people.
Ricky Gervais: Without them knowing it. Yes, that was an episode of Extras where Kate Winslet played a twisted version of herself of course and she was only doing a Holocaust movie to win an Oscar. And it came true which was I honestly couldn't believe my luck when that happened.
A funny thing happened actually at the – it was the Globes before that and Tom Hanks was telling me that he was on his way to work and he was listening to the radio and he must've just tuned in and they were playing a clip from the Extras that Kate Winslet was in. And she was saying, "Yes. I mean, you know, do we need another Holocaust movie?"
He thought it was an interview. He didn't realize. He hadn't seen the show. So he thought Kate Winslet was on the radio saying she'd only done a Holocaust film to win an Oscar. And he went around telling everyone, "What is she thinking? What is she thinking?" And then his producer said, "Tom, that must've been a clip from the show." And then he went, "All right. Okay." And he'd spent the whole day going around telling people that Kate Winslet had lost her mind.
I don't think I was too bad. I don't think I went far enough. I think people know me now and they know – I think comedy comes from a good or a bad place. And I think however cheeky or out there or, you know, taboo subjects and dark places I take them, I think they know it comes from a good place with me. The last thing I want to do is genuinely offend anyone. I couldn't live with myself.
So I want the victims of the joke to like it as well. I don't see any victory in going out and being awful and shocking. That's too easy. I mean it's 5 o'clock on network TV. You don't have to – I mean, people couldn't believe I went out with a beer. So if that's still shocking in this day and age, there is no victory in just being shocking.
I think you've got to be interesting and engaging and, you know, I try and do it with a twinkle in my eye and a smile on my face. So hopefully I can go even further this year and still not be chased out of the country.
Of the 67 actors who turned in performances in 2008 deemed excellent enough to score a nomination at the 66th Annual Golden Globes, a whopping ten of them didn't even bother to show up at the Beverly Wilshire hotel to attend last night's ceremonies. For those of you without handy access to a calculator, that's a fairly high No-Show Rate of 14.9 percent (and, if you were wondering, this figure doesn't even include Heath Ledger's tragic absence). While we may never know what led Philip Seymour Hoffman, Judi Dench, Kevin Spacey, Dianne Wiest, Gabriel Byrne (who was a surprise winner for his work on HBO's In Treatment, which left a stunned and possibly illiterate Hayden Panettiere to frantically beg Zac Efron to read the TelePrompTer for her), Mariska Hargitay, Frances McDormand, Rebecca Hall, and James Franco to each decide they had better things to do on a Sunday night than go to an awards show with an open bar, there was one no-show whose reasons for not showing up are well documented. That person being, of course, Hollywood's No.1 friend of the press: Mr. Sean Penn.
The Hollywood Foreign Press Association, which hosts the Golden Globes each January, has historically had an immigrant's love of all things American. But after a year in which the studios hobbled or shuttered their indie divisions — so long, Warner Independent and Picturehouse and a robust Paramount Vantage, hello supersized blockbusters — the Hollywood foreign press lived up to its name on Sunday and paid frantic tribute to the compelling idiosyncrasies of far-flung independent cinema.
Sure you do!
It won the Best Screenplay & Best Film, Drama at the Golden Globes last night.
Of course you want it!
Did you catch this last night? I totally missed it.