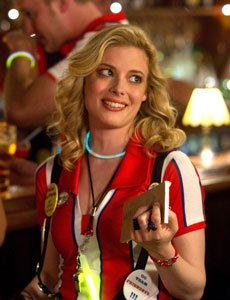 Gillian Jacobs vibrant presence has been noted by audiences in the film, stage, and television mediums.
In the latter,  she has portrayed Britta for all three seasons of the acclaimed comedy series Community, with Joel McHale.  Her guest appearances include ones on Law & Order: Criminal Intent, Royal Pains, The Good Wife, Fringe, and in an arc on The Book of Daniel.
In addition to Richard Kelly's cult film The Box, Ms. Jacobs' movie work has included such independent features as Clark Gregg's Choke, opposite Sam Rockwell and for which she shared the Sundance Film Festival's Special Jury Prize with her fellow actors; Damian Harris' Gardens of the Night, which premiered at the Berlin International Film Festival and which was a Prism Award nominee; Kathy Lindboe's NoNAMES, opposite James Badge Dale, for which she was a Best Actress nominee at Method Fest and for which she won a Special Jury Award for Best Acting Achievement at the Phoenix Film Festival; Joseph Infantolino's Helena from the Wedding, in which she played the title role; Brian Koppelman and David Levien's Solitary Man, alongside Michael Douglas; Will Frears' Coach, with Hugh Dancy;  and  four recently completed movies.  The latter are Shimon Dotan's Watching TV with the Red Chinese; Billy Federighi's Sin Bin; Brian Jett's Let Go; and Chadd Harbold's Revenge for Jolly!, starring as part of a stellar ensemble. Read more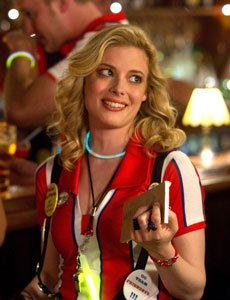 Gillian Jacobs had to forget her inhibitions for her cameo in the new indie Seeking a Friend at the End of the World. The actress, who also plays Britta on NBC's Community, plays a waitress who becomes involved in a end-of-the-world kissing fest… ok, orgy. 
She told Vulture, "The first few takes were far too polite.  It's funny, because as an actor, you know what you're supposed to do, despite your natural shyness—but to kiss all these people in rapid succession was a kick in the ass.   I didn't have a lot of time to do it, so [director] Lorene [Scafaria] was like, 'Now, please.  Not in two hours.'  I had to swallow my pride and do it.  I had kissed a girl in the second season of Community, but that was my first time kissing a girl ever, and I was so nervous, I almost knocked Brit Marling's teeth out.  So this time, I didn't maul Keira Knightley, but I had to just go for it.  It was kind of an out-of-body experience—you know, when you find yourself doing something you haven't done in your life." Read more
Podcast: Play in new window | Download (Duration: 8:59 — 6.2MB)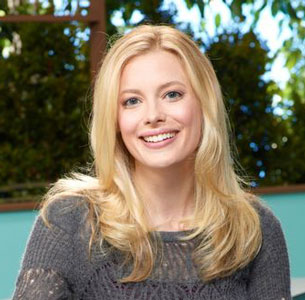 Gillian Jacobs stars as Britta in NBC's hit (yes, hit!) comedy, Community.
After a brief hiatus and scare that the show wouldn't return, it came back with great ratings and hopefully, the show is here to stay.
Gillian graduated from Julliard and immediately started working off Broadway. She appeared at the Public Theater, in Philip Seymour Hoffman's The Little Flower of East Orange, opposite Ellen Burstyn and Michael Shannon, the Playwrights Theater's A Feminine Ending and in Adam Rapp's Cagelove at the Rattlestick Theater.
She was also in the great indie, Helena from the Wedding (check out the cast interview here), opposite Melanie Lynskey, where she sports a dead-on British accent. I swear, I thought she was English for months. She also appeared in The Box and Choke (opposite Sam Rockwell).
I talked to Gillian at WonderCon about the intricacies of filming the show, how parts of Britta is still a mystery to her and if she thinks there will be a fourth season.
Follow Gillian on Twitter!
Community airs on Thursdays at 8/7c on NBC Read more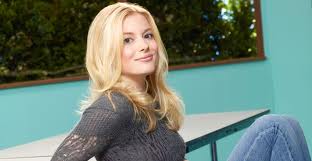 Gillian Jacobs considers herself lucky to be working with the the cast of her hit show, "Community".
She told the Wall Street Journal's Speakeasy, that it's like "grad school for me and I've learned so much working on this show like timing, delivery, and making bold choices. I've never had a lot of vanity as an actor, I will say that about myself, and I have even less now. I've been inspired by working with these people to really try and figure out what is funny about me or my character, and then to just go for it. I think it's also a natural by-product of working on a show as a series regular for more than one season. It feels like a safe zone for you. Even though millions of people are going to see it each week, you feel comfort with the people you work with and you feel free to make weird, bold, strange choices."
This is Jacobs first role in a comedy and she says observing her castmates at work has helped her expand her comedy skills. "You are bound to learn things when you are surrounded by people like Jim Rash (Dean Pelton), who is a Groundling. I do feel like I've become a better improver being around these people. I went and did the Groundlings one night with Jim and I don't think I could have done it had it not been for "Community." I haven't done improv since I was in middle school."
Jacobs is looking forward to a little down time while "Community" is on hiatus. "I'm taking it easy, taking meetings and reading scripts. Right now, I'm just trying to look like I didn't get hit by a truck." [Editors Note: Yeah, Gillian, don't try that. It's not fun - Lance]
To read more of the interview, go to: wsj.com
Podcast: Play in new window | Download (Duration: 11:38 — 8.2MB)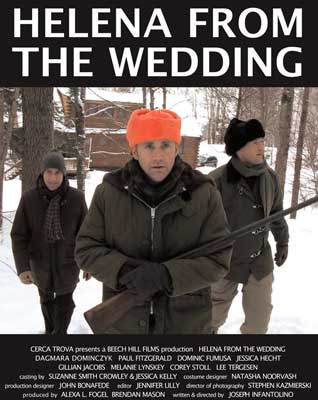 The film, Helena From The Wedding, is writer/director Joseph Infantolino's feature film debut.  It stars Lee Tergensen, Paul Fitzgerald, Gillian Jacobs (from NBC's Community) and the always incredible Melanie Lynskey.
I got a chance to talk to Joseph and stars Lee and Paul at this years SXSW.
Both Lee and Paul have resumes a mile long. You've seen Lee in everything from Point Break, Waynes World to HBO's Oz and Generation Kill. Paul has been a guest star on shows like The Mentalist, Fringe and Medium.
The film is about newlyweds (Lee and Melanie Lynskey) as they begin to question their relationship at the same time they host their friends in a remote cabin over New Year's weekend.
For a first time director, Joseph has done a remarkable job. The acting is so natural that it looks like someone from the cast shot it over a weekend getaway and edited it together.
See it for that reason alone.
So first of all tell me about your characters.
Paul Fitzgerald: Nick is a guy who's having a bad moment in life. A lot of things are falling apart around him in his life. I imagine him as a bit of the middle child in his group of friends. Alex (Lee Tergensen) is sort of the central organizing guy in his group of friends, but Nick ends up as the middle child that goes back and forth between the parties and has to put on a happy face. Ultimately, it seems like he's trying to untangle his own situation via everyone else's, avoiding and/or untangling his own situation by applying what's going on with everyone else. A fantastic character to play and a dream job all around.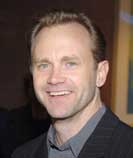 Lee Tergensen: Alex is a guy who is recently married, and who has just had an abysmal failure with a play he's written. What I think has happened is the stress from the play has put stress on his new marriage, and there's some sort of doubt about it. He's just not feeling comfortable in his life, he's feeling like everything is wrong. Maybe he's in the wrong place. And then this girl that he's met, Helena, shows up with a couple who come to the house for the weekend and all of a sudden he starts to fill her with his hopes and dreams. (Laughter). She definitely takes his attention. And it's like anything, drinking, drugs, sex, anything that will get you out of yourself seems like a good idea. And so he can focus on her and he's let the relationship go with his wife, temporarily.
Paul: (Laughter) So, he's a great guy,
Lee: Yes. I was just told by some woman that she hated my character. She said she hated my character! And I guess I sort of understand. Cause I'm so obsessed when [Helena] first gets there, I'm trying to look at her. And then I go with the binoculars. Those things to me seem so funny, yet so real. I mean how many times have I done something just so I could check out somebody's ass?