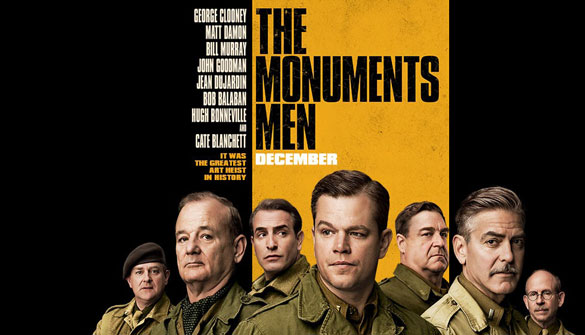 To say The Monuments Men is a disappointment is a huge understatement.
The film was originally scheduled to open in the crowded Christmas season but due to some post-FX shots, it wasn't finished in time. Moving the film wasn't a bad idea though. February is a wasteland and to try and find good films is sometimes a difficult task. And, having such a powerhouse cast (George Clooney, Matt Damon, Bill Murray, John Goodman, Jean Dujardin, Bob Balaban, Hugh Bonneville, and Cate Blanchett) should conceivably bring in the audience.
Unfortunately, Clooney, as director and co-writer, delivers a slow and meandering film that weaves in and has no real drive or push to get to the ending of the story. Read more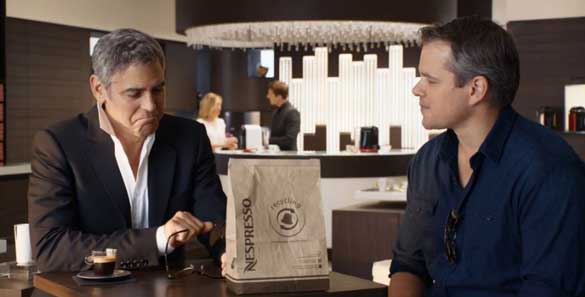 Matt Damon gets paid a lot for his movies, but  $200,000 a second?  No way, he just gets that for commercials.
Believe it or not, Damon was reportedly paid $3 million for a 15 second appearance in a Nespresso ad starring Hollywood buddy George Clooney.  The commercial was directed by Grant Heslov, who is a producer and co-writer of the upcoming film, The Monuments Men, which stars Clooney and Damon (Clooney also co-wrote and directed the film).   Read more
Director Alfonso Cuarón's visually stunning film, Gravity, opens this weekend and it's definitely something you should watch on the big screen; you should see in both IMAX and 3D. And I hate 3D.
In this New York Times Anatomy of a Scene video, Cuarón narrates a scene from the film that stars Sandra Bullock and George Clooney. The scene, he says, was constructed in one single shot and is supposed to immerse you into the action. He goes on to say that he wanted you, the audience, to feel like you were floating in space. And yeah, that's definitely true.
Check it out below!  Read more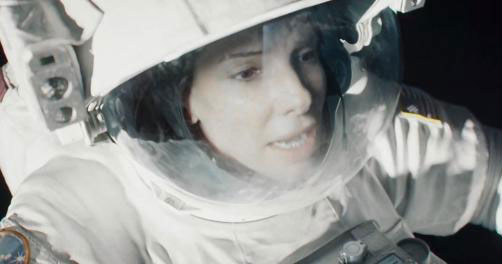 The Venice Film Festival has brought forth a few fall films that are already generating Oscar hype. One of those movies is the Alfonso Cuarón-directed film Gravity starring George Clooney and Sandra Bullock.
The storyline involves two astronauts who are left adrift after surviving a space shuttle accident. While Clooney is seen in about a third of the film, it is Bullock who carries the rest of the movie by herself.
The 49-year-old actress didn't seem daunted by the script nor having to carry most of the movie by herself. Read more
Ben Affleck, Best Picture winner for Argo
This speech by Affleck was by far the best of the night for me. "You have to work harder than you think you possibly can. You can't hold grudges. It's hard but you can't hold grudges.  And it doesn't matter how you get knocked down in life because that's going to happen. All that matters is you gotta get up." Love that and love him.
Oscar speech: "I want to acknowledge Steven Spielberg, who I feel is a genius and a towering talent among us. I want to acknowledge the other 8 films, there are 8 great films, who have as much a right to be up here as we do. I want to acknowledge them for what they did and thank them and many of them who didn't even get nominated this year. I want to thank Jack McNiece, Jerry Speck, Marty Brest and my brother and my mom and dad and Patrick Whitesell and Tony Mendez, who let us do his story. Thank you. I thank you everyone in the movie, on the movie, worked on the movie, did anything with this movie gets thanked. I want to thank Canada. I want to thank our friends in Iran living in terrible circumstances right now. I want to thank my wife who I don't usually associate with Iran. I want to thank you for working on our marriage for 10 Christmases. It's good. It is work but it's the best kind of work and there's no one I'd rather work. And I'd just like to say, I was here 15 years ago or something and I had no idea what I was doing. I stood out here in front of you all and really just a kid. I went out and I never thought I would be back here. And I am, because of so many of you who are here tonight, because of this Academy, because of so many wonderful people who extended themselves to me when they had nothing to benefit from it in Hollywood. You know what I mean, I couldn't get them a job. I want to thank them and I want to thank what they taught me, which is that you have to work harder than you think you possibly can. You can't hold grudges. It's hard but you can't hold grudges.  And it doesn't matter how you get knocked down in life because that's going to happen. All that matters is you gotta get up. Violet, Sam and Sera, this is for you." Read more
If, like me, you missed the live stream of the one-night only performance of Dustin Lance Black's "8″ at the Wilshire Ebell Theatre in LA, we're in luck because we can watch it below.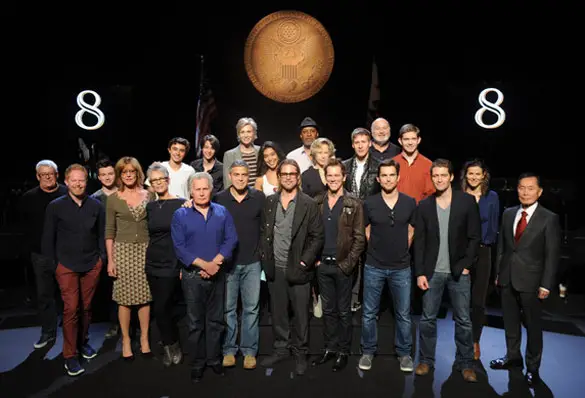 The play featured an all-star cast including George Clooney, Brad Pitt, Martin Sheen, Jamie Lee Curtis, Jane Lynch, Kevin Bacon, Matt Bomer, Campbell Brown, Chris Colfer, Jesse Tyler Ferguson, Vanessa Garcia, Cleve Jones, Christine Lahti, Matthew Morrison, Rory O'Malley, James Pickens, Jr., John C. Reilly, Rob Reiner, Yeardley Smith and George Takei.
Read more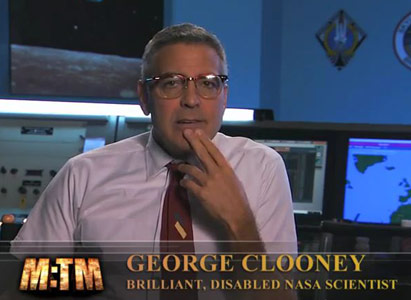 If you saw (and liked) Jimmy Kimmel's Movie: The Movie on Oscar night, then you're going to like this as well.
Actually, you'll probably like it even more.
Here is the Making the Movie: The Making of  Movie: The Movie featuring backstage 'interviews' with some of the cast.
George Clooney, Tom Hanks, Don Cheadle and Bryan Cranston talk about their craft and why they chose to participate in the star studded 'film'.
I'll give you a sampling from Bryan Cranston: "Anytime someone calls and says, "Do you wanna work with wieners,:  I'm in. Because I'm a big fan of the wiener." Read more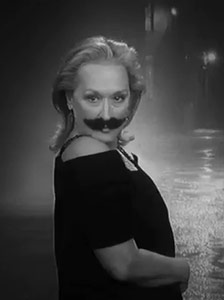 Jimmy Kimmel's annual Oscar night show is always a lot of fun to watch because it takes your mind off of how much of a let-down the Award's show was. At least for me it does. 
Every year, he does some huge and funny spoof and this year was no different. Movie: The Movie stars everyone from George Clooney, Matt Damon, Gary Oldman, Cameron Diaz, Emily Blunt, Meryl Streep, Charlize Theron, Christoph Waltz and plenty more.
It's been getting razzed on Twitter – "it sucked!' – is pretty much what I've been hearing but I liked it. I think they probably just hate Kimmel and won't give him any props no matter what.
Check it out for yourself.  Read more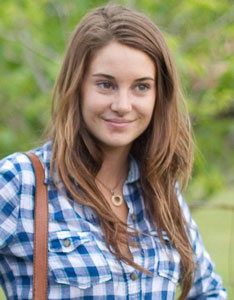 From the small screen, as the lead star of The Secret Life of The American Teenager,  to the big screen with George Clooney in The Descendants, twenty-year-old actress Shailene Woodley has come off the heels of what she calls a "mind blowing" awards season, she told Collider.
Prior to booking The Descendants, Woodley was working for an apparel store when she found out she was cast in her role.  "I had moved to New York over hiatus to do something different. I'm from Simi Valley. And, I was working at American Apparel, just to do something different, when I booked The Descendants, and I was terrified to have to quit my job. I hate having to go in and put in your two weeks notice. That's terrifying!  I had only been working there for two months, so I thought that she would be pissed that I took a job for two months then was quitting. But, she was very gracious and kind and considerate."
Shailene also shared what it was like to work under the direction of Alexander Payne.  "Every actor wants to work with him for a reason, and it's because he gives you the time that you need to get to an emotional state and he's always by the camera, talking you through the scene and helping you in times of difficulty," she said. "He's never stuck behind a monitor or yelling from across the stage, like most directors. He's really present and available for you."  Read more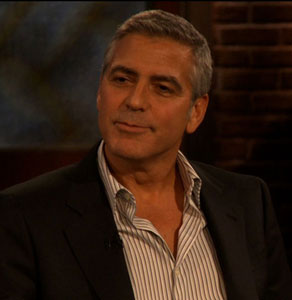 Bravo's Inside the Actors Studio returns for its 18th season with George Clooney. 
In the two-hour season premiere, Clooney discusses his life from his early days as Dr. Doug Ross on ER to his recently acclaimed role as Matt King in The Descendants, for which he has just received an Oscar® nomination.
When talking about The Descendants, he said to host James Lipton that, "I enjoyed the fact that I was allowed to dip my toe into an area that I am very uncomfortable with."
He also talks about  Batman Returns – "Coming off of [Batman Returns] I suddenly realized I was going to have to pick better projects" – and committing adultery…. in second grade. "I thought it meant acting like an adult, I didn't know what the hell it meant," he said.
The show airs on Tuesday, January 31 at 7pm et/pt.
Check out the preview below!  Read more