Adam Scott stars as Jason in Friends with Kids, a really wonderful new film about a pair of single best friends (Scott and Jennifer Westfeldt, who also directs) who, while not attracted to each other, decide to have a child together. The arrangement works perfectly for a while, but once he starts dating a Broadway dancer (Megan Fox), things begin to unravel.
The film also stars some of the best comic actors working today; Kristen Wiig, Maya Rudolph, Jon Hamm and Chris O'Dowd and while there are definitely comedic moments, the film is definitely not an all-out comedic romp.
I joined in a quick Q & A with Adam, who also stars in one of my favorite TV shows, Parks and Recreation, where he talks about the film and how he still operates in 'guest star' mode.
Friends with Kids,  opens in limited release today
Adam, I read you mentioned somewhere that you were one of those friend couples that had the kids, were any of the couples in the film based on you guys?
Adam Scott: No, it wasn't anyone specific and I'm not saying it was specifically based on me. I just know I'm one of the many couples in Jon and Jennifer's life that had kids and in our particular case, we just dropped off completely because we got so busy and were overwhelmed by child rearing. We dropped off the face of the earth for 6 months. But no, I don't believe I inspired any specific couple or character. Read more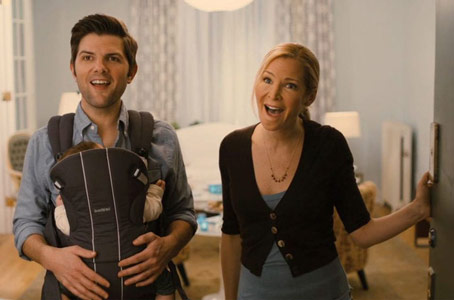 Just because Friends with Kids arrives in theaters Friday doesn't mean that star Adam Scott thinks he was deserving of leading-man status in director Jennifer Westfeldt's film, which is centered around a group of thirty-something couples who decide to have children and then date other people.
"I was lucky that Jen wanted me to do it," explains a self-deprecating Scott. "I reminded her many times that she could find someone far more famous than me and have a much easier time getting this thing made. I didn't get (what she saw in me). I was like, "Just have Jon Hamm play the part."
Of course, Scott is selling himself short. Since joining the cast of NBC comedy Parks & Recreation two years ago, he's become one of the hit series' most popular characters. Before that, he starred in Party Down, Starz' much-missed cult hit about a Los Angeles catering company. Read more
Kristen Wiig is not sticking to just comedy anymore.  As award season approaches, Wiig is drawing attention for possible nominations for her writing of the smash-hit Bridesmaids but she's not the sort of person to rest on her laurels. 
With upcoming movies Friends with Kids, Imogene, and The Comedian, Wiig said in an interview with Papermag, that she is "writing something by myself that's not a comedy. It's just a smaller, indie movie, which is the sort of thing I actually gravitate towards…And then there's another story idea that I want to write way down the line that's probably not a comedy either.  One of them I think I might act in, one of them I want to just direct."
Wiig is enjoying her chance to be behind the camera too.  She took part in the Bridesmaids' audition process—resulting in the casting of one of Hollywood's most cheered women ensembles.  "To really sit on the other side of that was really eye opening and weird," she says.  "I definitely know how it feels to be the person walking in and doing an audition; in my experience, to like, say something awkward and then leave my bag in the room—it's a nerve-racking thing."  Read more