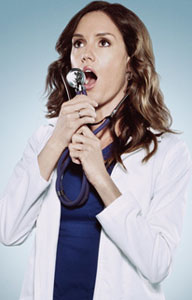 Comic-Con: Erinn Hayes and the rest of the cast of Adult Swim's Childrens Hospital are always great to chat with. Hayes in particular is just incredibly quick and funny and talking to her I always have a smile on my face.
I talked to her at Comic-Con where she chatted about the upcoming season of Childrens Hospital, the foxy women of the show and her first… stab at a horror movie.
I saw a terrible slasher film recently.
Erinn Hayes:  You did not waste your time on Final Stab.  You cannot get that time back.  That time is gone.  You will never get that Final Stab time back. 
You've grown your hair out though.
Erinn Hayes:  I know.  I got really drunk after college, and I was like, I'm cutting it off, I'm cutting it all off and then we did this movie called Final Stab that is – very professional movie – it was probably like 2001 or something, people take out cell phones to call and then they're walking in the woods and the whole thing was filmed on a steady cam that they did effect [shaky cam], so it's like how did you get that whole on a boat.  I don't know, I don't know, there's a lot of lightning, a lot of thunder, a lot of lightening.  There's no rain.  My face is orange and my neck is white and I get to say things like, "I don't' care, find a fucking tampon, do whatever."  It's kind of weirdly, the director – he makes all these movies and they're very homoerotic, like the only people that are taking off their clothes are the dudes, but it's pretending to be… you won't get that time back. Read more