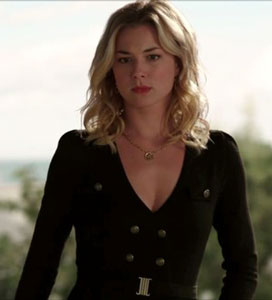 After stirring the hearts of fans as Amy Abbott in Everwood for four seasons Canadian actress Emily Van Camp has  traded in her wholesome character for the likes of Amanda Clark, her new villainous alter ego that has viewers awaiting Revenge on Sunday nights. 
Ready to enter into season 2 after an amazing first year run on ABC, Van Camp recently discussed her beginnings with the show and how she became involved with the series.  "I read the script for Revenge and I loved it, so I went and met with [Revenge executive producers] Marty Bowen and Mike Kelley to hear their thoughts on the project," she said. "We talked and talked about it, and then I went through a whole audition process to win the role. When I tested for the part, Marty called my agent and said, "I just don't know if she can go dark. I didn't see that in our meeting. She really doesn't give that off." When I heard that, I thought to myself, 'OK, great. Let's go in and I'll try to prove it to them." Read more
Brothers and Sisters actress Emily VanCamp isn't new to the world of showbiz, but with her recent gig as leading lady of ABC's Revenge things are definitely changing.  Out to promote the new show where VanCamp stars as the revenge driven beauty Emily Thorne, ABC has placed several billboards of the Canadian actress throughout the city.
Although VanCamp was aware her reaction upon seeing them sounds priceless according to a recent interview with Access Hollywood.  "I was driving on the 101 to work and it was some ridiculously early hour, and there it was… I had no concept of what that would feel like and there it was, on my way to work… My mom was the first person I called after I scared my boyfriend s***less because he thought I was getting into an accident."
Asked if she was screaming, VanCamp replied, "I saw the billboard, I'm talking with Joseph, I just started violently screaming. I couldn't believe it and he flipped out, he's like, 'What's going on? Are you OK?' And [I said], 'I just saw it! I just saw it! That's so weird, that's so crazy.' He's like, 'Emily! I though you were dying.' Then… I called my mom, and my mom was flipping out with me too and I sent her a picture of it. It's such an intense thing. You can't prepare for it. That stuff doesn't really get old."   Read more