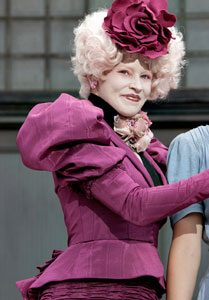 Elizabeth Banks has become one of Hollywood's most sought after and versatile actresses, moving effortlessly between comedy and drama, film and television, and now also taking on a role as a producer.  
She was most recently seen starring in "Our Idiot Brother" with Paul Rudd, Emily Mortimer and Zooey Deschanel; and opposite Russell Crowe in "The Next Three Days," directed by Paul Haggis. She recently wrapped production on Universal Pictures' "Pitch Perfect," which she is producing with her husband, Max Handelman, through their company, Brownstone Productions. The cast includes Anna Kendrick, Brittany Snow and Rebel Wilson.
Banks can currently be seen in Summit Entertainment's "Man on a Ledge" with Sam Worthington. The project focuses on a fugitive ex-cop (Worthington) perched on the ledge of a high-rise building while a hard-living NYPD hostage negotiator (Banks) tries to talk him down. The film was released January 27th, 2012.
She will then appear in Lionsgate's motherhood comedy "What to Expect When You're Expecting." Banks portrays an author of a children's book about breast feeding and owner of The Breast Choice boutique, who is militant in her beliefs about what makes a good mother until she gets pregnant for the first time. The film, directed by Kirk Jones, is based on Heidi Murkoff's bestseller, and the ensemble cast includes Cameron Diaz, Jennifer Lopez and Dennis Quaid. The film is scheduled to be released May 18th, 2012. Read more