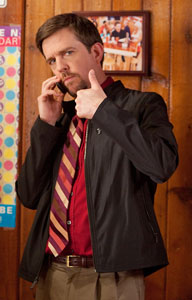 With the upcoming release of directors Jay and Mark Duplass' new comedy Jeff Who Lives at Home about to arrive in theaters on April 19th, Vulture caught up with actor Ed Helms who stars in the movie as the titular character's brother Pat. 
A guy The Office star refers to with a laugh as a "dick-y douche bag", who thinks he has his own life under control, Pat is the polar opposite when compared to Jeff (played by Jason Segel). He's the movie's hilarious pot smoking, directionless, thirty something year old living in his mother's (Susan Sarandon) basement, looking for omens and answers from the 2002 Mel Gibson flick Signs, and who isn't afraid to admit that he has no idea where he is headed.
In real life Helms had been coined a sweetheart by the Duplass brothers.  Flipping the switch from nice guy to bad, Helms shared that you don't have to be evil to play the part.  "I've worked with people who are manipulative like that. I think it's a really flawed notion that you have to be in a bad place to play a bad character, or a damaged character. It's called acting for a reason." Read more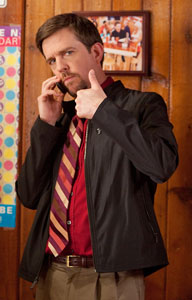 The Hangover movies and The Office might have made Ed Helms into a name in comedy (especially comedy that involves perpetual confusion or inability to pick up social cues), but aside from The Hangover movies and Cedar Rapids, Helms has mostly appeared in supporting roles or cameos on the big screen. 
So while he might not star as Jeff in Jeff, Who Lives at Home (that would be Jason Segel), Helms does star as Pat, Jeff's brother — who, as the title implies by exclusion, does not live at home like his brother. 
Helms talks about starring in the film, directed by Jay and Mark Duplass, and about his character.
Helms is very direct about why he wanted to star in the film: "Because the script was awesome.  And Mark and Jay Duplass are awesome.  The script is just the right combination of poignant and hilarious. I'm always wary of things that try to get too sappy, but this really struck a great balance, and there's even a little darkness in there.  There's a little edge to their movies and I wasn't sure if maybe these guys were a little bit dark and weird.  Then, I had lunch with them, and we had such a great time.  They're joyful, happy guys that just love to tell offbeat stories.  Their films The Puffy Chair and Baghead feel viscerally real.  It's a result of the truth they go for from their actors and their camera style, which utilizes a kind of handheld, faux-documentary feel.  It makes you feel like your natural eye has just caught this going on around you." Read more
Podcast: Play in new window | Download (Duration: 18:49 — 12.9MB)
Ed Helms had no idea his character on The Office, Andy Bernard, would be promoted until a few weeks before shooting when he and Executive Producer/Writer Paul Liberstein – who also plays Toby on the show – sat down for lunch. "That's where I learned of the news," he said.
Steve Carell's Michael Scott may be hard shoes to fill, but as Liberstein said, Andy is a great choice because "any little problem that anybody's having, he would feel very deeply, which makes him very suited to be a comic lead in the show."
I talked to both Ed and Paul in a conference call where they talked about Andy's promotion, Helm's career path and how The Office might end.
Follow Ed on Twitter!
The Office airs on Thursdays at 9/8c on NBC
For the full interview, click the audio link above or download it from iTunes
How did the process go for you in terms of taking the new job? Did you know ahead of time?
Ed Helms: I knew about three or four weeks before we started shooting. That's when it kind – the news sort of broke internally. And Paul and I had lunch actually and that's where I learned of the news.
Were the actors vying internally for – or lobbying on behalf of their characters to get the managerial position and having your character getting it, was that a way to capitalize on your film career?
Ed Helms: Well I can only – I can speak to the first part. But the – I kind of felt like – I've always really trusted the creative judgment of the show creators, Greg Daniels and Paul Lieberstein and felt like they've gotten us so far. And there was a lot of internal sort of wondering and questioning what was next, who might be the next boss.
But I, you know, I think it's a testament to this cast and the dignity of everyone involved that we all sort of took a little bit of a, I don't know, just a back seat to the creative considerations upstairs. And what – and we're sort of eager to support whatever decision came down.
Paul Lieberstein: I think in terms of vying, you know, I haven't seen an actor want a specific role. I have – I think what an actor wants is in general is something interesting to play and to be challenged and stretched and, you know.
And we intend to do that with all the cast and so, you know, the – a movie can be about the lowliest guy on the street or the President of the United States and if it's – it's not so much who's the manager, you know, you can find something interesting.
So no one really was pressing. They just want to be engaged and challenged. You know, and that's what we wanted to show as well.  Read more