Podcast: Play in new window | Download (Duration: 12:50 — 8.8MB)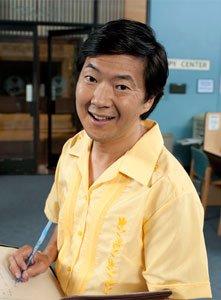 Ken Jeong said that he was "definitely moved" by the fan reaction to NBC putting Community on hiatus. With last weeks great ratings jump, he wants to give a big "thank you to all the fans for watching."
He says that the fans are "really our bosses when you think of it" and that that relationship "helped drive this show back and bring it back the way it did."
I love Community and Ken is a big part of why it's so great.
I'm sure you know by now that he's a licensed Doctor completed his internal medicine residence in New Orleans while developing his comedy. In 1995, Jeong won the Big Easy Laff Off which was judged by former NBC President Brandon Tartikoff and Improv founder Bud Friedman. That turned out to be his big break because with the urging of both Tartikoff and Friedman, he packed up and moved to Los Angeles.
From there, he started performing at comedy clubs and appearing on TV show like the The Office. But the role that put him on the map was Dr. Kuni in Knocked Up. His outtakes from the movie, which are posted below, are brilliant.
I talked to Ken at WonderCon about his love of the Community fans, how there's no need to improvise on the show and working with the cast.
Follow Ken on Twitter!
Community airs on Thursdays at 8/7c on NBC Read more