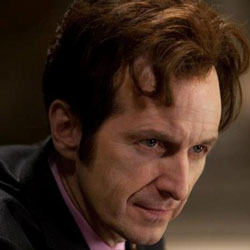 Denis O'Hare usually spends his time on True Blood completely covered in blood.  He plays (played?) the entirely unhinged vampire Russell Edgington, who is all about killing.  So it might come as a shock to some that the actor is actually spending his off-screen time singing his heart out in a musical.
O'Hare is currently starring in Into the Woods at the Delacorte Theater in New York.  "It's definitely tricky," he told The Wall Street Journal.  "What the person in the front row sees is very different from what the person in the last row sees.  Theater acting is always a game of micro and macro.  So on the one hand, if you're mugging for the back seats, it's a horrifying performance up close," he said. "If you're being subtle upfront, back there they see nothing.  In a strange way, what I tend to do and what a lot of actors do is you express with your body while also expressing with your face.  I let my body be bigger and my face be smaller, to put it simply.  I'm keeping my emotions small but I'm letting my body express them." Read more
Podcast: Play in new window | Download (Duration: 14:29 — 10.0MB)
Up until 2 years ago, Denis O'Hare had a terrific career; moving seamlessly from TV (Brothers and Sisters, CSI: Miami), Film (Michael Clayton, Baby Mama, Milk) and Broadway (Cabaret, Assassins, Sweet Charity). But once he was cast in True Blood, his career went to another level.
As Russell Edgington, he made the show 10 times more fun to watch with his portrayal of the Vampire King of Mississippi. From there he went back to Broadway in Elling and now, he's starring in FX's American Horror Story. He plays Larry the Burn Guy, a man who was disfigured in a fire started by his wife when he revealed his love for the neighbor, Constance (Jessica Lange).
In this Q&A, Denis talks about the make-up process for the show, how he got the part and how he's "addicted" to theatre.
Follow Denis on Twitter!
American Horror Story airs on Wednesdays at 10pm on FX
For more American Horror Story, check out our interview with Dylan McDermott and Connie Britton
For the full interview, click the audio link above or download it from iTunes
You're playing such a dark character, and a lot of times actors say that you have to like who you're playing to be able to play that character convincingly.  Do you like anything about your character, and how do you connect with him?
Denis O'Hare: You know, it's funny.  I love this character, and I love him because I feel like he is engaged in a sort of timeless epic struggle.  And I see him as kind of a Dante-esque figure.  He's somebody who is trapped in a circle of hell, and he's trying to work his way out.  And he's a human being who's flawed, and he's obviously weak, and he's given into temptation and made bad choices. 
But through that all he's still got this sort of, I don't know, passion and dream to achieve something.  And he's—it's an odd character.  Like no other character I've ever played in my life, I find that I have to reach for a metaphor to describe him.  I have an innate sense of who he is, and when I'm playing him it's all very instinctual.  But to describe it I find myself running to literature, and so I think it's sort of like Igor in the Frankenstein mythology, or an amanuensis in some other mythologies, or a psychopomp as they call them sometimes, somebody who traffics between worlds.  And it's a really odd, beautiful character.  Read more
Elling just opened on Broadway and one of our own readers, Stephanie, left a comment saying that the show was "WONDERFUL !! Brendan, Denis, Jennifer and the rest of the cast were a PLEASURE to watch."
The show has gotten some great reviews and in particular, Denis O'Hare has been singled out for his role as Elling. He talked with Broadway.com about the show, working with Brendan Fraser and True Blood.
What's the key to balancing the comedic and dramatic aspects of a character like this?
The great thing about the play is it doesn't shy away from the darker aspects. There are certainly moments where we see Elling's illness and the pain it causes him, but the play is big enough to encompass both comedy and heavy moments. It's a tribute to the play's structure that it can do that without losing the audience.
Did you do any research on people with these attachment issues?
The play is very smart in not diagnosing these guys. I looked at a variety of things including my experience with schizophrenia and severe depression in my family. I also met with some Asperger's and autistic kids on Staten Island. I went to a mental hospital in Norway and did some reading on those disorders to figure out the similarities between their diagnostic profiles and what Elling says and does. I found it helpful, but I also departed from it. This isn't an "issue" play; we're not trying to do a play about mental illness.
Brendan Fraser plays Elling's best friend. Have you guys formed a friendship of your own?
I've had a great time with him. From the very beginning, we had a dinner together and got along like gangbusters. I have no hesitation to go on stage with him because I feel like he's got my back, and I've got his.
Brendan Fraser is making his Broadway debut in the play, Elling (also starring Denis O'Hare and Jennifer Coolidge). The show, about two roommates in an asylum, is currently in previews; opening night is November 21st. From what I've heard about it, it looks pretty good.
Fraser talked to the AP about Broadway, his preparation and a fateful taxi ride.
On Preparation:
"Everything you need to know as far as preparation, whether you're doing Shakespeare or a contemporary piece, should all be right here [he's holding a copy of the play]. And if it's not, then there's a clue about where to find it if you're paying attention." But, "in the end, it pretty much becomes about just brute memorization and burning calories. You put all the glittery bits aside"
On Choosing To Do Broadway:
"You have to look at your calendar, your life. Am I going to do another 'Mummy' movie? Hey, guess what? I have bills to pay, too. But you just have to carve out the six to eight months that it takes to commit to it."
On A Fateful Taxi Ride:
When he was a child, he lost his family while visiting New York City. A taxi driver picked him up and drove him back to his hotel, all the while talking about theater. "He said something to the effect of, 'I'll see you on the Great White Way, kiddo!' I thought, 'Wow. New York is the coolest place. I guess a seed of some sort was planted."
On The Future:
"I'll be here until March, until I get fired or something. If it goes on any further and if I get a call that I have got to go and clobber some more mummies or something like that, I'll think about it. But for right now, I'm happy as a clam."
For the full article, click here
For tickets to Elling, click here
Broadway Cares/ Equity Fights AIDS, Broadway.com, and Broadway Impact present Broadway's "It Gets Better" video featuring 63 members of the New York theatrical community speaking to LGBTQ youth.
The video is part of the It Gets Better Project, which was founded by noted writer Dan Savage in response to LGBTQ teenagers who in recent months have taken their own lives after being bullied in school. The project is a video archive where people can share their stories of overcoming bullying and finding happiness and letting young people know "It Gets Better."
To see the full list of all involved in the video, click below
Brendan Fraser is making his Broadway debut in the new play, Elling.
The show, about a pair of pair of roommates trying to embrace life, love, friendship, pizza, poetry and women. Both Elling (Denis O'Hare) and Kjell (Fraser)  are patients in a mental hospital—Elling suffers from acute anxiety following his mother's death, while Kjell is a childlike 40-year-old eager to lose his virginity. The two become roommates and face the challenge of establishing a normal life when released from the institution.
Playbill talked to him about the show and how a film actor transitions to stage. Also, check out the video after the jump!
Congratulations on your Broadway debut. This must be something you've wanted for a long time.
Brendan Fraser: Yeah, for sure. I guess it's taken me about 30 years to get here. [Laughs.] I tell you, I was seven years old the first time I saw New York City. My family was moving from America, and my father's work was taking us to travel and live in Europe. And we caught a steam liner — that sounds like the old days, or maybe it was the Cunard line. It was the QE2. Anyway, it was the year of the Democratic National Convention. Every hotel was booked, and Jimmy Carter was in town, and we got the last room in some little hotel on the outskirts. Long story short, I wound up getting separated from my brothers, who were watching over me, and I found myself in the Broadway district, and I didn't even know what that was. I just saw all these marquees and names, posters and pictures, and I remember it just really caught my attention, and it's stayed with me ever since.
And then when we traveled through Europe, I would always go to London as a kid during holidays, school breaks, that kind of thing, and see shows on the West End. I guess maybe on or thereabouts during those [formative] years, that's when I had the germination of, "Hey, I want to do that. I want to be up there, too." And coming to Broadway is the fulfillment of a life's aspiration for me. I'm very excited. I'm appropriately panicked at the same time [Laughs] and I feel like it's time for me to have a run and [take] the risk that goes along with being lucky enough to have a well-rounded actor's career.