Premium Rush aside, Joseph Gordon-Levitt appears in two of the best-rated action films of 2012, The Dark Knight Rises and Looper, and also stars in the likely Oscar-contending drama Lincoln due out in November. In an interview with New York magazine, Gordon-Levitt talks about the makeup he had to wear to portray a younger version of Bruce Willis in Looper and what inspired him to direct his first film, which is due out next year.
Gordon-Levitt reveals that it was a bit odd between takes when he was still in the makeup that made him look more like Willis, and when asked if he stayed in character or reverted to his usual self he says, "Probably some of both. One of my good friends visited the set and was really disturbed, didn't want to talk to me. My mom, too. She said, 'When I stand next to you, you feel like my son, but when I look at you, you're this different guy.' She found it a little odd." Read more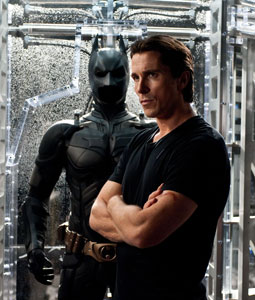 It's hard to accept that The Dark Knight Rises will likely be the last time we'll see Christian Bale as Batman (though as Sean Connery would say, "Never say never").  On that note, Bale took the time to express his thoughts on the last chapter of Christopher Nolan's Dark Knight trilogy and the series as a whole, as well as speaking about his feelings about leaving the character behind after three films.
Bale sums up the character arc of Bruce Wayne/Batman in the three films as, "In Batman Begins, you see the tragedy and the pain that motivates this angry young man, who feels useless and is searching for a path—who wants to find out who he is and what he can become. Then in The Dark Knight, he's discovered that path.  He is useful; he is doing what he imagines is the best thing for him to be doing in his life.  Now, we are eight years on and he has lost the one thing that gave him a purpose…until he is forced to deal with a new threat to the city and to himself." Read more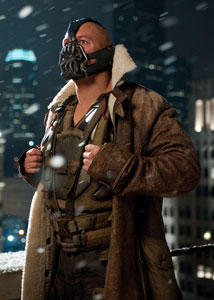 Bane might not rank among the "classic" Batman villains (the hulking back-breaker was introduced in the comics in 1993), but the character is a perfect fit for the Batman world created by Christopher Nolan in his Dark Knight trilogy.  To play the villain in The Dark Knight Rises, Nolan turned to Tom Hardy, who appeared in Nolan's previous film, Inception. 
Hardy explains that he leaped at the chance to work with Nolan again and goes into detail about how he played the character opposite Christian Bale's Batman.
Hardy admits he had no hesitation working with Nolan again, though Nolan initially approached Hardy thinking he would have one reservation.  Hardy explains, "Chris called me up and said there was a role I might be good for, but he wasn't sure I'd be interested because I'd have to wear a mask for several months.  He wouldn't tell me anything else about the character, except that he was a very bad guy.  I said, 'Let me get this straight: you want me to come and work with you, travel around the world, have a stunt team and all the weapons I could possibly want to play with, and all I have to do is wear a mask?'  He answered, 'Yeah, pretty much…'  And I said, 'I'm in!'"  In fact, Hardy says he felt the mask helped him get into character, adding, "I didn't feel limited by the mask. What's cool about it is, as soon as you put it on, you become the character." Read more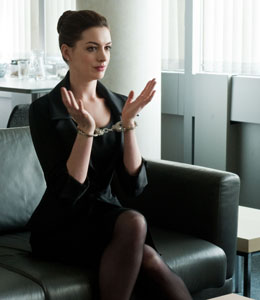 Anne Hathaway certainly has faced some challenges playing the iconic Catwoman in Christopher Nolan's latest The Dark Knight Rises.
But the actress passed the test, by rocking the Catsuit and doing many of her own stunts.  The first obstacle was actually getting the part.  Hathaway wasn't sure if she had gotten the role initially.  She told The New York Daily News, "I auditioned on a Thursday and I believe the following Tuesday my manager called and just said, 'Meeeoooww.'"
The next challenge? Wearing the Catsuit made out of polyurethane-coated black Spandex.  "It was very funny in fittings," Hathaway said.  "We could make certain choices, fit certain things, and then I would have to start slinking about to make sure it could do things that we needed it to do.  It was way more fun to wear than the Batsuit." Read more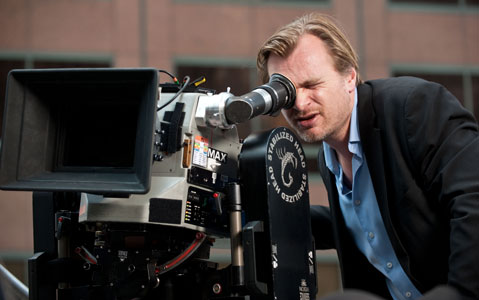 At last, it's here: the long-awaited follow-up to 2008′s The Dark Knight, generally considered the best comic book superhero movie ever made (and until this year's The Avengers, the highest-grossing).  The Dark Knight Rises is also director Christopher Nolan's farewell to the Batman franchise, and the nearly three-hour film was perhaps the most challenging of his career.  He discusses some of those challenges, including working with stars Christian Bale, Anne Hathaway, and Tom Hardy, and figuring out how those characters fit into his interpretation of Batman's world.
Nolan points to observing Bale's approach to the Batman character as one of the highlights of making the three films.  He explains, "It's been very rewarding to watch Christian chart the progression of his role through the three films.  He always had a strong commitment to finding the truth of the character, and I think you especially see that in this film, where he really embraced  that  Bruce  is  older,  but  not  necessarily  wiser.  It's  a  very  thoughtful performance, and that's what you consistently get from a talent like Christian." Read more
Tom Hardy is about to appear in a role that will most likely solidify him as a major star, Bane in The Dark Knight Rises.  While that role easily overshadows anything else Hardy has done, he still  has other projects to promote including Lawless, which also stars Shia LaBeouf, Jessica Chastain, Guy Pearce, and his Dark Knight Rises co-star Gary Oldman.  Hardy spoke to a number of media outlets on the red carpet for Lawless at the Cannes Film Festival about a variety of topics relating to his career.
In Lawless Hardy plays Forrest Bondurant, a Prohibition-era bootlegger whose actions speak louder than his few uttered words.  Hardy admits that playing a quiet character is difficult.  He explains, "These characters are difficult to play because I have a very busy head.  I have inside voices that I have learned to contain."
Finding those inside voices can be difficult, and Hardy confesses that it takes him some time to locate the character.  He says, "You sit and you dwell and you wait and you read and you think and you meditate.  It takes time to think and ponder, and the work is never done because it just continues. It's looking for evidence of things." Read more
Matthew Modine has worked with top-tier directors Stanley Kubrick, Jonathan Demme, Oliver Stone, and Robert Altman, so when he praises Christopher Nolan (he appears in Nolan's The Dark Knight Rises) on his filmmaking in a new interview, it's coming from an actor who knows what it takes to be one of all-time great directors.
Of Nolan he says, "I believe that Christopher Nolan and his producing partner/wife cast everybody, from the catering to the teamsters to the camera crew and the actors.  They want a crew of people working on the film that want to be there. This is not a job, it's a passion. It is the first film that I've worked on in so many years where everybody is excited to come to work and be at work, to create something that is extraordinary and unusual."
Modine explains that he sees filmmaking as an opportunity to create something that can impact the world, hence why he seeks roles in films of such high-caliber directors.  He explains, "There's a quote from Kahlil Gibran in the book 'The Prophet': 'You talk when you cease to be at peace with your thoughts, and I think that is a big motivator for me, as I am not at peace with the injustices that I see in the world, the global environmental problems we face. My mother and father taught me that we should always try to do the best that we can to leave the world a better place than when we inherited it. And there's a lot to be done." Read more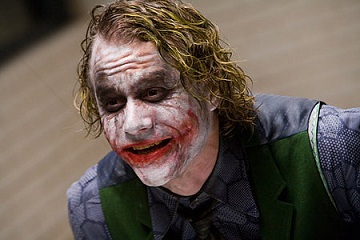 It was only a matter of time before Facebook took on Netflix by offering movie rentals. The mega social media networking Web site has teamed up with Warner Bros. studios to test digital rentals on its site.
Starting today, Facebook users can go online to rent  The Dark Knight, starring Christian Bale, Michael Caine and Heath Ledger. After "liking" the movie's fan page, users can rent the 2008 film for 30 Facebook credits, or $3. (http://www.facebook.com/darkknight) Viewers have 48 hours to watch the movie, which can be viewed full screen and paused at any time.
Warner Bros. claims it is the first movie studio to provide movie rentals on a social media web site.
"Facebook has become a daily destination for hundreds of millions of people," said Thomas Gewecke, president of Warner Bros. Digital Distribution. "Making our films available through Facebook is a natural extension of our digital distribution efforts. It gives consumers a simple, convenient way to access and enjoy our films through the world's largest social network."
As of this afternoon, 3,938,128 users have "liked" The Dark Knight on Facebook.
Longtime Batman voice actor Kevin Conroy, who played the character in "Arkham Asylum" and "Batman: The Animated Series", was asked what he thought of the growl Christian Bale gave to his Batman.
From wired.com
But, as the pre-eminent expert on giving voice to his longtime character, what did Conroy think of Christian Bale's controversial vocal work in The Dark Knight?
"I thought Christian was excellent as Bruce Wayne, but I didn't understand his choices there. I thought it was over the top and distracted from his scenes as Batman. I'm not sure what they were going for there. But, what do I know?"
The last time a movie topped a half-billion dollars at the, it sailed away with most of the Oscars. That was "Titanic" 11 years back. This time, it's "The Dark Knight," a critically acclaimed film but a genre picture that will be a tougher sell to Academy Award voters, except for the performance delivered by Heath Ledger.