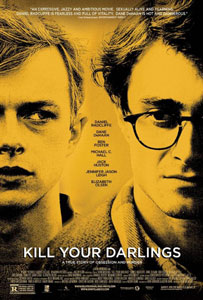 Kill Your Darlings: Daniel Radcliffe stars as Beat Generation icon Allen Ginsberg in this biopic set during the famed poet's early years at Columbia University, and centering on a murder investigation involving Ginsberg, his handsome classmate Lucien Carr, and fellow Beat author William Burroughs. The year is 1944. Ginsberg (Radcliffe) is a young student at Columbia University when he falls hopelessly under the spell of charismatic classmate Carr (Dane DeHaan). Alongside Carr, Ginsberg manages to strike up friendships with aspiring writers William Burroughs (Ben Foster) and Jack Kerouac (Jack Huston) that would cast conformity to the wind, and serve as the foundation of the Beat movement. Meanwhile, an older outsider named David Krammerer falls deeply and madly in love with the impossibly cool Carr. Later, when Krammerer dies under mysterious circumstances, police arrest Kerouac, Burroughs, and Carr as potential suspects, paving the way for an investigation that would have a major impact on the lives of the three emerging artists. Read more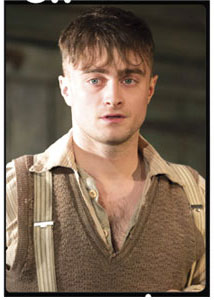 Daniel Radcliffe is returning to Broadway in Martin McDonagh's The Cripple of Inishmaan. The show and the rest of the cast are transferring to New York after a successful West End run.
Directed by Tony Award-winner Michael Grandage, the show will open on the afternoon of Sunday, April 20 at the Cort Theatre (138 West 48th Street). Previews will begin Saturday, April 12. 
The production will play a strictly limited run through Sunday, July 20, with over 10,000 tickets available priced at $27, to provide access for all audiences.   
Tickets go on sale tomorrow at 10:00 AM through www.Telecharge.com.  Read more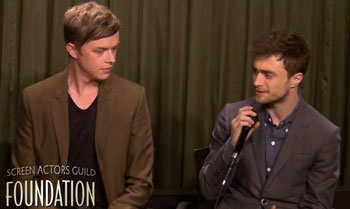 Daniel Radcliffe and Dane DeHaan star in the new film, Kill Your Darlings, the untold story of a murder that brought together a young Allen Ginsberg (Radcliffe), Jack Kerouac (Jack Huston), William Burroughs (Ben Foster) and Lucien Carr (DeHaan) at Columbia University in 1944.
The story is fascinating because it's absolutely true. These brilliant writers – who would create the Beat Generation of writers – were friends way before they were famous and how this murder shaped the rest of their lives.
The SAG Foundation interviewed Radcliffe and DeHaan about the film and how they became attached to it (Radcliffe actually auditioned for it), the research and rehearsal, how they got their SAG cards, their worst auditions and tons more.
Check it out below! Read more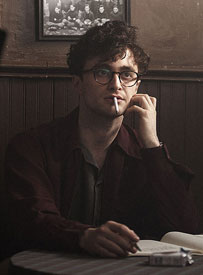 Daniel Radcliffe is proving that successful child actors can transition into successful adult actors by picking and choosing roles that appeal to him on a creative level. In his latest film, Kill Your Darlings, the 24-year-old actor demonstrates that his acting chops run much deeper than Harry Potter.
In the film, the British star is tackling the role of beat writer Allen Ginsberg and a tale of murder amongst the ranks of fellow writers like Jack Kerouac and William S. Burroughs at the end of World War II. Radcliffe first encountered the script written by John Krokidas in 2009. The young Yale grad also planned to direct the project.
It didn't scare Radcliffe that Krokidas was inexperienced in the feature film world. In fact, the Brit had great confidence in his abilities. Read more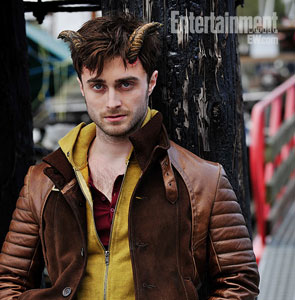 As a child actor in one of the most recognizable roles of the last decade, Daniel Radcliffe is boldly taking his career in new directions. With three films currently premiering at the Toronto International Film Festival, the 24-year-old actor is growing beyond his Harry Potter days.
In an interview with The Associated Press this weekend, Radcliffe talked about his acting strategy post-Potter.
He revealed, "Take chances. You have to make films based on your own instincts … I have to make the kind of films that I would want to see."
His recent role choices showcase his range and his willingness to go into dark places with his acting career. It's not about shedding his boy wizard image, it's about finding more interesting characters to play.
One of Radcliffe's TIFF entries includes the film Horns where the British actor plays a man suspected of murdering his girlfriend. He wakes up one day with a pair of horns growing out of his head. Read more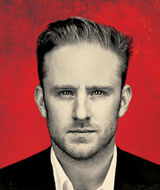 Harry Potter was actually Ben Foster's inspiration for doing a play on Broadway.  Well, technically it was Daniel Radcliffe who gave him the push to do Lyle Kessler's Orphans.
"I talked with Dan Radcliffe when we were doing Kill Your Darlings, and he had done Equus and so many plays, and I have so much respect for him—he's such a brave man—and he was like, 'Oh, you should do a play!'  'Well, I'd really like to, but it scares the shit out of me," Foster recounted in an interview with Vulture.  "You go do something that scares you and don't try to beat it."
The actor had an early connection to the play, but then joined the cast after the controversial firing of Shia LeBeouf.  "They called and asked me to participate in a reading of it months and months ago," Foster recalled.  "I had a few days to look it over, and I went in and read with Alec [Baldwin] and Dan Sullivan, the director.  We just sat around a table, reading the book.  And then it went another direction.  And that was that, and it made me sad.  The bizarre part was months went by, and I was sitting with my mom in LA, and she said, you know, 'It's a really good thing that play didn't work out—I think it would have been too hard on your heart.'  And I said, 'Yeah, I guess you're right.'  And the next day I got a phone call that said, 'Will you come to New York tomorrow and start rehearsing?'  So I said yes.  But my mom's worried." Read more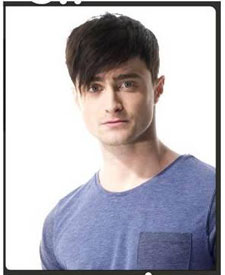 Daniel Radcliffe isn't sure how much longer people are going to talk about Harry Potter—or insist that his career is hurt by the franchise's popularity.
"I feel like everyone wanted Potter to be more of a handcuff than it actually was," he said in an interview with Yahoo! News.  "I think Harry Potter is going to be around for a while—a long while—but as long as it doesn't inhibit me getting parts in the present time, then it's fine.  It's a lovely association to have, because it's something I'm incredibly proud of.
"People always say, 'Don't you just want to forget about it?' No!  That was my entire adolescence."
Next up, Radcliffe will star in a new play, The Cripple of Inishmaan, on the West End.  "I think one of the hilarious things about this play is, by our standards today, how politically incorrect it is," he observed. Read more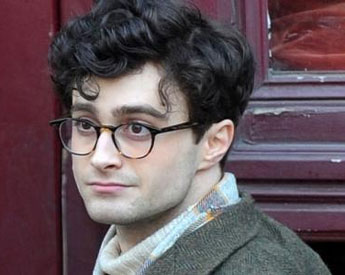 Despite starring in one of the biggest movie franchises of all time, the success doesn't seem to have gone to Daniel Radcliffe's head.  After playing Harry Potter, the British actor still insisted on auditioning for his role as Allen Ginsburg in the film Kill Your Darlings.  Radcliffe told director John Krokidas that he wanted to prove he was right for the part.
"I think he was nervous about whether I would want to audition or not, and so at my first meeting with him I said, 'I want to read, I want to audition,' because at this point in my career, I am aware that my name brings a certain kind of cachet," Radcliffe said in an interview with Out Magazine.  "I want to know that a director wants me for me, rather than for the cachet.  I can see why people are skeptical about me playing Allen Ginsburg, because I don't look like him—although, neither does James Franco [who also portrayed Ginsburg in 2010's Howl]—and I'm English and middle class, and not from New Jersey, but that's what I think is so exciting about it, because people have no idea." Read more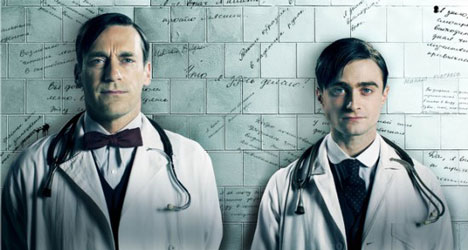 Jon Hamm and  Daniel Radcliffe are starring in a new BBC series, A Young Doctor's Notebook, based on the Russian author Mikhail Bulgakov's novel of the same name.
In the video below, the two talk about how they both came to working on the show, their roles and how they share a common love for Bulgakov.
The mini-series airs December 6th in the UK. No word when it'll premiere here in the states.  Read more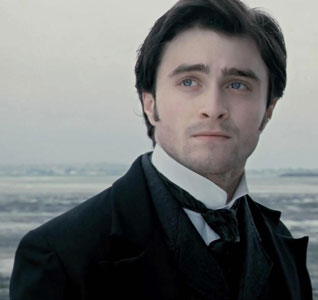 After ten years of playing Harry Potter in nine films, Daniel Radcliffe is ready for new challenges.  After a successful run on Broadway in How to Succeed in Business Without Really Trying, Radcliffe stars in his first post-Potter film, The Woman in Black, a movie from legendary UK studio Hammer Productions. 
Radcliffe stars as Arthur Kipps, a lawyer who is tasked with settling the affairs of a recently deceased woman… but he finds himself entangled in the supernatural affairs of what appears to be a ghost.
Radcliffe admits that though he's grateful for his Harry Potter success, he is ready to show that as an actor he is capable of so much more — which is why he chose to star in The Woman in Black.  He explains, "I'm very, very proud of Potter.  But I now have to prove to people that I'm serious about acting, and I think the way to do that is to select interesting material. This fit that bill – it was a great script and a great story – unsettling and frightening."  Read more