Here's 5 clips from George Lucas' War Would II action flick, Red Tails.
Directed by Anthony Hemingway and starring Terrence Howard, Tristan Wilds, Cuba Gooding Jr. and Bryan Cranston, the film follows the story of the Tuskegee Airmen as they take to the skies to fight for their country — and the fate of the free world.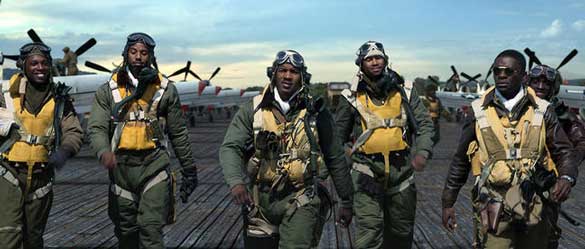 The film has a huge cast; also starring Nate Parker, David Oyelowo, Brandon T. Jackson, Ne-Yo, Method Man, Kevin Phillips, Rick Otto, Lee Tergesen, Andre Royo, Elijah Kelley, Marcus T. Paulk, Michael B. Jordan, Jazmine Sullivan and Gerald McRaney.
It'll be release on January 20th. Check out the clips below! Read more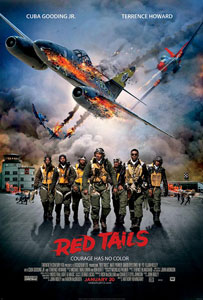 Here's the 3rd trailer for Red Tails, the film based on The Tuskegee Airmen. The effects look great but I'm not sold and I think the reason is because Terrence Howard looks like he's hamming it up. Check it out and tell me I'm not right.
Synopsis: 1944. As the war in Europe continues to take its toll on Allied forces, the Pentagon brass has no recourse but to consider unorthodox options – including the untried and untested African-American pilots of the experimental Tuskegee training program. Just as the young Tuskegee men are on the brink of being shut down and shipped back home, they are given the ultimate chance to show their courage. Against all the odds, with something to prove and everything to lose, these intrepid young airmen take to the skies to fight for their country – and the fate of the free world. courtesy of trailers.apple.com
Director: Anthony Hemingway
Cast: Bryan Cranston, Cuba Gooding Jr., Terrence Howard, David Oyelowo, Kevin Phillips, Nate Parker, Daniela Ruah, Michael B. Jordan, Tristan Wilds, Cliff Smith, Rick Otto
In Theaters: January 20th, 2012
Read more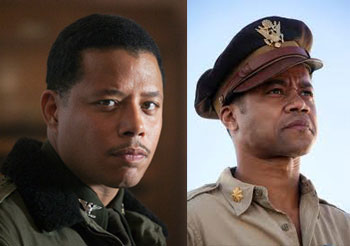 Red Tails isn't just a vanity project for producer George Lucas — the story of the World War II Tuskeegee Airmen is something Lucas has wanted to tackle for years — but a film that fills a void that is all-too-often ignored: a drama with a predominantly African-American cast. 
They're a rarity in Hollywood, and Think Progress caught up with two of the film's stars, Terrence Howard and Cuba Gooding, Jr., to discuss with them the current state of African-Americans in Hollywood.  Their thoughts?  It's difficult to break through.
Howard maintains that Hollywood is unwilling to invest in films with African-American casts because of the perceived low earning potential.  He explains, "Now, Hollywood, for a number of years has maintained the status quo by saying black films do not have an international value. Therefore we're able to pay black actors less, we can give them less money to make their films…If this film, if George Lucas, who is basically the Parrish of the film industry, as Col. Noel Parrish did for the Tuskeegee Airbase, he put his entire career on the line and stood behind these black pilots, these American pilots. What George Lucas did, he put his entire career on the line…when they wouldn't distribute it, he put $30 million into distribution. If this film is not successful, it will become a stumbling block for all time where they can say that black films do not have value or merit. It's important that this film is supported…if George Lucas does not profit from this, then the rest of the industry will see no profit in black people."   Read more