The To Do List is a comedy about close friends and a special summer project, loosely inspired by the real-life adventures of first-time writer/director Maggie Carey.  Set in 1993, valedictorian Brandy Klark wants to shed her uptight image before college, so she assembles a to do list of all the "activities" she missed out on in high school.  Quickly realizing that she's way out of her depth, Brandy solicits her best friends, older sister and burnt-out boss for their help and advice.  If the group is going to complete the list by September they'll need plenty of imagination and very open minds.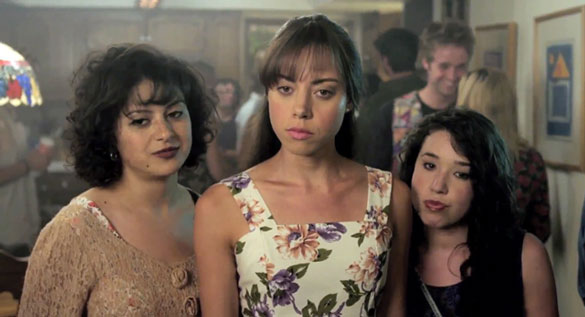 Written & Directed by Maggie Carey
Starring Aubrey Plaza, Johnny Simmons, Bill Hader, Alia Shawkat, Sarah Steele, Rachel Bilson, Christopher Mintz-Plasse, Donald Glover, Scott Porter, Andy Samberg, Connie Britton and Clark Gregg
In theaters: July 26th Read more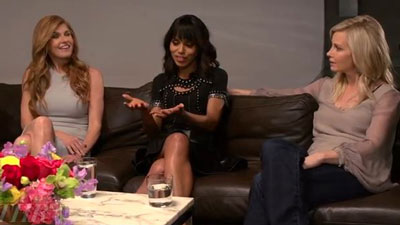 The Hollywood Reporter's annual Emmy Roundtable's are always a good way to spend an hour of your time. In this interview, they gathered six of the best actresses working on TV and asked them about some of the worst jobs they've had while pounding the pavement in their hunt for acting work, terrible auditions, appearances and how they approach their characters.
So take a look at Elisabeth Moss (Mad Men), Kate Mara (House of Cards), Kerry Washington (Scandal), Connie Britton (Nashville), Anna Gunn (Breaking Bad) and Monica Potter (Parenthood) and enjoy! Read more
Everyone involved with the ABC drama Nashville is quick to point out that the show could not be possible without two very fearless leaders: show creator Callie Khouri and the man behind the music, T-Bone Burnett.
At the PaleyFest panel on Saturday, March 9, Khouri and the cast came onstage at the Saban Theater in Beverly Hills to sing the show's praises.  Much of the cast described their eagerness to come onboard once they heard Khouri was behind the show—several mentioned their love of her film, Thelma and Louise.  Burnett is actually Khouri's husband—he's the much acclaimed musical genius behind the show's country setting (his previous projects include O, Brother Where Art Thou?, Crazy Heart, and The Hunger Games.)
"There was instant credit by attaching T-Bone's name," said Charles Esten, who plays Deacon Claybourne. "He has this ferocious dedication…and he gives us a stable ground to fly from." Read more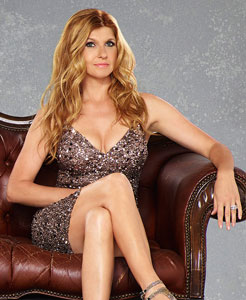 Connie Britton worried that there would be no coming back from playing Tami Taylor.  After her name became attached to her beloved character on Friday Night Lights, Britton knew it would take something a little daring to avoid being typecast forever.
Enter American Horror Story.  After appearing on the first season of Ryan Murphy's salacious drama, Britton was able to successfully break out of the mold of playing Coach's wife.  "It was perfect," the actress said in an interview with The New York Times.  "It really helped me shake out any sense of preciousness about the Tami mystique."  She acknowledges this plan could have backfired.  "The thing about taking risks is, if it's really a risk, you really can fail.  It's only a pretend risk if you really can't fail."
So, in the spirit of taking chances, Britton joined the cast of ABC's new behind-the-scenes country drama, Nashville.  She knew she wasn't playing it safe, just by the fact that her character was initially referred to as 'aging.'  Read more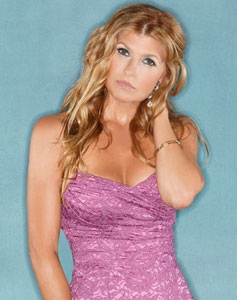 It might seem hard to imagine Connie Britton topping her last two TV performances as Tami Taylor on Friday Night Lights and Vivian Harmon on American Horror Story.  But the actress has found another show stopping role on the new ABC drama, Nashville.
"It's been just such an incredible experience, hugely challenging, but that's kinda why I wanted to do this role," Emmy-nominated Britton told NPR.  "There are many days that I think to myself: What was I thinking?  I must have lost my mind.  I've always been musical—I've done regional musical theater.  The thing about country music, is it is about story telling.  That's my favorite part of being an actor and I thought as an actor, I could tap into that aspect of it."
Britton's image is very much attached to her beloved portrayal of Coach Eric Taylor's wife on Friday Night Lights—a role, that like her character Rayna James on Nashville, speaks with a Southern accent. Read more
Connie Britton notably starred in Peter Berg's hit movie Friday Night Lights, opposite Billy Bob Thornton, and then became the only cast member to reprise her role in the beloved television program of the same name, opposite Kyle Chandler. She received two Emmy Award and Television Critics Association Award nominations for her work in the series. The show and its creators received several awards over the course of the series' five-year run,  including the prestigious George Foster Peabody Award for broadcasting excellence. Ms. Britton's performance also earned her a Women's Image Network (WIN) Award nomination.
The Boston native has had guest arcs on Ellen, 24, and The West Wing; and starred in such hit shows as Spin City and the much-talked-about American Horror Story, which recently concluded its first season.
Ms. Britton's breakthrough movie role was in Edward Burns' independent film The Brothers McMullen, which won the Grand Jury Prize at the Sundance Film Festival. She has since reteamed with the writer/director on the features No Looking Back and Looking for Kitty.
Her other films include Sarah Kelly's The Lather Effect;  Sebastian Gutierrez's Women in Trouble; Samuel Bayer's A Nightmare on Elm Street; Larry Fessenden's The Last Winter, for which she shared with her fellow actors a Gotham Independent Film Award nomination for Best Ensemble Cast; and writer/director Maggie Carey's upcoming The To Do List. Read more
Podcast: Play in new window | Download (Duration: 17:10 — 11.8MB)
American Horror Story is one of the weirdest and scariest shows on TV right now. It has a fantastic cast, crazy plot twists and a guy in a rubber suit. What's not to like?
In the show, Connie Britton and Dylan McDermott play Ben and Vivien Harmon, a married couple who buy an old mansion in Los Angeles that, unbeknownst to them, is called "The Murder House."
I talked to Connie and Dylan in a conference call about the mythology of the show, whether they've ever had a real supernatural experience and how they try to keep everything "as real as possible."
American Horror Story airs on Wednesdays at 10pm on FX
For the full interview, click the audio link above or download it from iTunes
How much did you know about the characters and their back-story going into the show?         
Connie Britton: Well, I—and Dylan, you tell me if this is the same for you, but I think we actually didn't know very much, but what was fun was it felt like it was sort of in … as we were going forward with Ryan and Brad.  So, it feels constantly as though we're back story and discovering who these people are, which is, to me, really fun and kind of adds to the mystery of the whole thing. 
Dylan McDermott: Yes.  It kind of unravels as we go.  I don't think we know exactly where we're going.  So, it's kind of fun to just open up the scripts and realize, "Oh, I didn't even know this about myself."  So, that's kind of the best part about the show.  Read more
I love these roundtables that The Hollywood Reporter does throughout the year. They gather a group of fantastic actors and talk to them about their careers and acting and it ends up being the most incredible conversation.
This time around, they gathered some of the best actresses on TV; Kelly Macdonald (Boardwalk Empire), Christina Hendricks (Mad Men), Regina King (Southland), Katey Sagal (Sons of Anarchy), Melissa Leo (Treme), Julianna Margulies (The Good Wife) and Connie Britton (Friday Night Lights).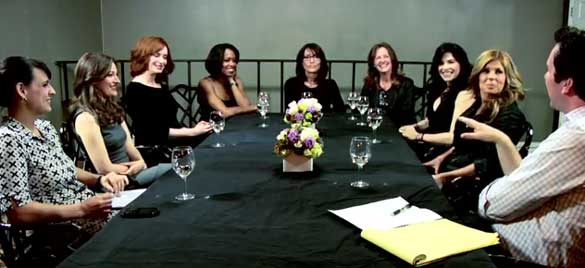 Below are 2 clips and the full on hour conversation. I could seriously watch these roundtables all day.