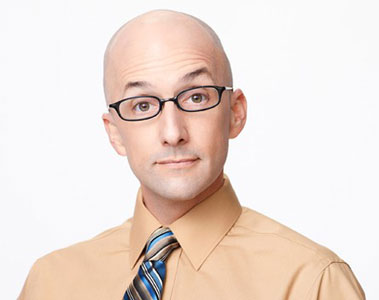 If you have an Oscar-winning screenwriter as an actor on your show, why wouldn't you ask that actor to pitch you a few ideas?
That's exactly what happened with Jim Rash. After winning an Oscar for The Descendants (which he shares with his co-writer, Nat Faxon), Community producers asked Rash if he had any story ideas he'd like to pitch. He pitched a few, one landed and now we have tonight's episode, "Basic Human Anatomy".
Rash said even though the script came out to about 30 pages, it doesn't "decrease the challenge," he said. But, since he's lived with the characters for so long, he knows their voices which made it "fun."
In the interview, Rash talks about writing the episode, writing dialogue for himself, the behind the scenes turmoil of the firing of Dan Harmon and if he was cool with the cast changing his words.
Community airs on Thursdays at 8/7c  on NBC Read more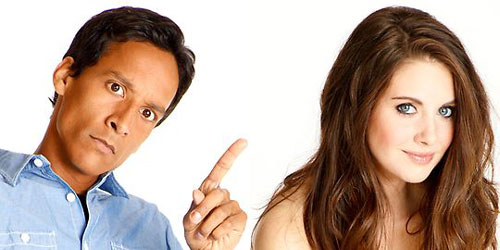 Community stars Alison Brie and Danny Pudi are clearly great friends. In a recent conference call, the two were finishing each other sentences, making each other laugh and talking about how much they love working together. It was a fun conversation to be part of.
I love the show and am so happy it came back so another season. It's been a bit hit and miss but I think the recent episodes show that it's coming back to what it was when Dan Harmon was the head guy.
In this interview, the two talk about the current season, the new show-runner, working on the Dreamatorium episode and more!
Community airs Thursdays at 8/7c on NBC Read more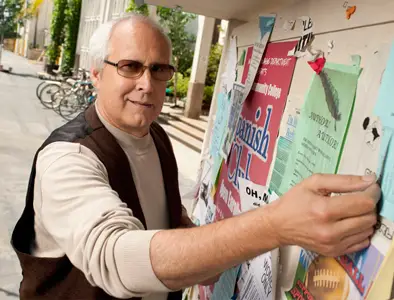 Chevy Chase continues to demonstrate that he must be a joy to work with on the set of Community.  It hasn't been six months since Chase's very public spat with Community creator Dan Harmon.  Then last month (after NBC removed Harmon as showrunner) Chase made it clear that he still wasn't happy, calling the hours "hideous" and sitcoms "the lowest form of comedy," and though he complimented the young cast (calling them his "friends") he made sure to mention that he was aware that he wasn't "working with the great innovators of all time."  In a follow-up interview, co-star Joel McHale simply said Chase's ornery comments just give the cast ammunition to make fun of him with. Read more
I'm not sure what's more entertaining — the comedy of the show Community or the backstage drama that has surrounded the series over the past year.  Star Joel McHale is the latest member of the cast to step forward and talk about the departure of creator and show runner Dan Harmon and co-star Chevy Chase's numerous comments to the media about how much he dislikes working on the show. 
Though Harmon is no longer involved in the ongoing production of the series (except as a "consultant"), McHale explains that the show is so well established that his presence really isn't needed.  He says, "Really, not much has changed. A lot of writers stayed, so they know the spirit and tone of the show. And it's our fourth year, so we have a good sense of our characters. The main difference is he's not physically there."
On Chase's candid comments that called sitcoms "the lowest form of television," McHale similarly doesn't hold back when attacking Chase's comments.  He says, "I will tease Chevy about that stuff, and then he always goes, Oh, I was just joking! and then I'll say, a) Hilarious, hilarious! and b) You should soak your dentures. It's like, Chevy, why are you here? This is not a tour of duty. You are not going to be sued. And then he's like, well you know, I like it here, I do. And I'm like, alright, well then stop saying stuff. Or, I guess, say whatever you want, but I'm gonna make fun. It gives the whole cast fodder to make fun of him." Read more
I think it isn't any secret that working on Community hasn't been Chevy Chase's favorite acting gig, as earlier this year he had a very public spat with series creator Dan Harmon and has been very vocal about his thoughts on the quality (or lack thereof) of the cult favorite NBC sitcom. 
In a recent interview with the Huffington Post Chase continues to talk about the show, which come with some praise for his fellow cast members along with some… well, less that positive remarks about the show.
While Chase admits that he does enjoy the improvisational humor on the show, he points out that due to the set length of the episodes the cast is limited to how much they can improvise.  He explains "Donald (Glover) likes to improvise. He's very funny when he does. The issue with a show that's 23, 24 minutes long is that you can't really get up and out of your light and start improvising, but words-wise you can, as long as you don't do it for too long, because then you're screwed later in editing, and putting it together. There are areas you can. Donald is very good, for instance, in taking something and in the same amount of time, making it funnier with his words. I am good at improvising in another kind of way – I'm very facial and whatnot – so there is a good amount of improv but it's all based on a very set storyline and idea, that Dan, who has never slept in his life, came up with." Read more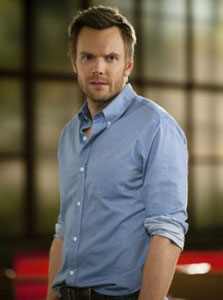 Joel McHale is most known for his snarky commentary on his E! show The Soup or contributing to NBC's zany comedy, Community.  So his guest spot on the notoriously dark Sons of Anarchy might come as a little shocking.
McHale is set to appear in two episodes on the FX drama, starting with the fifth season premiere on September 11.  "They came on The Soup and then Kurt [Sutter, the creator] said, 'Would you wanna come on sometime?'  I'm like, 'Yes!'—and that's how I said it too—and so it worked out."
For now, McHale is keeping mum on his role.  "I'm not going to say [if I kill anyone], because Kurt Sutter, the creator, will—it'll be like a cartoon in that it'll be like, 'I can say this,' and then I'll turn around and he'll be standing right there ready to punch me in the face," he told Yahoo! News.  "No, I got to work with the lovely and beautiful Katey Sagal—most of my scenes were with her, but I did get to work with Jimmy Smits a couple of times and he's pretty fantastic.  I had a ball of a time doing it." Read more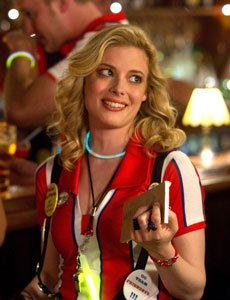 Gillian Jacobs had to forget her inhibitions for her cameo in the new indie Seeking a Friend at the End of the World. The actress, who also plays Britta on NBC's Community, plays a waitress who becomes involved in a end-of-the-world kissing fest… ok, orgy. 
She told Vulture, "The first few takes were far too polite.  It's funny, because as an actor, you know what you're supposed to do, despite your natural shyness—but to kiss all these people in rapid succession was a kick in the ass.   I didn't have a lot of time to do it, so [director] Lorene [Scafaria] was like, 'Now, please.  Not in two hours.'  I had to swallow my pride and do it.  I had kissed a girl in the second season of Community, but that was my first time kissing a girl ever, and I was so nervous, I almost knocked Brit Marling's teeth out.  So this time, I didn't maul Keira Knightley, but I had to just go for it.  It was kind of an out-of-body experience—you know, when you find yourself doing something you haven't done in your life." Read more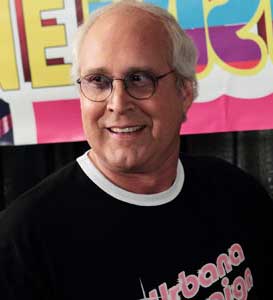 Although Community is one of NBC's few critical darlings these days, a common complaint with the Thursday night comedy about a group of community college students is that the show has left the simple universe it initially created for a zany world where plausibility isn't a concern. As he recently told the Huffington Post, even star Chevy Chase isn't a fan of how Community has evolved.
"I have creative issues with this show. I always have," the comedy legend said in a recent interview. "I think, if you know me and my humor over the years, you know that this is certainly not my kind of thing. I probably won't be around that much longer, frankly."
The actor's comments came after a spat with series creator Dan Harmon, who gave Chase an unfriendly roast at the show's third season wrap party and later played an angry voicemail from Chase to a crowd at a recent onstage appearance. The show began as a humorous chronicle of the everyday lives of a college study group but has since become a place where paintball fights and turning into zombies are just another school day. Read more
Podcast: Play in new window | Download (Duration: 10:17 — 7.1MB)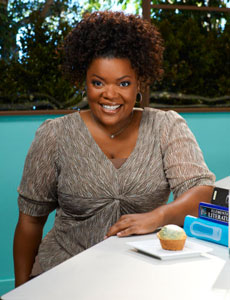 Yvette Nicole Brown stars as the always sassy, always funny divorcée (well, now re-married to her ex-husband) Shirley on one of my favorite shows, Community.
I've met Yvette a couple of times and she's one of the nicest people around who just lights up the room.
When I saw her this past weekend at WonderCon, she did just that. I got a chance to talk to her in a roundtable interview where she talked about those pesky ratings, the origin of the Shirley voice and if the character ever leaks into personal life.
Follow Yvette on Twitter!
Community airs on Thursdays at 8/7c on NBC
Were you guys confident that the ratings would be as good as they were?
Yvette Nicole Brown:  Not at all. Not at all. You know why? Let me say why… because we know that more of our fans watch online. I knew for sure that our fans weren't monitored by Nielsen, because you know, I used to be on a show called Drake and Josh, which had great numbers, and I could not walk outside without a kid or their parent recognizing me from Drake and Josh.  Community is Drake and Josh times 10, times 30.  So, I knew there was no way that this many people are recognizing me every day and they're not watching.  They are watching, but they are just not being counted.  So that being said, I kind of felt that maybe the same millions that have been watching uncounted will watch again and we'll get our little 1.3 or 1.5 and it'll be a fun ride. But, I guess they told 10 friends or they found their way to someplace where a Nielsen box was.  I was shocked.  I got up early that day because the ratings come in by 8:30 or 9:00, so I literally was on Twitter like, "Community ratings, Oh Lord."  And there they were, and it was glorious.  So no, I did not expect that. Read more
Podcast: Play in new window | Download (Duration: 8:59 — 6.2MB)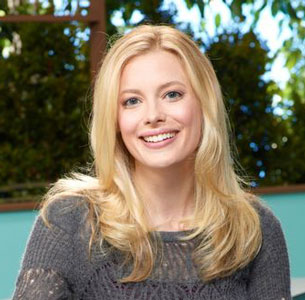 Gillian Jacobs stars as Britta in NBC's hit (yes, hit!) comedy, Community.
After a brief hiatus and scare that the show wouldn't return, it came back with great ratings and hopefully, the show is here to stay.
Gillian graduated from Julliard and immediately started working off Broadway. She appeared at the Public Theater, in Philip Seymour Hoffman's The Little Flower of East Orange, opposite Ellen Burstyn and Michael Shannon, the Playwrights Theater's A Feminine Ending and in Adam Rapp's Cagelove at the Rattlestick Theater.
She was also in the great indie, Helena from the Wedding (check out the cast interview here), opposite Melanie Lynskey, where she sports a dead-on British accent. I swear, I thought she was English for months. She also appeared in The Box and Choke (opposite Sam Rockwell).
I talked to Gillian at WonderCon about the intricacies of filming the show, how parts of Britta is still a mystery to her and if she thinks there will be a fourth season.
Follow Gillian on Twitter!
Community airs on Thursdays at 8/7c on NBC Read more