Podcast: Play in new window | Download (Duration: 17:21 — 12.0MB)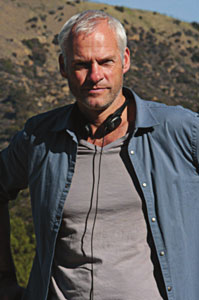 I'm a huge fan of Martin McDonagh's work. I've read his plays (The Pillowman and A Behanding in Spokane being my favorite) and loved his 2008 directorial debut, In Bruges. So, when I got a chance to talk to him prior to a screening of his new film, Seven Psychopaths, at the San Diego Film Festival, I was incredibly excited.
Starring Colin Farrell, Sam Rockwell and Christopher Walken, Seven Psychopaths is a crazy and hilarious movie about, yes, psychopaths but it's actually more about friendship. The story follows a struggling screenwriter (Farrell) who is trying to write a film while his friend (Rockwell) is secretly teaming up with a dog-napper (Walken). When they steal the dog of a mob boss (Woody Harrelson), all hell breaks loose. 
I could have talked to Martin all freaking day and chatting with him felt like having a conversation with an old friend. We talk about the cast, his writing process, the great Christopher Walken and a whole lot more!
Seven Psychopaths opens on this weekend. Go see it!
For the full interview, click the audio link above or download it from iTunes Read more
If you were thinking to yourself, "I would love to see the trailer of Seven Psychopaths re-made with cats," you're in luck.
Directed by Adult Swim alumni Jim Tozzi, Seven PsychoCATS is the remix you've been waiting for.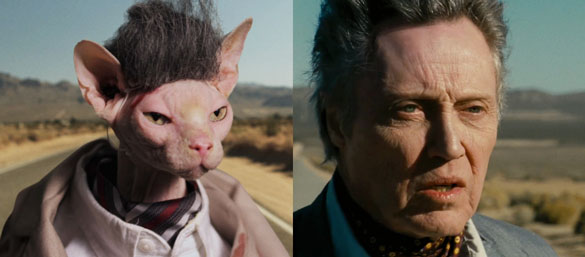 Oh, and the actual film, Martin McDonagh's Seven Psychopaths, starring Colin Farrell, Sam Rockwell and Christopher Walken,  opens this weekend. It's hilarious, go see it!
Check out the trailers to both below! Read more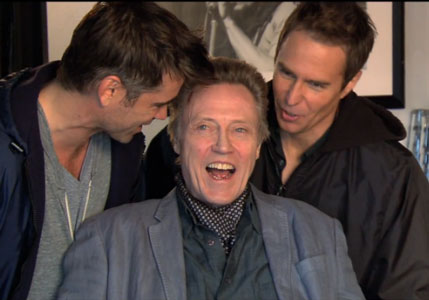 Here's a behind-the-scenes look at Martin McDonagh's Seven Psychopaths that features interviews with its stars Christopher Walken, Colin Farrell, Sam Rockwell and Woody Harrelson.
They all chat about the film and working together but the best part is how they show their love for Walken, who has his best role and performance that he's had in a while.
The film is about a struggling screenwriter (Farrell) who finds himself in trouble after his best friend (Rockwell) and partner (Walken) steal the dog of a pissed-off gangster (Harrelson).
Check it out below! Read more
Colin Farrell has teamed up with director Martin McDonagh for another film, Seven Psychopaths, after the success of their first project together, In Bruges.  The film is a dark comedy, but is much different from his role in Horrible Bosses.
"Horrible Bosses was the only time I felt like I knew I was doing a comedy," Farrell told Moviefone.  "I had the hairpiece and the belly.  But in In Bruges I didn't feel like it was a comedy.  This [film] I didn't feel like I was doing any comedy.  Even the stuff around me wasn't funny because it was all life-threatening and chaotic.  So when you're in it—when you cease to experience the script objectively and you become the subject of the writing—then it kind of goes out the window.  I like to mix it up.  I think I prefer those than doing drama."
In both projects with McDonagh, Farrell felt "that, as an actor in them, there's a suspension of disbelief…because everything is so heightened and even the most violent situations can be so comical at times that I find I have to endure myself to how funny shit was.  Because none of us while we're doing it feel odd; none of the characters are odd, they're all really normal to us.  You've got a serial killer Billy, my friend, who's shooting a girl in the belly and then telling me he's concerned because I drink too much.  He's getting all moralistic.  There's just a massive amount of irony that's involved and it's really funny to be a part of." Read more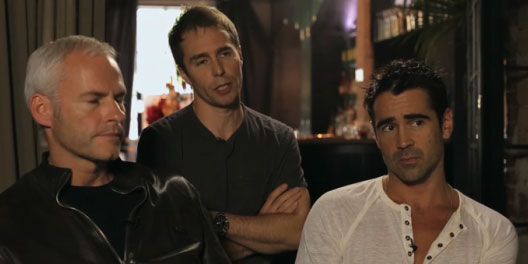 Colin Farrell, Sam Rockwell and Director/Writer Martin McDonagh have a new film coming out called Seven Psychopaths, about a struggling screenwriter (Farrell) who becomes entangled in the LA criminal underworld after his oddball friend (Rockwell) kidnaps a gangster's (Christopher Walken) beloved dog.
The Hollywood Reporter caught up with the trio at TIFF and in this quick video, Farrell and Rockwell talk about the differences between acting in film and theater. "You get to re-invent each evening," says Farrell. 
McDonagh also talks about the differences between writing for theater and film.
Check it out below!  Read more
Comic-Con 2012: The panel for the remake of Total Recall was a lively one but that has Colin Farrell and Bryan Cranston appearing in front of an audience of 6,500 is bound to be just that.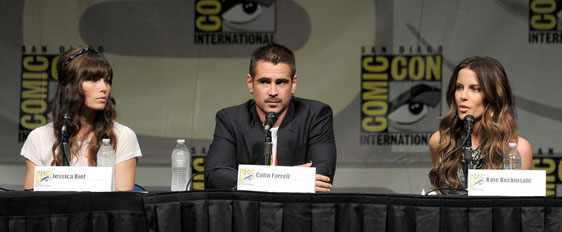 The film follows a factory worker named Doug Quaid (Farrell) who starts to suspect that he's a spy after visiting Rekall, a company that provides its clients with implanted fake memories of a life they would like to have led. when the visit goes all haywire, he goes on the run to find out what is real and what isn't.
Along with Farrell and Cranston, the panel featured Kate Beckinsale, Jessica Biel and Director Len Wiseman.
Check it out below! Read more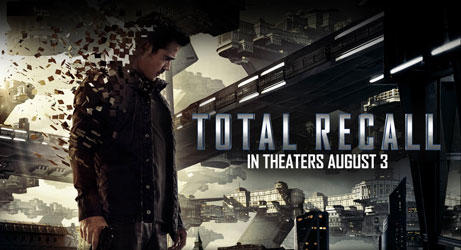 Total Recall is an action thriller about reality and memory, inspired anew by the famous short story "We Can Remember It For You Wholesale" by Philip K. Dick. Welcome to Rekall, the company that can turn your dreams into real memories. For a factory worker named Douglas Quaid (Colin Farrell), even though he's got a beautiful wife (Kate Beckinsale) who he loves, the mind-trip sounds like the perfect vacation from his frustrating life – real memories of life as a super-spy might be just what he needs. But when the procedure goes horribly wrong, Quaid becomes a hunted man. Finding himself on the run from the police – controlled by Chancellor Cohaagen (Bryan Cranston), the leader of the free world – Quaid teams up with a rebel fighter (Jessica Biel) to find the head of the underground resistance (Bill Nighy) and stop Cohaagen. The line between fantasy and reality gets blurred and the fate of his world hangs in the balance as Quaid discovers his true identity, his true love, and his true fate.
Director: Len Wiseman
Cast: Colin Farrell, Kate Beckinsale, Jessica Biel, Bryan Cranston, John Cho, Bill Nighy
Writers: Kurt Wimmer, Mark Bomback
In theaters: August 3rd, 2012 Read more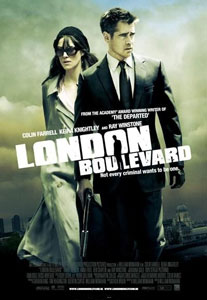 London Boulevard: Fresh out of prison, Mitchell lands a legitimate job as a handyman for a rich actress who's eager to reward him with cash, cars and sex. But Mitchell can never truly escape his violent past or the dangerous world of loan sharks, druggies and other bottomfeeders.
Starring: Keira Knightley, Colin Farrell, David Thewlis, Anna Friel, Ray Winstone
Directed by: William Monahan
In Theaters: November 11, 2011
Read more
Looks like Colin Farrell has an answer to stars like Ryan Reynolds who complain about the price of stardom: stop whining!
Irish Central reports Farrell's comments from an interview with USA Today in which Farrell's words show a bit of annoyance with Hollywood stars who complain about having to live very public lives as a consequence of their fame.  He gives a simple solution: "You don't want to be photographed by the paparazzi? Say no to the 120 million dollar film. Eventually they'll stay away from you.  But you won't have the other things the 120 million dollar film brings into your life: the good seats at the sports event, the backstage pass to the concert, the nice reclining chair on the plane."
Agree or disagree with him, Farrell raises a legitimate point: while celebrities are often stalked by photographers and are regularly slammed in tabloids with stories that may not even have a kernel of truth to them, the tradeoff is massive salaries and incredible perks.  This doesn't mean Farrell enjoys being in the spotlight — he says, "Do I enjoy the paparazzi? No. I went through years of getting in their faces. It was such a disaster. It made my life so much more complicated" — but he claims that it is worth it, adding, "To be able to provide for my family. I'm not going to bitch about it. At times you feel like you have to apologise for being in big films."  Perhaps more than anything else, Farrell says he is thankful for being able to stay in five-star hotels, explaining, "You're talking to someone who checks into the Four Seasons and gets giddy at what is on the menu and looks at the on-demand on TV and gets so giddy that I can have films that are still in theatres."  Read more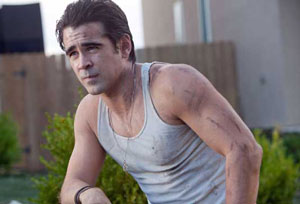 Fright Night's newest villain Colin Farrell, who plays the vampire next door in the 80′s reboot that opens in theaters Aug. 19th, appears to have undergone quite a transformation that has nothing to do with fake teeth and blood capsules.   The thirty-five year old recently discussed his acting career with USA Today where he lets fans see a more calm, cooler, simple and healthier side than his former self.
During the interview the once bad boy turned family man, who still hasn't lost his fire, talked about how he would deal with his fame if it ever became too much to handle.  "Walk the (expletive) away from it. You don't want to be photographed by the paparazzi? Say no to the $120 million film. Eventually they'll stay away from you. But you won't have the other things the $120 million film brings into your life: the good seats at the sports event, the backstage pass to the concert, the nice reclining chair on the airplane."  Not something you typically here these days with most actors.  Farrell, like most celebrities that haven't, appears to have wrapped his head around the good and the bad of being a Hollywood icon.  Read more