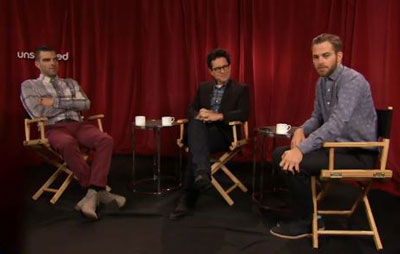 Chris Pine, Zachary Quinto and director J.J. Abrams got together at the offices of Moviefone to answer some mostly ridiculous fan questions about Star Trek Into Darkness.
Quinto was asked a weird question about if he's worn the Spock ears naked, Pine is asked what the toughest decision he's ever had to make in his career (this was a good one actually and he gave a good, thoughtful answer), and which ship would win in a fight, the Enterprise or Millennium Falcon.
Check out the videos below! Read more
Dreamworks' Rise of the Guardians is the first animated film for star Chris Pine. In interviews with the Associated Press and Moviefone, Pine spoke about why he decided to voice Jack Frost in the movie and what he got out of the gig.
Voicing Jack Frost means that Pine is adding another well-known character to his stable after already playing Captain Kirk in the new Star Trek films and also starring as Tom Clancy's Jack Ryan in next year's titular film.  Pine shrugs that off and points out that he wanted to do Rise of the Guardians because of the challenge of only acting with his voice.  He says, "I don't know why it is that I've been cast, at least with Jack Ryan and Captain Kirk, to do things that have been done before, but I like a good challenge. And with Jack Frost it was the matter of doing voice-over, which I had never really done before in an extended form. It's a whole different art using your voice. All you're doing is capturing your voice and you're not using your full — well, instrument is a funny word — but your whole body." Read more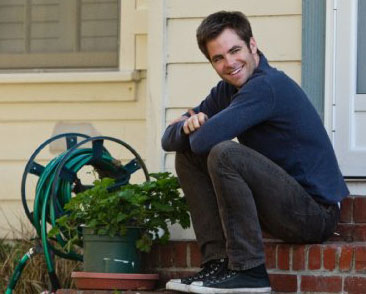 Chris Pine has taken on roles in blockbusters  – 2009′s Star Trek – and romantic comedies – This Means War – but, he was quick to admit to USA Today that he was more than ready to step away from those types of movies. 
He said, "After Star Trek, I did Unstoppable, and then I did This Means War, which were two not-smaller films.  Unstoppable was a great amount of action, This Means War was a great amount of comedy.  I enjoyed making both of them and got chances to work with people I'd wanted to work with all my life.  But…I never got into this business ever thinking that that would be the path I'd be going down." Read more
While Chris Pine is definitely best known for starring as Captain Kirk in Star Trek and its upcoming sequel, he also not only has experience in smaller films like People Like Us but also in theater. 
In an interview with Theater Mania, Pine speaks about how he made the transition to film from the stage, a creative luxury he had during shooting of People Like Us, and why he won't stop performing in theater.
Pine reveals that he had a totally different plan in place for acting his career before fate intervened.  He explains, "I took part in a theater festival in Massachusetts two summers after I graduated from college. Then I was in Los Angeles, thinking 'I am going to go to New York.' So I bought a plane ticket and found a place to live and packed my bags. And suddenly, a week before I was supposed to leave, I had three job offers — and one of them was my first movie. I think that when you let go and throw it all away and say 'whatever happens, happens,' things work out." Read more
The residual success of J.J. Abrams' Star Trek has lingered since it's explosive release in 2009. Longtime fans of "Star Trek" and non-fans alike discovered that the science fiction genre is not exclusive to one kind of audience demographic.
Obviously, the feeling was mutual with Paramount pictures, as they quickly ordered a sequel, following the film's 2009 summer release.
In Abrams' Star Trek, Chris Pine plays a younger version of Captain Jim Kirk (originally portrayed by William Shatner in the 1960's television series). Pine recently talked with Collider about the pressure of creating a big budget sequel.
Pine explained that higher budget films can mean a bigger gamble for the studio. "Generally speaking, the more money that's involved in anything, the more people are expecting and hoping that it's not going to fail." Read more
With the most successful show on Broadway right now being the classic Death of a Salesman starring movie stars Phillip Seymour Hoffman and Andrew Garfield, it's no surprise that Broadway is again looking for Hollywood stars to headline a revival of another classic, Cat on a Hot Tin Roof, set to premiere in spring 2013. 
It's being reported that Scarlett Johansson is in talks to star as Maggie the Cat, with Chris Pine or Jeremy Renner in talks to play her husband, Brick.

Read more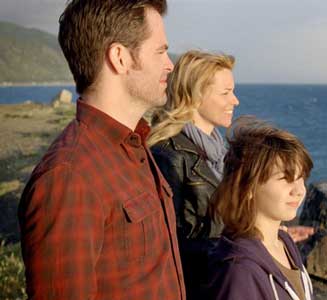 From DreamWorks Pictures comes People Like Us, a drama/comedy about family, inspired by true events, starring Chris Pine (Star Trek) as Sam, a twenty-something, fast-talking salesman, whose latest deal collapses on the day he learns that his father has suddenly died. Against his wishes, Sam is called home, where he must put his father's estate in order and reconnect with his estranged family. In the course of fulfilling his father's last wishes, Sam uncovers a startling secret that turns his entire world upside down: He has a 30-year-old sister Frankie whom he never knew about (Elizabeth Banks). As their relationship develops, Sam is forced to rethink everything he thought he knew about this family–and re-examine his own life choices in the process.
Director: Alex Kurtzman
Cast: Chris Pine, Elizabeth Banks, Olivia Wilde, Michael Hall D'Addario, Philip Baker Hall, Mark Duplass, Michelle Pfeiffer
Writers: Alex Kurtzman, Roberto Orci, Jody Lambert
In Theaters: June 29th Read more
Word of advice: before you fire your agent, be sure that you're paid up on your commissions.  Also, try to avoid doing the firing via e-mail.
A lawsuit recently filed by the agency SDB Partners claims that Chris Pine, star of Star Trek and This Means War, stiffed the agency by doing precisely that. 
SDB has represented Pine since 2002 (or, as the lawsuit says, when "nobody was willing to touch" Pine) and negotiated all of his big roles in the last decade, including his next several roles. 
Even more interesting is that the lawsuit gives detailed information about Pine's alleged paydays for some of his biggest roles, including: Read more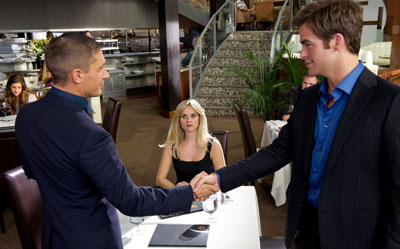 I saw This Means War last week and thought it was really good. It's mindless entertainment and is not going to win any awards but it made me laugh and I thought the action was great.
Starring Chris Pine and Tom Hardy as two of the CIA operatives who are inseparable partners and best friends – until they discover that they've fallen in love with the same woman (Reese Witherspoon). They decide to keep their friendship a secret from her as they each pull out all the stops and high-tech gadgetry to win their dream girl.
Check out the 6 clips below. The film opens this weekend. Read more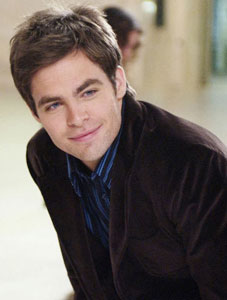 Chris Pine has emerged as one of Hollywood's hottest young actors. Chris was most recently seen in the Twentieth Century Fox feature film Unstoppable directed by Tony Scott and costarring Denzel Washington. Chris has completed production on the drama Welcome to People costarring Michelle Pfeiffer, Elizabeth Banks and Olivia Wilde.
In 2009, Pine starred as James T. Kirk in Paramount's box-office smash-hit feature film Star Trek for director J. J. Abrams. The film chronicles the early days of Kirk and his fellow USS Enterprise crew members. He will reprise that role in two upcoming sequels of the franchise.
Pine's additional feature credits include the Paramount Vantage film Carriers, the educational animated feature Quantum Quest: A Cassini Space Odyssey, Bottle Shock for writer/director Randall Miller, the independent feature Small Town Saturday Night for writer/director Ryan Craig, Joe Carnahan's gritty ensemble drama Smokin' Aces for Working Title Films and Universal Pictures, Blind Dating costarring Eddie Kaye Thomas and Jane Seymour, the Fox/New Regency romantic comedy Just My Luck opposite Lindsay Lohan and The Princess Diaries 2: Royal Engagement opposite Anne Hathaway.
On the stage, Pine was most recently seen starring in Martin McDonagh's The Lieutenant of Inishmore at the Mark Taper Forum in Los Angeles. In Bob Verini's review for Variety, he called Pine's performance "spookily, spectacularly good" and went on to remark that "Inishmore audiences are present at the launch of what promises to be a truly remarkable stage career." In March, 2011 Chris was awarded "Best Lead Performance" by the LA Drama Critics Circle for his performance.