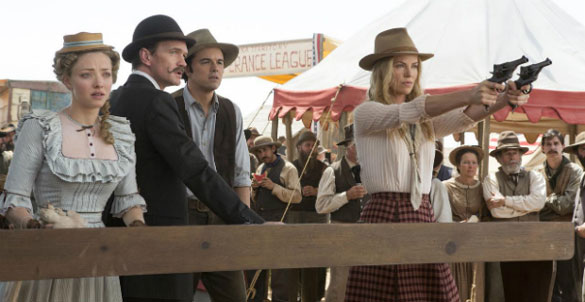 A Million Ways To Die: A cowardly farmer seeks the help of a gunslinger's wife to help him win back the woman who left him.
Director: Seth MacFarlane
Writers: Seth MacFarlane, Alec Sulkin
Starring: Seth MacFarlane, Charlize Theron, Amanda Seyfried, Liam Neeson, Sarah Silverman, Neil Patrick Harris Read more
Emma Watson's startling transformation from comely British schoolgirl to status obsessed SoCal party princess in Sophia Coppola's gorgeous new cautionary tale, The Bling Ring isn't the first time that an actor has thrown themself out of their comfort zone. In fact, since the dawn of Hollywood, performers have struggled to challenge the image that this industry, their fans, and the rest of America seem intent on fashioning them with.
Of course, when all goes right, careers can be made or solidified, and the true range of a particular actor is stunningly revealed. Here's five recent examples of just that: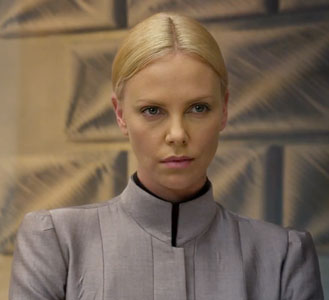 Charlize Theron is starring in the highly anticipated sci-fi film, Prometheus, as Meredith Vickers and when speaking to Collider, she talked about working on the film and collaborating with Ridley Scott and co-stars Michael Fassbender and Guy Pearce.
She said, "I always have a good time because God, I mean, we're just a bunch of kids who never got to grow up, and now we're playing on a spaceship.  How can you not enjoy that, you know?  So yeah, I had a great time making this film." Read more
Oscar®-winner Charlize Theron is one of the great actresses of our time. With her ability to  capture  a  plethora  of characters, she relentlessly demands the audience's full attention as soon as she appears on screen. The South African native is continuously praised and admired for her inspiring and powerful performances.
Theron captivated audiences as female serial killer Aileen Wuornos in the 2003 independent gem Monster. Theron received an Independent Spirit Award, a Critics' Choice Movie Award, a Golden Globe, a Screen Actors Guild (SAG) Award, a San Francisco Film Critics Circle Award, a New York Film Critics Online Award, a Southeastern Film Critics Award, a Breakthrough Performance award from the National Board of Review and an Academy Award® for her emotionally devastating performance in the film.
Theron recently starred in Jason Reitman's dark comedy Young Adult, for which she earned a 2012 Golden Globe nomination for Best Performance by an Actress in a Motion Picture—Comedy or Musical. She will next star in Ridley Scott's Prometheus. This summer, she will begin shooting Warner Bros.' Mad Max: Fury Road, to be directed by George Miller. Read more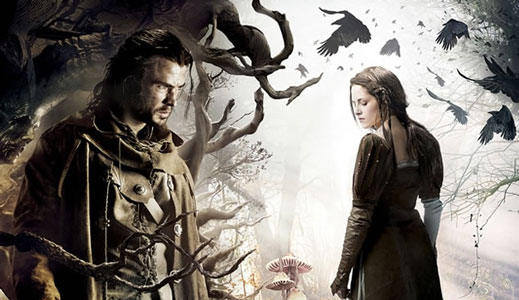 Snow White and the Huntsman opens tomorrow and having seen the film, some of the clips are a bit spoiler-y. So, watch them at your own risk.
Starring Kristen Stewart, Chris Hemsworth and Charlize Theron, the film follows Snow White (duh), who is the only person in the land fairer than the evil queen. The Queen is out to destroy her but what she never imagined is that 'ole Snow has been threatening her reign has been training in the art of war with the huntsman.
Check the clips out below!  Read more
Here are 7 clips from the upcoming film, Snow White & the Huntsman, which opens wide on June 1st.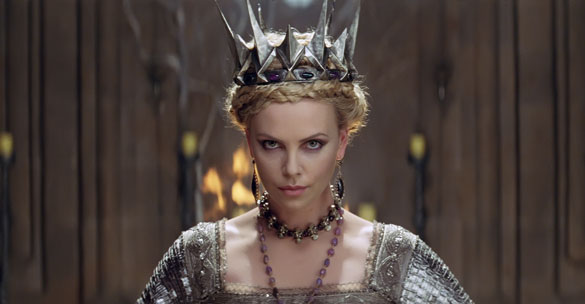 The film stars Charlize Theron, Kristen Stewart, Chris Hemsworth, Bob Hoskins and Ian McShane and as the official synopsis writes, is about Snow White, "the only person in the land fairer than the evil queen, who is out to destroy her. But what the wicked ruler never imagined is that the young woman threatening her reign has been training in the art of war with the huntsman who was dispatched to kill her."
Also, be sure to check out the new interactive trailer for the film.  Read more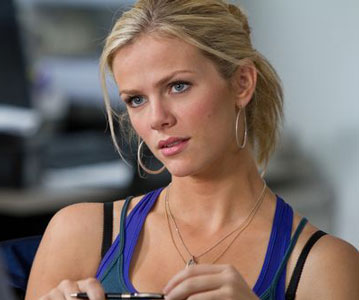 While former Sports Illustrated Swimsuit Issue model, Brooklyn Decker was a natural for the role of a drop-dead gorgeous girlfriend in Just Go With It and in lighter fare like the upcoming What to Expect When You're Expecting, Decker took on a much tougher role in the action movie Battleship. 
In a conversation with Access Hollywood at the American premiere for the movie, Decker admits that during the audition process it seemed unlikely that she would land the role.
She reveals, "[I auditioned] five times.  On the fifth time, I actually met [director] Peter Berg and the whole time they're like, 'You're not tough enough. We don't think you're tough enough to do this role.'"  She continues, "So they kept bringing me back, and I'm like, 'This is torture to keep coming back.'  Then finally the fifth time, Pete made sure that I was tough enough, and he did and I got the role." Read more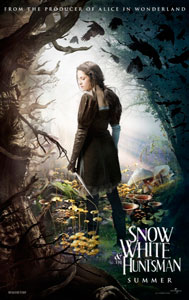 Here is another new trailer that debuted at WonderCon this past weekend. And yes, again I was in an interview room but I have to say, this looks pretty great too.
Snow White and the Huntsman looks better and better every time I see something from it.
Synopsis: In the epic action-adventure Snow White and the Huntsman, Kristen Stewart (Twilight) plays the only person in the land fairer than the evil queen (Oscar(r) winner Charlize Theron) out to destroy her. But what the wicked ruler never imagined is that the young woman threatening her reign has been training in the art of war with a huntsman (Chris Hemsworth, Thor) dispatched to kill her. Sam Claflin (Pirates of the Caribbean: On Stranger Tides) joins the cast as the prince long enchanted by Snow White's beauty and power. The breathtaking new vision of the legendary tale is from Joe Roth, the producer of Alice in Wonderland, producer Sam Mercer (The Sixth Sense) and acclaimed commercial director and state-of-the-art visualist Rupert Sanders.
Director: Rupert Sanders
Cast: Kristen Stewart, Charlize Theron, Chris Hemsworth, Sam Claflin
Writers: Evan Daugherty
In theaters: June 1st  Read more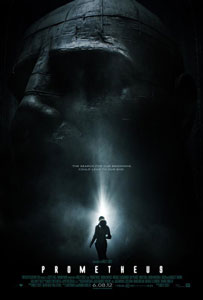 I was at WonderCon this past weekend and by far, this trailer and the panel for Prometheus was the hot news of the weekend.
So, it figures I was stuck in interviews while it was happening. But as with most Con's, the trailer was released soon after. And it looks great!
Below is the trailer from this weekend and the shorter IMAX version.
Synopsis: Ridley Scott, director of "Alien" and "Blade Runner," returns to the genre he helped define. With PROMETHEUS, he creates a groundbreaking mythology, in which a team of explorers discover a clue to the origins of mankind on Earth, leading them on a thrilling journey to the darkest corners of the universe. There, they must fight a terrifying battle to save the future of the human race.
Director: Ridley Scott

Cast: Noomi Rapace, Michael Fassbender, Guy Pearce, Idris Elba, Logan Marshall-Green, Charlize Theron

Writers: Damon Lindelof, John Spaihts
In theaters: June 8th Read more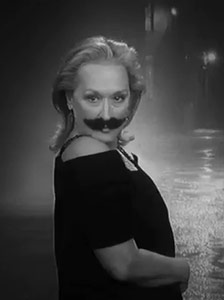 Jimmy Kimmel's annual Oscar night show is always a lot of fun to watch because it takes your mind off of how much of a let-down the Award's show was. At least for me it does. 
Every year, he does some huge and funny spoof and this year was no different. Movie: The Movie stars everyone from George Clooney, Matt Damon, Gary Oldman, Cameron Diaz, Emily Blunt, Meryl Streep, Charlize Theron, Christoph Waltz and plenty more.
It's been getting razzed on Twitter – "it sucked!' – is pretty much what I've been hearing but I liked it. I think they probably just hate Kimmel and won't give him any props no matter what.
Check it out for yourself.  Read more