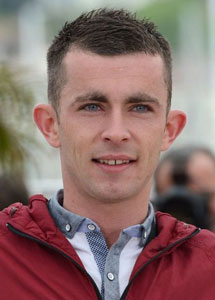 Before this year's Cannes Film Festival, nobody had ever heard of the actor Paul Brannigan.  That's because he didn't exist: though Brannigan was cast in the lead role of Ken Loach's whiskey-soaked comedy  The Angels' Share, he isn't a trained actor.  Appropriately for a film about unemployment, Brannigan was unemployed when he was cast in the film and, upon his return to Glasgow after Cannes, he still will be looking for a job. 
Brannigan was cast in the role of Robbie after writer/director Loach's co-writer, Paul Laverty, discovered him working at a community center.  After Cannes, Brannigan admits he will remain unemployed and will still be volunteering at the center.  He explains, "I do four hours a week football (soccer) coaching, and that's just the way it is.  There's thousands and thousands of kids like Robbie in Glasgow." Read more
Playing Justine, a manic-depressive heroine in Melancholia, Kirsten Dunst not only earned the Best Actress Award at the Cannes Film Festival but it also drained her so much that she is taking the rest of 2011 off.
Working with Lars von Trier, the director of Melancholia, must have been a very trying experience;  German von Trier joked that he was a Nazi and that he "understood Hitler". Within hours the story had gone viral, prompting the Cannes organizers to expel von Trier from the Croisette. The defining image from this year's festival may have been the sight of a stricken Dunst at the director's side, clutching her throat in anguish.
This incident isn't the most enjoyable memory for the actress."Well yeah, you could see my face. I was choking, because I'm watching a friend having a meltdown. And what he's saying is horrendous in a roomful of press. He was asked an inappropriate question [about his family] and his response was to make a joke about it. But no one laughed and he just kept unravelling," she said.   Read more
Terrence Malick's new drama "The Tree of Life" premiered at the Cannes Film Festival and resulted in an open discussion about faith and the delicate nature of life from its star Brad Pitt.
"I grew up with Christianity," says Pitt, who grew up Southern Baptist in the Midwest. "Some things worked for me and some things didn't."
Pitt says he felt a very personal connection to his character in this film. "I grew up being told that 'God is going to take care of everything and it doesn't always work out that way; and if it doesn't, that's God's will.' I've got my issues," he admits. "Many people find religion gives them opportunities. I found it very stifling as an individual and a tightness to it that the father character carried with him."
"The best moments were not preconceived," says Pitt, who has nothing but respect for Malick's lose, improvisational approach to directing, going so far as to compare the director's style to carrying a butterfly net and capturing performances. "I've tried to go more in that direction," says Pitt, "Making an intense study when you go into it, but then let it go where it takes you."
Read more