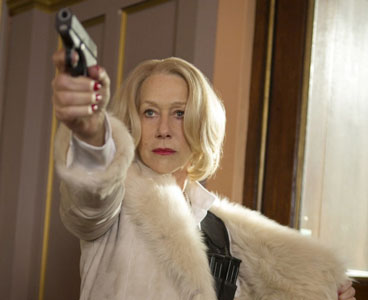 I've been looking forward to Red 2 because I got a kick out of the first one.  It was a lot of fun seeing older actors take a crack at action roles, especially the usually regal Helen Mirren.  Mirren spoke to Moviefone about her roles in Red 2 and Monsters University and whether she learned anything about taking a few hits from Red series co-star Bruce Willis.
When asked if she ever expected that should be starring in two summer blockbusters in one year, she replies, "No, of course not. That's the great fun of my job — you never know what's around the corner. People always ask, 'What do you want to do next?' And I don't know because I want the thing you do next to come out and surprise me. Three years ago I would have never thought that I would be in a Pixar movie or indeed Red — that came out of left field." Read more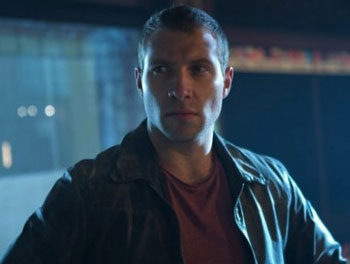 Jai Courtney had mixed emotions when he was cast as Bruce Willis' son in the newest installment of the Die Hard series, A Good Day to Die Hard. 
"I was like over the moon…and then doubt set in and I realized, 'Oh, God, it's Die Hard, man.  It's a huge iconic franchise.  What if I suck?'" he recalled in an interview with The Huffington Post.  "I think it's important—it certainly helped me—to take a deep breath and remember that they've shown some faith in me by casting me in the project.  And you obviously have something to offer—just rely on those instincts.  Go and get the job done and have fun while you're doing it."
The Australian actor got his first big break appearing on Spartacus, which he said, "gave me the opportunity to come out to the States for the first time.  And then I felt like it was a whole new chapter.  That show offered me a lot of experience and a bit of exposure and enough of a talking point to get in rooms." Read more
Bruce Willis is best known as a macho action movie icon from films like Die Hard, so it's sometimes hard to remember that his first big break was on the television drama-comedy Moonlighting, which he starred in opposite Cybill Shepherd for five seasons.
In an interview with The Huffinton Post to promote his latest film, Looper, Willis reflects on his time on Moonlighting, saying, "I have a lot of good memories about it — a lot of great memories about it. There are all of those memories I have about the fun and frantic pace we were working at to get ten pages every day, out of seven shooting days. That's one thing. The other thing is it was a huge quantum leap for me. I had just been doing theater in New York and I think I had done one TV role, on Miami Vice. And then I got this job in California and it was a huge leap. A very exciting time — just to be able to offered that kind of work and then get a job where you do it for five years. And you're just racing through it. And it's a huge catalog of stories now." Read more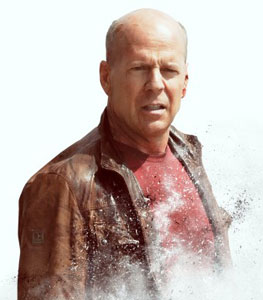 In Looper, Joseph Gordon-Levitt is only pretending to play the younger version of Bruce Willis, with Willis traveling back in time to confront his "younger self."  But if Willis could really go back in time, would he do anything differently?
Surprisingly, he tells Cheyboygan News that he thinks he actually make more mistakes.  He explains, "I would go back and make more mistakes, earlier than I made them.  I made a lot of mistakes early in my life, but if I had made more of them, I would have gotten to the answer to those mistakes earlier.  I have a lot of anxiety about making mistakes and hurting people's feelings. There were things I did as a brash kid that I wasn't paying any attention to – people whose feelings I hurt."  He then adds, "You know what I'm saying. I'd rather not hurt people anymore." Read more
Premium Rush aside, Joseph Gordon-Levitt appears in two of the best-rated action films of 2012, The Dark Knight Rises and Looper, and also stars in the likely Oscar-contending drama Lincoln due out in November. In an interview with New York magazine, Gordon-Levitt talks about the makeup he had to wear to portray a younger version of Bruce Willis in Looper and what inspired him to direct his first film, which is due out next year.
Gordon-Levitt reveals that it was a bit odd between takes when he was still in the makeup that made him look more like Willis, and when asked if he stayed in character or reverted to his usual self he says, "Probably some of both. One of my good friends visited the set and was really disturbed, didn't want to talk to me. My mom, too. She said, 'When I stand next to you, you feel like my son, but when I look at you, you're this different guy.' She found it a little odd." Read more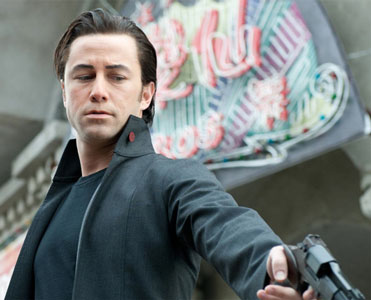 In order to play a younger version of Bruce Willis' character in Looper, Joseph Gordon-Levitt underwent three hours of makeup each day before filming.  While I personally don't think the changes are that drastic (I mean, it isn't like he has to look like the Elephant Man to play Bruce Willis), Gordon-Levitt talked to Moviefone about transforming into Willis and what audiences might discover when watching Looper.
In fact, since actors like to "disappear" into their roles, Gordon-Levitt admits that putting on all that makeup helped him separate himself from the character.  He says, "I love it. One of the main ways that I measure my work is if I can't tell that it's me. If it's convincingly somebody else, that means that the transformation of that character is thorough enough that I did a good job. In this movie I got to transform unlike I ever had before." Read more
Bruce Willis has demonstrated career versatility with diverse characterizations in memorable motion pictures.
Among these have been Quentin Tarantino's Pulp Fiction, which won the Palme d'Or at the 1994 Cannes International Film Festival; Robert Benton's Nobody's Fool, opposite Paul Newman; Terry Gilliam's 12 Monkeys, with Brad Pitt and Madeleine Stowe; Norman Jewison's In Country, for which Mr. Willis received a Golden Globe Award nomination; M. Night Shyamalan's phenomenon The Sixth Sense, for which he won the People's Choice Award; and, as Detective John McClane, four globally popular Die Hard movies directed by John McTiernan (the first and third installments), Renny Harlin, and Len Wiseman, respectively. He is reprising the latter role for a movie that he is executive producing, directed by John Moore, to be released in 2013.
Following studies at Montclair State College's prestigious theater program, the New Jersey native honed his craft in several stage plays and countless television commercials. In 1984, he took on the lead role in Fool for Love, under the direction of the play's author Sam Shepard, in a run which lasted for 100 performances off-Broadway. Read more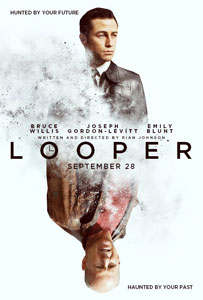 Looper looks really good. At WonderCon, they had a panel on the upcoming Rian Johnson flick and showed most of what you see here in the trailer below, with a few extra stuff, juicy stuff thrown in.
Synopsis: In the futuristic action thriller Looper, time travel will be invented – but it will be illegal and only available on the black market. When the mob wants to get rid of someone, they will send their target 30 years into the past, where a "looper" – a hired gun, like Joe (Joseph Gordon-Levitt) – is waiting to mop up. Joe is getting rich and life is good… until the day the mob decides to "close the loop," sending back Joe's future self (Bruce Willis) for assassination. The film is written and directed by Rian Johnson and also stars Emily Blunt, Paul Dano, and Jeff Daniels.
Director: Rian Johnson
Cast: Bruce Willis, Joseph Gordon-Levitt, Emily Blunt, Paul Dano, Noah Segan, Piper Perabo, Jeff Daniels
In Theaters: September 28th Read more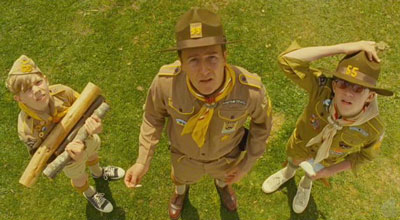 Moonrise Kingdom: Set on an island off the coast of New England in the summer of 1965, MOONRISE KINGDOM tells the story of two twelve-year-olds who fall in love, make a secret pact, and run away together into the wilderness. As various authorities try to hunt them down, a violent storm is brewing off-shore — and the peaceful island community is turned upside down in more ways than anyone can handle. Bruce Willis plays the local sheriff. Edward Norton is a Khaki Scout troop leader. Bill Murray and Frances McDormand portray the young girl's parents. The cast also includes Tilda Swinton, Jason Schwartzman, and Jared Gilman and Kara Hayward as the boy and girl.
Director: Wes Anderson
Cast: Bruce Willis, Edward Norton, Bill Murray, Frances McDormand, Tilda Swinton, Jason Schwartzman, Jared Gilman, Kara Hayward
Writers: Wes Anderson, Roman Coppola
In theaters: May 25th, 2012
Read more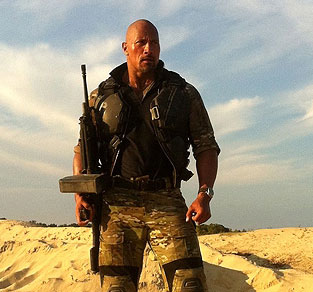 When you watch this, does Bruce Willis look like he's in a different movie?
G.I. Joe: Retaliation: The G.I. Joe team faces off against Zartan, his accomplices, and the world leaders he has under his influence.
Cast: Dwayne Johnson, Channing Tatum, Bruce Willis, Adrianne Palicki, D.J. Cotrona, Byung-hun Lee, Ray Park, RZA, Joseph Mazzello, Elodie Yung, and Walton Goggins
Director: Jon M. Chu
In Theaters: June 29th, 2012 Read more