Podcast: Play in new window | Download (Duration: 40:29 — 27.8MB)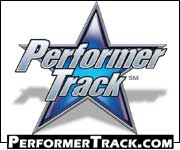 Performer Track is an online tool for actors to track their career. Not only does it give you organizational tools but it also help you track your auditions, workshops, submissions and so much more.
I talked with Brian Vermeire, one of the main guys behind Performer Track. He loves his product and from talking to the people who use it, they love it as well.
We talked for a good while so this is only part of the interview but Brian has a lot of good information to give. Click on the audio portion (or download it off iTunes) above for more.
For more details, go to performertrack.com. And as a bonus, if you use code: FRLC9 you'll get 2 months off your first year!
You started the company?
Brian Vermeire: Yeah, it started about 10 years ago. It all came out of a need. I was the "typical performer." Every time I got called by my agent, by my manager, by a random casting director who could get a hold of me directly I would quickly grab a sheet of paper, a scrap piece of paper, or a sticky note—whatever I could write on—and I would quickly jot down where I'm going. When it came to going to the audition, I would lose the information, I would have to call my agent, "Where am I going again? Who am I meeting with? Okay, okay."
And it never mattered to me. What mattered to me was being the best performer. I'd go in there and give it my all and then just forget about it. I did Meisner for a couple of years, and I was told by other acting teachers that I had to just go audition and then forget about it, which is a huge disservice to your business as a performer. And it's an awful thing to do for your business. In realizing I was doing everything completely wrong, without ever understanding that it was wrong, I just thought, "No, I don't want to be bogged down with that information. I'll just go do it and if I get it, I get it. That's all I need to know.
I was watching my friend at the time, and every time she got called by her representation, she would always get out the same college ruled notebook and pull it open, she would rattle off  the same questions, have everything in her mind and ask the questions in a very succinct, rhythmic order. And she would put everything in one spot. And I thought that was genius, that's great, I should do that. So I made myself one and we were carrying those around and it didn't take too long before our friends started asking us "Hey, how do I get one?"