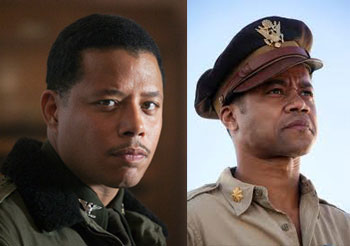 Red Tails isn't just a vanity project for producer George Lucas — the story of the World War II Tuskeegee Airmen is something Lucas has wanted to tackle for years — but a film that fills a void that is all-too-often ignored: a drama with a predominantly African-American cast. 
They're a rarity in Hollywood, and Think Progress caught up with two of the film's stars, Terrence Howard and Cuba Gooding, Jr., to discuss with them the current state of African-Americans in Hollywood.  Their thoughts?  It's difficult to break through.
Howard maintains that Hollywood is unwilling to invest in films with African-American casts because of the perceived low earning potential.  He explains, "Now, Hollywood, for a number of years has maintained the status quo by saying black films do not have an international value. Therefore we're able to pay black actors less, we can give them less money to make their films…If this film, if George Lucas, who is basically the Parrish of the film industry, as Col. Noel Parrish did for the Tuskeegee Airbase, he put his entire career on the line and stood behind these black pilots, these American pilots. What George Lucas did, he put his entire career on the line…when they wouldn't distribute it, he put $30 million into distribution. If this film is not successful, it will become a stumbling block for all time where they can say that black films do not have value or merit. It's important that this film is supported…if George Lucas does not profit from this, then the rest of the industry will see no profit in black people."   Read more
It may say something about the state of American television that there is one more black president-elect of the United States than there are black actors with individual lead roles in a network television drama.
But after years of ensemble dramas sprinkled with nonwhite supporting actors, the excitement surrounding the election of Barack Obama could help to open doors for more minorities in leading dramatic roles, executives from television production studios said.