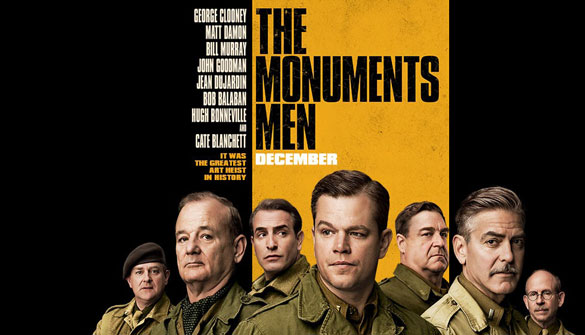 To say The Monuments Men is a disappointment is a huge understatement.
The film was originally scheduled to open in the crowded Christmas season but due to some post-FX shots, it wasn't finished in time. Moving the film wasn't a bad idea though. February is a wasteland and to try and find good films is sometimes a difficult task. And, having such a powerhouse cast (George Clooney, Matt Damon, Bill Murray, John Goodman, Jean Dujardin, Bob Balaban, Hugh Bonneville, and Cate Blanchett) should conceivably bring in the audience.
Unfortunately, Clooney, as director and co-writer, delivers a slow and meandering film that weaves in and has no real drive or push to get to the ending of the story. Read more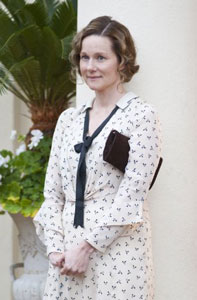 Despite being a huge Bill Murray fan and a history buff, I knew Hyde Park on Hudson was going to be the type of movie that wasn't for everyone once I saw it at the New York Film Festival.  Reviews haven't been kind, and many have named star Laura Linney's character as underutilized.  Linney plays Daisy, the distant cousin of Murray's Franklin Delano Roosevelt, who historians generally agree had an affair.  Linney talks about Daisy's reserved nature in an interview with NPR, and even answered some of the criticism leveled at her character.
One of the aspects of playing Daisy that Linney enjoyed most was the fact that the character was so reserved.  She explains, "It was fun. And also, knowing that she was a photographer helped me a lot. So she wasn't just staring, she was actually seeing a lot. And it's sort of a relief not to be overly verbal. It's nice to be able just to sit and … witness, you know — and she was very much a witness." Read more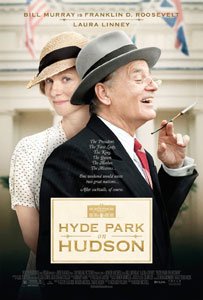 If you've ever wanted to watch a former president get a handjob, well you are in luck my friend, because the new film, Hyde Park on the Hudson, is now in theaters.
Handjob and all.
Starring Bill Murray as said handjob recipient Franklin Delano Roosevelt, the film takes place on a weekend in June of 1939, when the President and First Lady Eleanor (Olivia Williams) host the Kind and Queen of England (Samuel West and Olivia Colman) at their home Hyde Park on Hudson, in upstate New York.
This is the first time that a King has ever come to America, so it's a huge deal. And with a war on Germany looming, the King is looking for the support of FDR and the United States.
If this were what the movie were actually about, it would be pretty darn interesting. Unfortunately, this is only the secondary story. Read more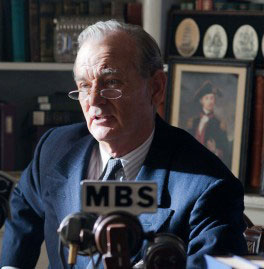 It's not like Bill Murray always imagined himself playing Franklin Roosevelt.
When he was originally offered the role in Hyde Park on the Hudson, he thought, "Can this guy be serious?"  But in an interview with The New York Times, Murray admitted, "I wouldn't have cast myself.  But this guy did, and about halfway through I went, 'Wow, he really was right.'  Not to compare myself, but certain personality things were similar, like the way he tried to leaven things and move attention around a room, get everyone their little slice of the sun."
This similarity was one Murray picked up during his days doing improv theater in Chicago, before he began his career on Saturday Night Live. The experience of improvising "pays off in your life when you're in an elevator and people are uncomfortable.  You can just say, 'That's a beautiful scarf.'  It's just thinking about making someone else feel comfortable.  You don't worry about yourself, because we're vibrating together.  If I can make yours just a little bit groovier, it'll affect me.  It comes back, somehow." Read more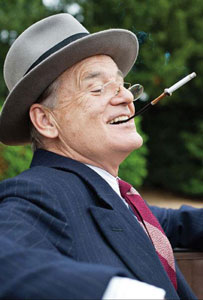 I got to see Hyde Park on Hudson at the New York Film Festival, and while it's far from a perfect movie (though it is, in my opinion, a very good one), Bill Murray's performance as Franklin Delano Roosevelt is among the best roles he has ever done. 
Murray spoke to The Hollywood Reporter about the challenge of playing the 32nd President of the United States and whether he hopes the role will bring him an Oscar. 
According to Murray, one of the main challenges with playing such a revered figure is the fact that he is playing a revered figure.  He explains, "It's hard to play beloved, you know? It's much harder to play beloved than to play a rotten guy … so playing a beloved person, that really sets a high bar for your behavior and your acting and what you project.  Because of that love, you don't sorta want to disappoint that love. Because love can be eternal, so you have to respect that. It's still out there. It's still moving around. And you have to not do anything to deny that. You have to protect love — anyways, I sound like I should write this down — but you have to protect it. So you have to work your very hardest not to break that vibration. That feeling. That feeling is working for you and you have to maintain it, and you have to ride it and enhance it as well." Read more
Despite being nominated for three Oscars in the last dozen years, The Big C star Laura Linney may not make the strongest initial impression from her roles because she's often working in subdued roles with much more visible actors, like Jim Carrey in The Truman Show or Bill Murray in the upcoming Hyde Park on Hudson.  But Linney finally gets to flex her comedic muscles in The Details, and she spoke to the Los Angeles Times about her role in the film and how she approaches comedy.
In The Details, Linney plays against type as a wacky neighbor.  As for how she prepared for the role, she says, "With everything, at least for me, it always tends to come from the script. And it was interesting because originally the role was conceived in a very different way. My brain just sort of turned on and went crazy as I was reading it for the first time, and it was just one of those things that just came to me." Read more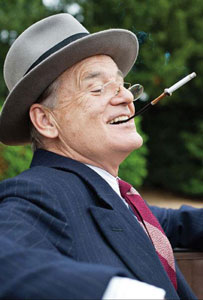 Bill Murray isn't likely to be the first actor that pops into your head when you think of someone to play beloved President Franklin Delano Roosevelt but the comedian is already earning Oscar talk about his portrayal in Hyde Park on the Hudson.
"You can't get all ramped up and amped up about this thing all the time," Murray said to The Huffington Post.  "I mean, I got excited about it once [for his Oscar nomination for Lost in Translation], and it was odd.  I won all the prizes, I won literally all the prizes all the way up to the last one.  And I really thought, well, 'I've just to go get this thing, I'll be right back.'  And then I didn't win, and I thought, 'Well, that's odd.  How odd is that?  I'm feeling so odd right now.'  And I came all dressed up and didn't win.  So I'm not going to get all crazy about that."
Murray has tried to move on from the disappointment.  "It was OK that I didn't win, and I don't have any hard feelings about it," he said.  "It was like, 'OK, that was cool, I'm fine.  I'm fine with the way my career's gone.  I'm happy with it.  It's gone great.'  The great thing about the Oscars that's cool is that it means people are going to see your movie.  That's really the deal." Read more
Bill Murray's portrayal of Herman Blume in Wes Anderson's Rushmore brought him the New York Film Critics Circle, National Society of Film Critics, Los Angeles Film Critics Association, and Independent Spirit Awards for Best Supporting Actor. He has acted inall of Mr. Anderson's subsequent features, including The Royal Tenenbaums, The Life Aquatic with Steve Zissou, The Darjeeling Limited, and Fantastic Mr. Fox (in voiceover).
Born in Chicago, he began his acting career there with the improvisational troupe Second City. He joined the cast of NBC's Saturday Night Live in the show's second season, and shortly thereafter won an Emmy Award as one of the show's writers. He later authored the book Cinderella Story: My Life in Golf.
After making his screen debut in Ivan Reitman's Meatballs, Mr. Murray reteamed with the director on Stripes and the Ghostbusters movies. His film credits also include Harold Ramis' Caddyshack and Groundhog Day; Art Linson's Where the Buffalo Roam; Sydney Pollack's Tootsie; John Byrum's The Razor's Edge (1984); Richard Donner's Scrooged; Frank Oz's What About Bob?; John McNaughton's Mad Dog and Glory and Wild Things; Tim Burton's Ed Wood; Peter and Bobby Farrelly's Kingpin; Jon Amiel's The Man Who Knew Too Little; Tim Robbins' Cradle Will Rock; Michael Almereyda's Hamlet (2000); Gil Kenan's City of Ember; Aaron Schneider's Get Low, for which he received Spirit and Satellite Award nominations; Mitch Glazer's Passion Play; and, upcoming, Roman Coppola's A Glimpse Inside the Mind of Charles Swan III. Read more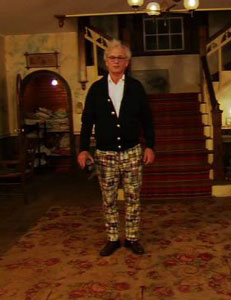 I just came back from a screening of Moonrise Kingdom, Wes Anderson's newest film that stars Bill Murray, Bruce Willis, Edward Norton, Tilda Swinton and Frances McDormand, saw this video and thought it was hilarious.
The film is tells the story of two twelve-year-olds who fall in love, make a secret pact, and run away together into the wilderness of a small island off the coast of New England.
I'm embargoed – I hate being embargoed – from talking about the film, but if you like Anderson, you definitely won't be disappointed.
Here's a video of Bill Murray on the set talking about the film all while being a bit sauced on some good ole' Sailor Jerry Spiced Rum. "I have a little bit of rum in me. I had to work with a bunch of scouts and kids. No money can make that right, can it?" he says. And yes, I can definitely agree with him.
Here's another great line he says towards the end of the video: "Here I am in a cardigan sweater sittin' here in Newport, Rhode Island livin' la vida loca."
Check it out below! Read more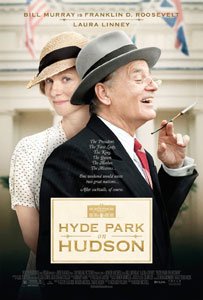 Hyde Park on the Hudson
: The story of the love affair between FDR and his distant cousin Margaret Stuckley, centered around the weekend in 1939 when the King and Queen of the United Kingdom visited upstate New York.
Cast: Bill Murray, Laura Linney, Olivia Williams
Director: Roger Michell