In NBC's new drama, Awake, Jason Isaacs plays Michael Britten, a Detective who is trapped in two separate realities. In one reality, his wife survived, but his son has died; in the other, his son is alive, but his wife is gone. In each world, Britten is ordered into therapy by his department to help him come to grips with his personal tragedy.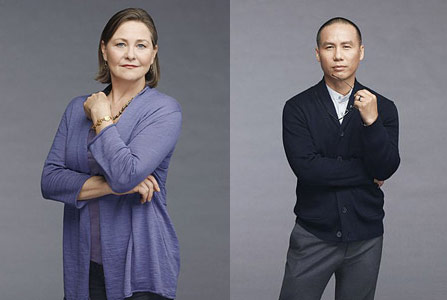 Britten's two therapists, Drs. Lee and Evans, are played by BD Wong (Law & Oder: Special Victims Unit) and Cherry Jones (24). After 11 years on SVU, Wong wasn't looking to play another therapist but he liked the script for Awake so much, that he didn't even care he was about to play another Psychiatrist.
While both Wong and Jones are primarily known for their television work, at least for me, their theater work is impresses me most. Jones is a two-time Tony Award winner for The Heiress and Doubt and Wong won his statue for M. Butterfly.
They are two of the nicest people you'll ever talk with and you can totally tell this in the Q&A. Here, they talk about Awake, how Cherry is the "worst auditioner in the world" and what it's like to win a Tony.
Read this! Read more