These days it seems like indie actress Lizzy Caplan is popping up everywhere, from her new movie, Bachelorette, to a guest stint on New Girl.  The actress also has two upcoming projects: the film 3,2,1…Frankie Go Boom and the TV series, Masters of Sex.
Caplan admits she was drawn to Frankie because "I needed a job!  That was definitely part of it."  But the paycheck wasn't the only reason she wanted to do another indie.  She also added, "I read the script and really fell in love with it and really wanted to go after it because I thought it was so strange and yet so funny.  Just real laughs when reading a script are difficult to come by.  And I also thought it would be a very challenging character because even though for the second half of the movie she's pretty straight and sweet, those first early scenes, I knew would be something that would terrify me right before he yelled 'Action.'  And that's the kind of stuff I seek out." Read more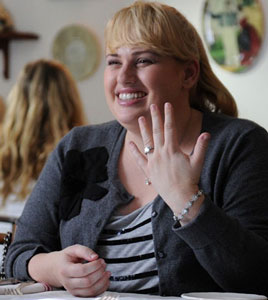 Moviegoers should expect to see a lot of Rebel Wilson in the coming months.
The raunchy Australian actress first caught our attention as Kristen Wiig's bizarre roommate in last year's Bridesmaids.  Now, Wilson is appearing in another wedding-related comedy, Bachelorette, alongside Kirsten Dunst and Lizzy Caplan.
Although Wilson will be appearing in upcoming movies like Pitch Perfect and Pain and Gain, the actress wasn't automatically handed roles.  "Well, what happened is I first came to America and signed with William Morris Endeavor within, like, a couple of days of coming here," Wilson told NBC New York.  "Then they send you out on these parades of meetings, because of course nobody knew me even though I was well known in Australia and had done 13 TV series there.  It's not like Americans watch Australian TV, and so they had no idea." Read more