Podcast: Play in new window | Download (Duration: 24:18 — 16.7MB)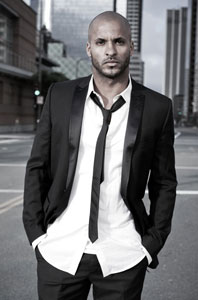 A big star in the UK, Ricky Whittle decided it was time to take a huge gamble with his career.
He had been working steadily back home where he started as a model than transitioned to acting. He nabbed a starring role on the hit soap, Hollyoaks, and was there from 2006-2011. But, as he told me, he soon realized that there was "a plateau."
"I could have happily have stayed where I was in the U.K.  I was doing very well.  I was working constantly," he said. "There's only so far you can go in the U.K." So, he packed up and moved to Bever-ly. Or, Santa Monica, to be exact.
When he got stateside, he didn't know anyone. He had a few meetings and by chance, met a manager and that's when things started rolling. He was quickly cast in the feature Austenland opposite Keri Russell, Jennifer Coolidge and Jane Seymour and soon after, was asked to join the cast of the VH1 series Single Ladies which will premiere this summer. 
I talked to Ricky about what it's like to come to LA after his years of success back home, the differences in shooting a show in the UK and the States and
For the full interview, click the audio link above or download it from iTunes
Follow Ricky on Twitter! Read more