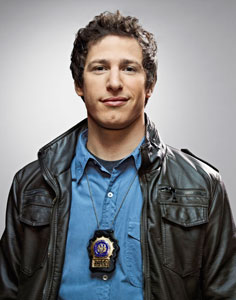 Transitioning from one of late night's most iconic shows to an entertainment career outside the hallowed halls of 30 Rockefeller Plaza can be a bumpy one. For longtime Saturday Night Live cast member Andy Samberg, he decided to take a look at the successful career blueprints from other famous SNL alumni.
He decided to take a page from Parks and Recreation star Amy Poehler's playbook because she smoothly moved from late night to primetime. Even with that map, the 35-year-old comedian wasn't exactly sure what he was going to do next.
He told the New York Times, "I was thinking I was going to be doing more dabbling, and maybe even a little more relaxing." Read more
The To Do List is a comedy about close friends and a special summer project, loosely inspired by the real-life adventures of first-time writer/director Maggie Carey.  Set in 1993, valedictorian Brandy Klark wants to shed her uptight image before college, so she assembles a to do list of all the "activities" she missed out on in high school.  Quickly realizing that she's way out of her depth, Brandy solicits her best friends, older sister and burnt-out boss for their help and advice.  If the group is going to complete the list by September they'll need plenty of imagination and very open minds.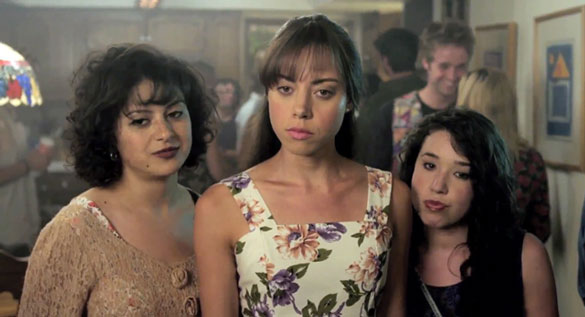 Written & Directed by Maggie Carey
Starring Aubrey Plaza, Johnny Simmons, Bill Hader, Alia Shawkat, Sarah Steele, Rachel Bilson, Christopher Mintz-Plasse, Donald Glover, Scott Porter, Andy Samberg, Connie Britton and Clark Gregg
In theaters: July 26th Read more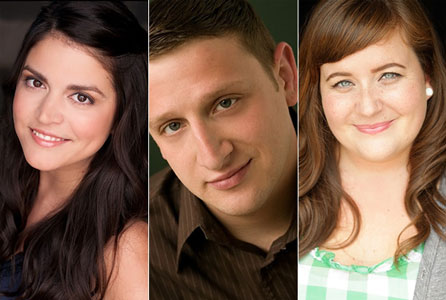 With Kristen Wiig and Andy Samberg leaving Saturday Night Live, the show has announced the addition of 3 new cast members to try and fill there huge, missing shoes.
The show announced that Cecily Strong, Tim Robinson and Aidy Bryant will be joining the show for its 38th season.
Stong, who is from the touring company of Second City, will be a full cast member while Robinson (a Second City alum) and Robinson (from Chicago's iO Theater) will be featured players.
SNL premieres this Saturday night with host Seth MacFarlane.
While many Saturday Night Live cast members begin their careers in standup, others aren't so comfortable with being themselves on stage all by themselves.  Bill Hader, for example, might be nominated for an Emmy for his work on the long-running sketch show, but the idea of doing stand-up comedy is something so challenging for him.  As he tells NPR's Fresh Air, "I don't know how people do that.  I need a character. I need people out there with me."
However, Hader almost didn't even begin working as a comedian because "real life" got in the way.  In the interview he explains that he began his career in show business as a production assistant in Los Angeles, but during that time he wasn't focusing on being funny.  He recalls, "I didn't do anything creative that entire time because I just was like, 'I need to pay the bills.' I think that happens to a lot of people, you get out and you kinda go, 'Oh man, I came here for one purpose,' and then you get sidetracked with the realities of paying the bills. So I stopped doing that, and said I need a job where I get out at 6 p.m. So I started a job as a post-production assistant on a Lifetime television show and that led to me being an assistant editor. … And you know what, I still wasn't doing anything creative. I was enjoying L.A. and being in my 20s. So my friend said, 'Hey man, you wanna come see my Level 5 show at Second City?' … And I went there, and that's when I realized there are people my age performing sketch comedy and performing improv theater, and I said, 'Oh, I need to be doing something creative. I've been here for almost five years and I've done nothing creative; I'm gonna do that." Read more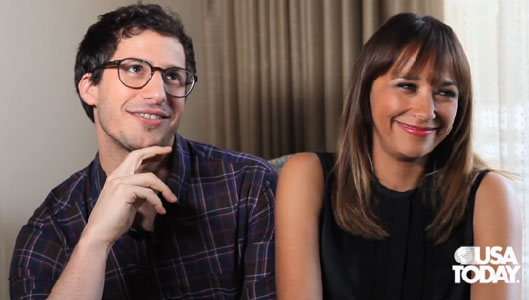 Here's a video featuring the stars of Celeste and Jesse Forever, Andy Samberg and Rashida Jones. The film is a very cute and rides on the great chemistry that Samberg and Jones have with each other, which is evident when you watch the video.
The film follows Celeste (Jones, who also co-wrote the script) and Jesse (Samberg) who, even though separated, spend every moment together. As the reality of their separation sets in, Celeste slowly realizes she has been cavalier about their relationship, and her decision, which once seemed mature and progressive, now seems impulsive and selfish.
Check out the video below! Read more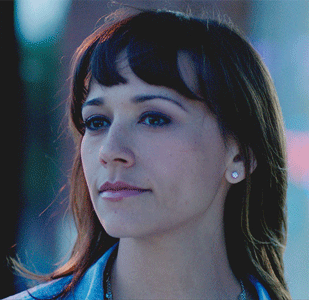 It's becoming increasingly common for actors to write their own film scripts, particularly for smaller, independent projects that actors do in between the big-budget studio films.  Add Rashida Jones to the list, as the former The Office star co-wrote Celeste and Jesse Forever with fellow actor Will McCormack, and the pair also star in the film alongside Andy Samberg.  Jones spoke to the Huffington Post about writing the film, the challenges associated with performing a character after creating her, and whether funnyman Samberg was able to handle the film's serious elements.
Jones admits that writing the script was difficult.  She explains, "We had to kind of dig deep, because we felt like that was the only way we were going to make it feel honest and real. Especially because Will and I have never written before. If we were gonna do something and people were gonna take notice, we had to say something that felt somewhat unique. That had to come from real experience." Read more
It had to happen sometime. Just as Will Ferrell, Tina Fey, his fellow cast member Kristen Wiig and many other stars outgrew and graduated from the Saturday Night Live stage, so has longtime cast member Andy Samberg.
"I've definitely been really broken up about it.  It's been a super-emotional time.  It was not an easy decision," Samberg told Collider.com over the weekend. "I'll always be grateful that I got to do it. It was my dream job, since I was eight. Even now, I feel conflicted about it, a little bit."
Samberg, who moonlights with comedy music troupe The Lonely Island, is currently doing the promotional rounds for his latest film, That's My Boy, which co-stars Adam Sandler and is due June 15. His most famous SNL roles were from the show's Digital Short series, which at various times found fighting off laser-wielding cats, sending up Weekend at Bernie's and rapping about his fake man-crush on Iranian President Mahmoud Ahmadinejad. Most recently, he and fellow SNL regular Chris Parnell closed the show's 2011-2012 season with an update of their classic "Lazy Sunday" bit. Read more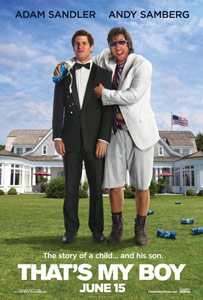 That's My Boy: Faced with a bill for back-taxes, a foul-mouthed hedonistic playboy arrives on his straight-laced son's doorsteps just before his wedding day.
Starring: Adam Sandler, Andy Samberg
Director: Sean Anders
In Theaters: June 15th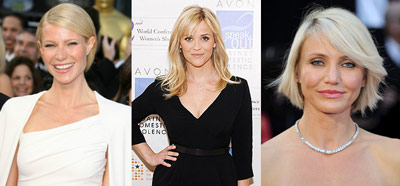 Gwyneth Paltrow, Reese Witherspoon, Cameron Diaz and Ryan Murphy may not know what it's like to be down-on-their-luck has-beens, but according to a Deadline.com story, that isn't stopping them from making a movie about them.
Sony has reportedly picked up musical comedy One Hit Wonders, which will feature the three actresses as singers who had one hit each in the '90s and are teaming up to come back bigger than ever.
Murphy will direct the film, which sprang from a recent dinner he had with the three actresses. The creator of TV's Glee and American Horror Story directed 2011 box-office smash Eat, Pray, Love. and is also attached to a big-screen adaptation of Broadway hit The Normal Heart.  Read more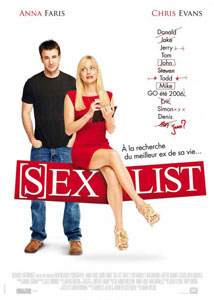 Here's 5 clips from the Anna Faris and Chris Evans film, What's Your Number?
The film, about a woman (Faris) who, having hit her sexual limit at 20 men, decides to track down the other 19 guys in hopes that she's overlooked one who could be "the one" has a great cast – Zachary Quinto, Joel McHale, Andy Samberg, Thomas Lennon and Aziz Ansari – but judging from these clips, I'm skeptical of how it's going to turn out.
And, here's something funny. In France, they've renamed the film to Sex List as you can see in the picture on the right. They should use that name here. It's definitely better than the bland sounding What's Your Number?
Anyway, judge for yourself in the clips below!